Luuminary22:
The Future of Commute
If the pandemic has taught us anything about the workplace, it's that people want flexibility and choice. We at Luum believe that this is the future of the commute. We are excited to gather with industry leaders to talk about how organizations across the US are restructuring their Return to Office plans and commuter programs in this new workplace reality.
Behavioral Parking Research
Come hear the latest research findings from Vanderbilt University and Duke's Center for Advanced Hindsight regarding their commute framing and parking policy field studies. Explore behavioral barriers such as low pain of payment, inertia, and sunk cost; and share practical modifications you can make to your commute program to reduce parking demand through pricing structures, messaging frameworks, and policy changes.
Kelly Koster:
Hello, everyone, thank you for joining. We'll just give folks a few minutes to sign on. I see the participant list going up and up. We'll get started in about 60 seconds. All right, I will get us started here welcoming everyone I see people are still logging on. They can join as soon as they are available. My name is Kelly Koster, and I'm the Director of Marketing at Luum. And I have to tell you I am so excited for this webinar today. I actually got to meet with Joey in person over the summer in Seattle, and all we talked about was this research and the findings that they were slowly uncovering. And I knew this was something that we had to share with all of you on behavioral parking research and the findings because it's really exciting stuff. So it's my pleasure today to just introduce our speakers, they have a presentation that they'll go through for about 30 minutes. So we will have a long time for Q&A at the end. And I am hopeful that you all and expect a lot of questions about the research, about what's next. So we really want to open that dialogue at the end and save a lot of time for questions. So just briefly, I will say that Joey, Joseph Sherlock. Hopefully, that's okay to call you that. He is part of Dukes Center for Advanced Hindsight, and he's been working with Erin Hafkenschiel who's the Executive Director of mobility at Vanderbilt University to do a lot of these research, both in a lab and in field studies. And they will share those findings with you today. And with that, I will just introduce first Erin, who will kick us off here today. Erin, as I said, Executive Director of mobility at Vanderbilt. In this role, she's responsible for launching the university's first-ever Strategic Transportation Office which will lead the mobility planning and policy development for the school and the creation of a comprehensive transportation demand management program. And Erin, I won't read all of your background here but she's got a lot of history in the director of the Mayor's Office of Transportation in Nashville. She's worked in San Francisco, and I just found out she's actually working on her Ph.D. right now. So she is a very, very busy woman. And we're so lucky to have her here today spending time with us. And then we will also have Joseph Sherlock from Duke Center for Advanced Hindsight, I love the name of that, behavioral research entity. So he leads the government team at the Center for Advanced Hindsight which focuses on using behavioral science to bring innovation into civic society and has programs with funds totaling over 2 million. And he is currently on an extended second sabbatical from the central government in the UK, where he is a principal behavioral scientist with HM Revenue and Customs. So with that, I will turn it over to Erin to start us off.
Erin Hafkenschiel:
Great. Let me just go ahead and share my screen. Are you looking at the slides or my notes?
Kelly Koster:
We can see your notes. You have it on the slide but we can't see them.
Erin Hafkenschiel:
Let me try that one more time. Apologies.
Kelly Koster:
No problem. And, Charlie, I love that you introduced yourself in the chat. Others feel free to do the same. Where are you signing in from? What part of the country? What employer?
Erin Hafkenschiel:
Great. Sorry about that technical difficulties. Hi, everyone. I'm Erin Hafkenschiel. Thank you, Kelly, for that great introduction. And I'm just so thrilled to be here with you all today. Joey and I have been working on this for two and a half years. So we're thrilled to finally have some results even after.... we started talking about this research before COVID hit so the fact that we were able to pull off some studies and have some results is just really exciting to the both of us. I know that I've given some presentations on the MoveVu program to the Luum audience before. So I'm just going to give a very brief introduction to our program before I kick it over to Joey to really dive into the research that we've done. So something that is a little bit different than maybe.... a little bit different than some of my university peers that are implementing TDM programs across the country is what was the motivation that was really driving Vanderbilt to rethink this a little bit differently. And like universities all over the country we are continually updating our academic strategic plan, as well as updating our campus land-use plan. And the best way to describe it is that as we were in the process of updating that academic strategic plan and our campus land-use plan it became obvious to us that our goals as a university to be more sustainable, more inclusive, more diverse, didn't really match with what we had done in our built environment. We are in a formerly suburban part of Nashville that is rapidly urbanizing around us. Our historic core is this very beautiful, it's actually a historically registered, and also designated as an arboretum, very pedestrian and walking friendly. But all of the sections of our campus that we've acquired, over time, are much more car-friendly, with lots of surface-level parking lots. So it was a really big wake-up call for us to say we need to think about our campus a little bit differently and better align it with our values as a university. At the same time, we are also in the middle of a rapidly growing city. We're expected to have about a million more people in Nashville by 2040, which puts us on par with the Denver's and Seattle's of the world back in 2008. So around a 3 million person region. And we have a number of major companies that are announcing relocations to the Nashville area including Oracle, Amazon, and AllianceBernstein. Just those three companies are expected to bring about 250,000 new employees to our downtown just in the next five years. So really a lot of job growth, which is very much changing the environment around us as a campus. So as we look a little bit closer to add our campus. Again, while we were doing that FutureVU plan, we were reminded that we own 22,000 parking spaces, that 82 acres of our campus is currently being used for parking. And as land value goes up in Nashville that is increasingly worth a tremendous amount of money. And as we want to build more academic buildings and more residential colleges we want to be able to use more of that land for buildings that are better tied to our academic mission, rather than for parking. So when I talk to a lot of my peers that are doing innovative TDM programs is because they don't have enough parking, we're the opposite. We have too much parking, and we're not using it very well. So we are trying to think of really creative programs. So as we do these super innovative capital projects on campus we can be removing parking spaces while we're at it. So a great example of that is our West End neighborhood. West End is the corridor that's on one side of our campus. And we just replaced four 1960s era high-rise dorms with these much more beautiful three residential colleges. Right behind those is where a lot of our Greek houses are. And this picture here on the left is what the streets look like in that West End neighborhood. Above ground utilities, lots and lots of parking spaces, just really not a wonderful place to walk around. So we've got two of our residential colleges already completed and we've completed all the beautification in that neighborhood. And so this is the same street now. We've pedestrianized, four or five streets and we've buried all of the utilities and we've removed 650 parking spaces just from that one neighborhood on campus. So this transformation is definitely already started. And the mobility program is really intended to help support that process over time. This data is pre-COVID. We are in the process of updating it so just take that as a little bit of a grain of salt. But before COVID we had about a 76 and a half percent drive-alone rate. And to reach our sustainability goals and our goals to remove parking as part of capital projects we want to reduce that driver alone rate down to 55% by 2025. You'll notice that our telecommute number started at about 2.75% in 2018. And we were hoping to get it to about 5% by 2025. Obviously, COVID has drastically sped that up. And we anticipate that we'll probably end up closer to 20 to 25% regularly telecommuting. But we still want to see an increase in walking, biking, transit, and carpooling as we're rolling out these programs. So over the last three years, we've been rolling out our core MoveVu programs. And we've been really excited that we've been able to continue this progress even amongst COVID. So we launched our MoveVu commute hub, which is powered by Luum in February of 2020. In September of 2020, we launched our daily parking program, which is really the transition from the monthly all-you-can-eat parking pass to a daily parking option where you're only paying for parking on days that you use it. And then this September in 2021, we were able to launch our commute incentives program. So a financial incentive directly deposited onto your paycheck for walking, biking, transit, vanpool, and carpooling. We really see these as the three legs of our MoveVu stool, and we're just super thrilled that we've been able to get them in place over the last two and a half years. And with that, I'm going to turn it over to Joey to start talking through some of our studies that we've been doing at the same time as we've been rolling these programs out.
Joseph Sherlock:
Thank you. Alright. Hey, everybody, great to be here. I'm grateful. Thank you for the introduction. And really Erin has been such a boss on this program. We're very lucky to have her as a collaborator and as partner. I'll start by saying, our work here at the Center on this is funded by Bloomberg by the Mayor's challenge and with the city of Durham. So this the city of Durham Mayor's Challenge, and we are working on parking studies with Vanderbilt [unintelligible: 0:12:42] to learn things, bring them back to Durham, and look to scale and beyond. So let's start right at the top. So when Erin is there talking about a daily parking program and that sort of in a position or in contrast to an annual one, I think the first thing to pick apart is why do we have this as a sandbox? Why are we looking at daily parking? And there are three behavioral reasons for this. I'm sure there are lots of other reasons but three main behavioral ones. But why would be interested in moving away from this annual model towards a daily one? The first idea here is that in an annual model the payment system is in some ways arguably broken. You have a model where you have people pay at the beginning of the year, or at the beginning of each month, the payment goes out automatically, it goes out in the background, and it goes out in a way that you're not really aware of it, you don't see it, you don't interact with it, or experience it in any way. In this model, there's a huge sunk cost. So you've invested in parking, you bought a pass that enables you to drive to campus or work or wherever it is each day. And so you would be a moron not to maximize your utility and use that resource. And in the case of monthly, there's this status quo bias where it just keeps rolling on automatically, over and over again. So the daily program looks to adjust some of these. So instead of it being this payment that goes out in the background, instead, it's the payment that you're aware of each day, you see it potentially, and you have to make a decision whether to pay it each day. The cost is no longer sunk, you're paying in a granular way. And so there is genuine opportunity cost on that money each day. And you can use other modes and you can make that decision without incurring a sunk loss. And there's no status quo. As I'm saying, you can make the decision each day so that each decision is its own, and it's not determined by the ones that went before. All to say, daily parking is a really interesting idea, and we are looking to run a whole series of experiments around this. I think it's worth before we launch into the studies, which we'll do next. It's worth saying that we've been doing this for two and a half years, we have four or five studies that we're going to run through reasonably quickly today, and we've got several planned. And I think hopefully as we go on we'll get more and more involved in the structures, and the policy decisions as we push through these studies and this research. Okay. So let's get started on study one. In this work, we started at the beginning of, I guess, 2020. And the first studies we ran was in the summer of 2021, and autumn. So summer 2020, and autumn of 2020. So we were in a COVID period. And that meant that we had to get stuck into lab research because no one was moving around, no one was commuting, and so it's difficult to study parking when no one is driving anyway. So we wanted to pick apart the first question was, what are the factors that contribute to people choosing different modes. We know that money plays a role. We know that time plays a role, we know that health plays a role. But we're not sure which one of these factors is the biggest contributor. So we wanted to get this in a lab study in a hypothetical stated preference environment. So we created a scenario which you can see on screen here. But we created a hypothetical commute choice. So we set up a hypothetical commute where people had one of six options, they could choose to drive, they could carpool, they could get the train, they could bus, they could cycle, they could walk. And we vary these time estimates until we got to a point where about 70% of people chose to drove alone, which is similar to what your census data would show across the US. So this is our control 70% of people choose to drive. We then vary this in a handful of different ways. The first thing we varied was we just simply reverse the order. So we said, what happens when we change that hypothetical commute choice rather than driving being at the top, and walking at the bottom, we'll just completely flip it. So driving is at the bottom and walking is at the top. What we're doing here is we're changing the perceived norm or what we're implying is what most people do or what we think you should do. We then play overlaid four different frames on top of that reverse. So the first one is we put a cost frame in where we said okay, walking at the top, this is how much walking costs. And then down, you can see driving alone costs about $3 and costs the most in this hypothetical scenario. We then overlaid emissions. So what happens when we have co2? How much co2 is burned to each of these modes? Again, walking is free. Driving is the most. We then had calories. So what is the health impact? Again, you have walking burns the most calories, driving, carpooling burns the least. And the last one is a little clunky, it's on the productivity of time. Basically, how can you use the time during your commute? And we have high productivity [inaudible: 0:17:44]. So I'm not going to poll here. But take a minute and think about which one do you think is most effective? Have a quick think because they're going to be just reversing, adding the cost, adding emissions, adding calories, adding productivity. So the answer is, as you can see here, this is the control and about 70% of people choose driving alone and about 30%, choose a sustainable mode, any sustainable mode. Then we have all the interventions running down in this order. The two top performers are cost and emissions. And it's only descriptive but we see emissions has its nose out in front of cost, which is interesting. And we'll circle back to that. But in particular costs and emissions come out as well. If you add a frame on cost or frame on emissions you see a bump in the proportion of people. And this is hypothetical, it's a lab study so the effect is really large, and not at all what you'd expect to translate into the field. But it's interesting at least to see the order of the effects. Okay. So we start in a lab, we get some interesting results. We carry this forward into our first field study with Erin and team. And now this field study is in the autumn of 2020, and it's during the COVID period, and we're trying to encourage people to sign up for daily parking. So we have an email that is going out to 1200 people across the whole university that is encouraging them or giving them their parking options, I should say. And we're looking to get people to sign up to this great new daily parking program. So we take the findings from the lab, and we bring them directly into the field. So we have four conditions. And these represent four emails that are being sent out. The first is the control. That's what people would have received had we done nothing. The second is us mimicking the reverse order. We just changed it the control says here's your annual parking option, click here to get it, below that here's your daily parking option click here to get it. So annual is at top and it gives the indication that this is the implied injunctive and descriptive norm that people should do and are doing. So we just flipped the order again, putting daily at the top and annual after that. And we had two but we added a frame that had words that indicated a financial frame, this is how much you might save. This is how much annual would cost you, and then this is changes in your reductions in driving by moving to daily would help the environment and some words on them. So you can see we basically mimicked the lab study into the field. So what did we find? Well, we have very similar results for the first condition. We see that just changing the order has a bump. It leads to about a percentage point and a half more people signing up for the daily program, which is great. Small finding, just changing the order seems to work. We see another half a percentage point bump, it's not necessarily significant from just changing the audit but I think it is significant from the control. So it looks like the financial frame saving money does seem to drive behavior even further. We then see, interestingly, that adding the environmental frame is absolutely no different from just having daily first, which is curious. We see in the lab in a stated preference environment, people tell us in a hypothetical scenario that the environment, they don't tell us, we see it through their hypothetical choice that it is an important factor in the decision making. However, we played out and the rubber hits the road in the field, it doesn't actually have an impact. Only one study, we should dig into this more. But it's an interesting finding nonetheless. And of course, we do see that the money frame, emphasizing cost seems to be working.  Okay. So I'm going to jump a study, which we'll come back to, and we're going to fast forward to this year, autumn 2020. [Unintelligible: 0:21:27] Autumn 2021. This is the September that's just gone. August, September. We took the same paradigm here, where we have email invites, and we're sending out emails across the university to try and increase sign-up. And we wanted to play King of the Hill, or Winner Stays on. So we took the best performing condition from the last study, which is this financial one, and we added 3 different options on top of that as experimental conditions to see if we could beat it. The three different options, the first one is an easy option, where we essentially took quite a long email and summarized this very simple, short, succinct TLDR at the top which gives people the information they need and pushes them toward the daily pricing option. We then have two conditions where we add a calculator. Now, this is quite interesting, I'll walk you through what it is in a little bit. But essentially, we built out this little tool. We know now that people are price-sensitive or cost-sensitive, they're motivated by the finances of their parking situation, shock, maybe everyone already knew that. So one of the things we wanted to do was help people make the tradeoffs between a daily and an annual parking pass, and help them work out the mathematics behind which option was good for them based on the range of factors that influence that decision. So we built this little tool, and again, I'll show you shortly. And in this condition here, we made it really easy for people to use. So in all the emails, the calculator exists. But in the first two, it's kind of hidden at the bottom, and we're expecting fewer people will find it. In this condition, we're putting it front and center, right at the top, and saying, hey, use this calculator. And then the last condition is sort of a building design. So the last condition also has the EZ, also has the calculator, and has this social norm line, where we say, effectively space spaces in the daily parking program are limited. They're filling up fast, don't miss out. So what did we find? Well, the first thing to highlight here is that this is our first study, just played back again, I just showed you that before. And this is our second study a year on. What we find is across the board more people sign up for daily parking. We don't know that that's a result necessarily of our invite, it's probably mostly a result of the fact that more people need to drive to campus. Also, perhaps the program is getting more notoriety, maybe in tiny part to our invites but probably not the biggest driver. What we see though, and this now is sign-up of daily parking. We see that just making it easy, make it very simple and clear at the top, how to sign up for daily parking that drives people to opt in to choose the daily parking program. We then see, we'll get into a bit more of this in a second, but we don't see a huge difference with the calculator or the social norms, it doesn't seem to change behavior at all, at least not on our primary outcome, which is sign up for daily parking. However, what we do see, so this now is sign up for annual so this is the same four bars we saw a minute ago with, I'm going to go with daily easy being the best option. For daily we do see that the calculated condition leads the fewest people to get no [unintelligible: 0:24:48]. So it's actually seems to be pushing people into one of the passes, and that's because we think that the two conditions here, these are all very marginal differences so we're not certain on this. The two conditions that have the calculator in them are pushing people towards annual. Now, why is that? Well, let's start by sort of breaking down exactly what the calculator does. So what we do is we take someone's going through, and we give them a series of options to put in their details. So the first one is, which deck are you most likely to park in? There are four different options from the decks at Vanderbilt. We then say, how many days a week do you think you'll be driving to campus and how many sustainable commute modes a week do you think you'll be doing when you go to campus? And we include not going to campus as one of those. So we have a total of five days across the week. And we then ask them are you a Graduate, or Professional Student because it's important for the costing. And then what we do is we play back essentially what the outcome is based on their scenario. So the cost of an annual permit in your band and for your situation. And then based on the number of days you're driving what the cost of daily would be. And then we also give them this is how much you would earn in incentives by using sustainable modes. What we're effectively doing here, we give people information on them, make the decision, go you will. What we're effectively doing here is making it easier for people to make a really informed decision based on the pricing structures as they are. We know that humans struggle to process information, we're sort of cognitive misers. We're looking to go through life by using mental shortcuts to make decisions. This is making it easier for people to potentially make an informed decision. So we saw that lots of people use it, we had over 1000 clicks, and this was just in the first month or so slightly, it's gone up. But there's quite a lot of data from this. But the one thing I want to highlight, just in the interest of time, is that we see that of people who chose annual, we see that roughly about 70% of people made a rational decision. Of people that chose daily, we see it's over 80% of people are choosing a rational decision. Now, that's good. It has sort of two main implications, I think, just to be succinct. One is that there sort of 20 or 25% of people here who aren't making an ostensibly irrational decision. They're choosing a pass option that isn't necessarily going to maximize or save them the most money maximizing utility. So that's quite a lot of people, it's quite a lot of room for us to improve. And the second is that maybe the prices are wrong. If people are choosing annual parking, and they're making a rational decision maybe there's something there that we need to play with. And that's an open question that we're picking apart and discussing. How can we just change the economic landscape? Okay, so the last study here that I'm going to pick apart, also pulls on this financial angle. One of the themes that's coming through this presentation is that when making parking decisions, and when influencing parking behavior, money seems to talk. And so you know, one of the points here on the daily parking program is that ostensibly, it makes the amount that you pay each day, or the amount that you pay for parking full stuff more salient, it makes you more aware of what you're paying. So really interested in this sort of awareness of payment question. And in particular, what happens if we increase your awareness of how much you're paying. If we can dial that up. So the dream study we'd love to run is because we know that the way that we pay for things changes how awareness. So for example, if you pay in cash it's more painful, you're more aware of it than if you pay by prepaid store cards. That's example of one study that's been done. So we would love to run an experiment where we had in one condition, everyone coming into the parking decks had to get out their wallet, pull out their $5 bill, scramble around for change, and deal with the person on the other side of the desk, and then the other side they just drive through in their friction. Obviously, Erin wouldn't let us do that for lots of good reasons. But what we could do is we could play with receipts to try and dial up the awareness of payment.  So what we did, I want you to think now about whenever you've got an Uber or a Lyft ride, you get in you take your ride, when you get out within a few minutes they send you a receipt saying, thank you for your ride. Your driver was Joey, you drove this many miles. Here's the map, it cost you $16. Now you get this nice little receipt. We basically created a similar receipt but for parking. So we did as we had. You come to campus, you drive, you park, and then at the end of the day, or at the end of the week, I'll show you the conditions in a minute. You receive this receipt saying this is how much you were charged for parking. And it look like those on-screen. So we set up this study where we invented this receipt, we tested it, and we tested it with four experimental conditions alongside a control group who've got no receipts. And the four conditions are we varied whether people got this receipt every day that they drove and parked, which may not be that many days because if you don't drive and park you don't get a receipt. But still, every day that you drive and park, every week that you drive and park so at the end of the week we send a summary, thank you for driving three days this week we charged you $9. And then the other factor was whether we included that sort of loss and daily loss and opportunities message, which is want to rethink your commute or this bit here, driving less frequently, and using sustainable mood, even just once a week reduces your environmental impact and saves you money. And then the opportunities bit which is here's how you can use alternative modes. So this factor is the presence or absence of that addition to the receipt. Okay, so we have five conditions, we run this over the spring semester of 2021. So the year just gone. And we run it for basically the whole term or as much as we can. And we're able to collect data before, during, and after. So results now on screen, my prediction hands up here is that the daily condition would lead to the biggest decrease in driving. It would lead to the most awareness of payment. If we email you every time you drive and park you are so aware that you're paying money for parking. And surely that's something you want to avoid. Because as we've learned people are price sensitive and conscious about money when it comes to parking. That's not what we see. What we see is that the weekly with the sort of loss aversion opportunities message, that condition leads to a three percentage point reduction relative to before. This graph shows us before to during the experiment, and then obviously between the different conditions. So the first thing to pull out actually is that all the conditions go down slightly. I think that's just natural fluctuation over time. But the weekly condition leads to what seems to be the biggest reduction. We also see just one little graph here. This one has quite a lot of data on this one. You can see this light orange line here weekly loss aversion. So we see that it's lower throughout but also the effect when we come back in the autumn of 2021, this condition is still lower. So it seems that we've maybe created habits which seemed to sustain over time by sending people receipts for a period of 6, 10 weeks, something like that. I mean, this is interesting. It's curious, it's counter to what we would have predicted. And I think it's possibly explained by the fact that $3 isn't a lot of money. So we send you a daily message saying, thanks for driving to campus today, we charge you $3. Maybe there's an element of so what, that's $3. For picking people in the high-income bands, it's not going to be perhaps not enough money to really change their behavior. Which segways us nicely into sort of the end of this presentation, and where are we going next? What are we doing next? Well, I think we have a handful of different avenues [unintelligible: 0:33:01-33] do chime in. The first angle that we're looking to get at is a study that we have is conspicuous by its absence in this presentation in that we're trying to run a study where we actually test the whole program. So people in daily parking versus people who are not in daily parking, and how does the daily parking program change parking behavior? Our theory is that it would reduce parking behavior. How does that happen? We've tried twice to run it, and we've just had some troubles getting the control group to stay alive long enough for us to have a comparison here. So I think we'll probably go again. Can we get that sort of real killer policy experiment to run? Another angle that we're looking at we're just discussing this earlier today is price sensitivity. So if we do look to increase the prices, move them from currently, it's I think it's $3 and $5 for the different decks. If we look to increase that, so move it up to 6, 9, 12, 15, even 20 how price sensitive are people? What is the curve look like here? This might be difficult to run as an experiment because it's difficult to randomly assign some people to pay more for parking and others not. I think someone somewhere might complain about that. Not me. Anyway, price sensitivity. So this I think it'll be really interesting and hopefully useful for the field. And then the last one on this slide is incremental pricing. So we know this is something that the Luum platform can facilitate and something that we're tremendously interested in. So you ignore the $1 to $5. The point here is that it goes from a low price at the beginning. So let's take a given week. You would pay a low amount, say $1 for your first driving trip each week, and then that would move up gradually the more you drive the more you pay. By the end, you're paying an amount that is ostensibly uncomfortable. It's enough that it puts you off. The point there is you're trying to unbundle people's commuting, you're trying to say we know it's difficult for you to use sustainable modes all the time but everyone can cycle or walk or get the bus once a week. And so you're heavily incentivized subdividing that unbundling of commute. And that's with at least one trip that they don't drive. Now, we would also love to play with the reverse. One of the things we think is going on is that if we give people a small number when it comes to how much you're paying, and parking $3 or something along those lines, it's pennies. People don't mind, it's easy to pay. So we'd love to put a blocker on at the top and say, okay, actually, the first time you drive in a week you're going to pay the high amount, and it'll go down over time. So we're sort of disincentivizing people from the start. We'd love to play with these incremental structures. I think there's a parallel study here that is actually on incentives, and incremental incentives. So what happens if we give people heavy incentives from the first day of the week, so we're going to you pay $20 to get the bus on a Monday, or whichever day is your first day in the office. And then by the end of the week, we're only going to give you five or three or whatever it might be. Anyway, I'll pause there. I'll stop the screen share. I think we're going to potentially move into Q&A. Erin is there anything you'd chime in on?
Kelly Koster:
Erin, no. Nothing to chime in. Okay, great. There are plenty of questions in the Q&A. So thank you and feel free to keep adding them. I suggest we start first with some of the Vanderbilt-specific questions just to get that full context of your program, Erin. So these are going to be directed at you. A few of them you actually already answered, and I'll just read those out so people can hear them. Rick asked how much of Vanderbilt's parking is in structures? Erin said just under 40%. So the majority are surface lots, a major waste of space. Love the commentary. And then from Jenny at OHSU, she asked, does Vanderbilt offer the same commute incentive for all non-SOV modes? Or do some modes earn a higher incentive than others? And Erin said, currently, this is the same commute incentive for all non-SOV modes. And Erin, you were asked can you share what that incentive is?
Erin Hafkenschiel:
Yeah. So there were actually a couple of questions about both our parking rates and our incentives. And so I might address all of those at once because they're obviously related. I think one of the questions was how we determined the daily rate. I remember being at a Luum event in Seattle with a number of my university peers and a couple of people had already implemented the daily parking rate. And the advice that they gave was just take whatever your monthly parking rate is, divide it by the number of working days and that's what your daily rate is. So we had done with a couple of our friends at [unintelligible: 0:38:25] I think a couple of them are on the call. We had done a pretty big study of our occupancy and parking usage in November of 2019. So the day was really helpful for about four or five months. And then became completely obsolete. And based on that data we were seeing an average of 14 parks per month. So we took that as our basis. And then here's where it gets interesting. On our annual monthly parking permit, you register it for it once a year. But it gets deducted from your paycheck once a month. But it's the all-you-can-eat pass. Our monthly rates, we have four different rates based on your income. So I'm sure that there are other folks from universities and hospitals on the call. But if you are part of that community, you will know that we just have a really, really large range in terms of who our staff and faculty are, and what their incomes are. So we currently have four different income bands. We do our healthcare pricing this way and our parking pricing this way based on bands. And the parking rates on the monthly side range from $46 a month for our band one employees who make $60,000 a year or less all the way up to $128 per month for folks that make $150,000 or more. So it was nearly impossible for me to take my monthly rate divide it by 14 days, and come up with a rate that worked for everybody. Because as part of our MoveVU strategy we want to move away from subsidized parking and to more of a market-rate based parking. So we did not want to bring an income banded option to the daily parking program. So in order to not completely lock out all of our lower-income bands, we decided to stick with it. We started at $3 a day in 2020. And we are now charging $3.50 in two of our garages and $5 in our other two daily parking garages. And our commute incentive is 50 cents a day for any non-SOV mode. We are collecting this data in real-time. And it's our first post-COVID new normal data that we're seeing, and so we are actively having conversations about how we should change our pricing structure going forward.
Kelly Koster:
Thank you for that, Erin. A lot of thought and intention went into that for sure. A couple more questions around enforcement. So one that you actually already answered but I'll read it first for context, which is what kind of parking enforcement system does Vanderbilt use? And Erin said we use LPR, license plate recognition in our annual lots. Our daily facilities are gated so now have controlled entry. And so then building on that, Charlie asks, does the daily option affect the enforcement process? Meaning does it invoke more overhead for enforcement officers and increase the overhead for processing citations?
Erin Hafkenschiel:
I don't think so. Because the way that our daily parking facilities work is that you are enrolled in the program. And so you use your Vanderbilt ID card to access those garages. So it's completely controlled entry. You tap your ID to gain access. And then that's also how we charge you for parking. So we actually don't do any more enforcement in our daily parking facilities. So it has reduced the number of lots that we have to be doing LPR enforcement, which I think actually helps. One other thing I was going to say is that we have had to create a pretty robust reconciliation process on the back end just to make sure that people are being charged appropriately. Luum obviously helps with that tremendously because of how automated the system is. But that would be sort of the extra overhead that the daily parking has created.
Kelly Koster:
And was the scarcity in daily parking passes real or is that invented for the research and the email process?
Erin Hafkenschiel:
That's a really good question. So we actually didn't really know because we had no idea who was going to be coming to campus. So when we launched the program in 2020 we had about 1400 spaces. Again, remember, we have 22,000 spaces across campus, and the university side of the campus uses about 12,000 of those. So 1400 of the 12,000. So we thought that they would be in extremely high demand. And so we were worried about letting too many people into the program, and then them not being able to get into the daily parking facilities. And then in 2021, we added one more garage, and we now have 1600 spaces across the garage. And the same thing was at play. We didn't entirely know how many people were going to sign up. And so we actually restricted enrollment in the program to just 1.25 capacity in all four of the garages. But then pretty quickly we realized that the garages were not being filled up. So starting on October 1st we let everyone into the program. So we have just over 2000 people enrolled in the program. But our daily parking garages are at about 30 to 40% capacity on a daily basis.
Kelly Koster:
Okay. And then I think the last Vanderbilt specific, for now, question. So who at Vanderbilt spearheaded these changes to move away from drive-alone commuting? Was there an internal push for these changes or was this something that was difficult to get backed?
Erin Hafkenschiel:
So that's also a really good question. So I would say it was a little bit of both. I mentioned that our academic strategic plan and our FutureVU plan were completed in the 2014, 2015 timeframe. And it was really clear that we needed to address how much land we were dedicating towards parking. And the transportation and mobility world in the city of Nashville was also changing pretty drastically. We had a big transit referendum in 2018. So I think there was a lot of impetus and motivation for us really thinking about this pretty strategically going forward. When I moved to Vanderbilt from the city in 2018, we already were in the process of developing the MoveVU strategic plan. And one thing that is a little bit interesting, my position reports to the Vice-Chancellor of Administration, which is a little bit unusual but I think has been critically important for the rollout of the program, and that it has continued to be really successful is that we have the support at the highest levels of leadership, for us to be able to make these changes. And the fact that it's tied to our sustainability goals, our academic mission, that really helps convince our community that we aren't just taking parking away to be mean. We are doing it because we're trying to reach these broader university goals. But that's not to say that implementation is easy, however. Every program that we've had to roll out there have been challenges and people have been upset. But it does very much help that we have the support of senior leadership.
Kelly Koster:
Definitely. Okay. Let's move to some of those research-specific questions. So Jessica Roberts from Alta asks, did you examine whether increasing salience of daily payment resulted in some people reverting to annual parking, perhaps to avoid the nagging?
Joseph Sherlock:
Hi, Jessica. We should also point out that when we set out on this daily parking adventure, we went on a Goldilocks tour of organizations that were running daily parking programs. Vanderbilt was by far and away the best and that Goldilocks tour was led by Jessica Roberts [unintelligible: 0:47:11]. And she's been an amazing partner and [unintelligible: 0:47:14] leader in this space. To answer the question directly. We didn't at the time have good data on those going into annual. We have since figured out a way to pull data on annual passes just in this most recent experiment, you saw that there was some graphs on people saying for annual. When we analyzed that first one, we didn't have that route. So the answer specifically is no. We did, however, see that not that many people opted out of the emails. We gave people a very clear and easy opt-out option. If you're getting annoyed opt-out. We did see that the most people opted out in daily but it was under five across, I think it was 8 to 12 weeks. I forget the number of weeks but it's a good chunk of time. So not that many people opted out some people got annoyed and said no. I think a big part of this though is, this alludes to one of the other comments, the overall rate of driving and parking to campus is low in this period.  It's on average once, twice a week at most. Some people are going in a lot if they have to but really it's not that high. And people in the daily parking program especially are using this for flexibility. And so if there's a prediction, which is sort of implicit in that question that lots of emails would piss people off we didn't send enough emails. Very few people got loads of emails. For better or worse I think that sort of diminished our effect size but also meant that no one really got annoyed.
Erin Hafkenschiel:
And I'll just add, Joey that one thing that we've talked about the next time that we run this study is being able to set it up so that we can see who's opening the emails and who's not opening the emails. Because our running theory is we did not do that this time. And our running theory is that the people that are receiving the daily email are just not reading it.
Kelly Koster:
Yeah. Okay. So related to those email notices, I think here Justin asks, have you tried gamifying the notices and giving recipients environmental scores to see if that had a positive effect?
Joseph Sherlock:
So giving people if they're doing well a thank you for being sustainable, keep doing sustainable things. So crowding in the Pro-Environmental behavior. I think it would be a really great idea. I think it would be identity building. Hey, Kelly, you've cycled to work twice a week for the last month. You're an amazing environmental person, keep doing it. Here have this extra incentive. We'd love to do that. We're actually playing with a similar theory in a very different program. We're helping the city of Durham develop a municipal composting program and we're seeing if we can get people to start composting and then crowding that Pro-Environmental behavior along those lines. There is research on this. It seems to be a plausible avenue, although more research is always needed.
Kelly Koster:
And you could use the commute statements featuring Luum, which does that already with the environment, and calories burned and things like that.
Joseph Sherlock:
Maybe we should run an experiment on it [inaudible: 0:50:22].
Kelly Koster:
More to come. Okay, another question here from Stephanie. When people change their behavior away from parking what was the mode that they gravitated to or did you measure that?
Joseph Sherlock:
Don't think we know. It's not easy for us to get a good sense. In the lab study, which is not a great way of answering it, we do have some data, which I don't have in my head around the different frames pushing people in different directions. And they go along the lines that you would expect to help frame pushes people to move towards cycling and walking. The money frame pushes people towards the cheaper ones as well. So the main data source here is swipes, particularly in that last study is parking swipes. We don't have the if they didn't go, what did they do [inaudible: 0:51:15].
Kelly Koster:
Is there a hope that giving people that incentive, the non-SOV incentive will incentivize them to log their trips? And then you'll know, okay, this person drove, and then they took the bus or something?
Erin Hafkenschiel:
Yes. So when we did the parking email study that was in the spring of this year, and so we did not have the commute incentives program up and running. But we did have it up and running this fall. Our semester is just ending so we haven't been able to pull the whole semester worth of data and compare that with our commute incentive data.
Kelly Koster:
Got it. Okay, so, parking again, here. Have you ever assessed daily parking versus hourly where applicable?
Erin Hafkenschiel:
No. We haven't. But that is also a brand new program of ours. We launched our hourly parking, which is also our Pay By Phone parking program. We had this incredibly bespoke visitor parking program before we rolled out our hourly parking. And I don't know whether this is the same at a lot of other universities. Essentially, any department on campus could request a reserved space for their visitor on campus. They would pay for the space for the whole day, and our Parking Services office would print out a personalized piece of paper to put up in your parking space to reserve the space for you. Again, an incredible waste of parking spaces and resources. And so we are trying to replace that bespoke visitor parking program with our hourly parking program, which is pay by phone. And I'm seeing a comment from Cole from [unintelligible: 0:53:13] who helped us think through our MoveVu program. But with COVID and future of work, we do think that more of our Vanderbilt community members will actually be using that hourly parking too. If you're only coming to campus for a meeting, and then you're going to go back home you may choose to do the hourly parking program instead of daily. So that is, again, once we have a full semester worth of data that's something that we can look into.
Kelly Koster:
Perfect. Okay. And then another question here from Jessica. Joey, how would you run the impact of daily versus annual study given that people who opt into daily parking at Vanderbilt are not identical to those who stick with annual?
Joseph Sherlock:
So I'll say how we tried to run it twice in this round, and both times didn't work out. So what we did is to summarize Jessica's point there. If we just take people who go into annual and people who go into daily and compare them, it's not a fair comparison because there's some differences in those programs and different types of people opt-in. The biggest one is probably the number of days you expect to come to campus. If you just come reasonably and frequently it's probably more economical for you to choose the daily program. If you drive every day, well then you may as well think of cost into it upfront and you know you're going to be going every day. So those two groups of people are not the same. So how do we get a good comparison between equal or equivalent groups to see how the daily program changes behavior? So the way that we dreamed up was with a waitlist control. So we wanted to do was have people across the university opt-in or subscribe or sign up for the daily parking program. And our goal was to get, so we have 1400 daily parking spaces, our goal was to get thousands and thousands of people signed up for daily parking such that we had too many people. We had this big group of, say, 3000, people who'd sign up for daily, and then we would randomly select the overflow on that group and hold them back into this waitlist control. We know because everyone has signed up, that those people are equivalent. So if we randomly pick a group out they will be equivalent to the people that we ultimately led into the program. In theory, this model works quite well, gives us a statistically clean control group. However, you can probably expect where it fell down. So we've tried this model two years in a row in 2020, and in 2021. Both times we didn't get a big enough sign up, we didn't get enough people over the limit of spaces to be able to have.... we need 500 people in a control group who are held back from the program. And for that, we need much more demand than we're getting. A big part of that is probably the program is new, a big part of that is COVID, and people are not coming to campus as much as they could. So we haven't yet been able to make it work. We'll probably try that model again. Another model you could try would be to use propensity score matching, where you take people in the program and you find a statistically significant, or statistically similar person in the annual and compare them. That requires more data than we have. So we're probably going to go back to waitlist controls if we can make it run.
Erin Hafkenschiel:
And I will just chime in and say that this is obviously the gold standard study that we all want to do. But with all these studies these are all real people. We've got 13,000 people who come to and from our campus and are navigating this new future of work environment. And so that has definitely been part of the struggle is creating a program that works for people. But that also works for us as a university but also helps us better understand people's behavior. And so, as Joey said, we didn't have enough people even coming to campus to create that waitlist. But the other big concern would be because people are opting into daily parking, and they're not coming to campus as much our garages are not full. So it would be very, very hard for us to artificially hold back a large number of people on a waitlist when our daily parking facilities aren't filling up every day. So that's another consideration that we have to think about. Of course, as both Joey and Jessica pointed out, previous to COVID I would say that the people that would have been in our daily parking program, and our annual parking program actually would have looked a lot more similar to each other. Again, when we did that study in November of 2019 and looked at the parking usage across campus everyone assumes that staff come to campus five days a week but faculty don't. And our data showed that for the most part, everyone was right around three and a half days per week regardless of your employee type, or your income band. So we were seeing real commonalities across our entire community. That has obviously changed a complete 180 so it's going to make it even harder for us to design that perfect study.
Kelly Koster:
Definitely. Okay, we have two minutes left, and there's a lot of great questions I still want to get to. So I'll at least ask a couple of them but maybe you can answer a little quicker if possible in the answer. So we have one and I've heard this a lot so I wanted to ask it. Erin, how has your money generated from parking used on campus? And if it does fund campus infrastructure projects how do you navigate that impact of reducing parking on campus but then not being able to fund other programs?
Erin Hafkenschiel:
Okay. So I'll try and do that one really quickly. Our parking program is an auxiliary program so all of our parking revenues are supposed to support our.... we don't get any funding from the chancellor's office or from the university. And our parking revenues do not fund campus infrastructure projects. We fund those projects in a slightly different way, which I won't get into right now. One thing I will mention is that we do have a CMat grant. We have 2 CMat grants from the State Department of Transportation, which is helping fund, we're a private institution so it's a 50/50 funding match. So that's definitely helping us roll out some of these more innovative programs.
Kelly Koster:
Great. Okay. And then I like this one as well, from Stephanie, what changes would you anticipate if these studies if parking was originally free, which obviously is true for a lot of people in America and Canada here, and people were responding to parking becoming paid with the goal of reducing drive-alone rates?
Joseph Sherlock:
Yeah. I mean, I think this is similar to what we're seeing in that calculator. We see 70, 80% of people are making a rational decision based on the prices available to them. Not everyone, there's still room but that's pretty high. So I think if you're moving from a free situation to a paid situation you're going to change the decision-making process for individuals. And so they'll immediately look to find an alternative mode would be my guess. I think we should study that and show that. But I think for a lot of people that'll be the impact. That'll be to some extent linear with price, it'll probably be on a curve where there'll be diminishing returns, and some people just have to go to campus. And then there'll be behavioral things you can do around that. So if you can make it easier for people to use the alternative mode, for example, then you will also increase the impact of the price increase.
Erin Hafkenschiel:
And I will just chime in. We've been able to do this program in Nashville, which is the land of free parking. We have free valet parking all over the place. And so people really don't like paying for parking. We do not have a great transit system. We're the last of two cities in the country that doesn't have dedicated funding for transit. So we've even been able to do this program in an environment with not a lot of great alternatives to getting to campus. The biggest thing that I can say is that again, our values as a university, free parking does not match with those values. And then even more so all the research out there shows that subsidizing parking benefits really wealthy people that is certainly the case at our university where our subsidies continue to subsidize people who make over $100,000 a year, which just makes no sense at all. So if we can really tackle these parking subsidies, and free parking, I think that that is just a huge step in the direction of accomplishing our sustainability and our commute goals.
Kelly Koster:
And one question tag on to that from Adam Jewel at Alina is, have you and I know you have. So I'm keying you up here, Erin. Have you discussed income-based prices that get complicated fast but as, I don't know what that means, getting to an uncomfortable price probably moves the dial the most?
Erin Hafkenschiel:
Yes. So we are actively having those conversations. Joey and I were just on the phone earlier today talking about this. And what I will say about it is that I think that I would love to see market-rate pricing for everybody at some point in our future. That being said, given our extremely diverse staff, and really varying income levels, and the fact that we don't have a great transit system, I just don't think we can do that for our lowest-income folks. So what my goal is, is that we are going to work towards having a monthly rate and a daily cap, or I guess a monthly cap on the daily parking rate program for just our lowest-income folks. And then we are going to start moving to a market rate for everybody else. And we will be able to come back and reevaluate that if our transit system gets better. But just given the affordable housing situation that we have in Nashville, which I'm sure is similar in a lot of your cities. If you live further away from campus there are just not a lot of great alternatives to get to campus. And so we've got to protect those folks. But we definitely need to get rid of subsidizing people who make over $100,000 a year.
Joseph Sherlock:
Absolutely.
Kelly Koster:
Yes, absolutely. Well, if you have a few more minutes you can ask a few more questions. We still have majority of people on the line. And I see a raised hand. Do you have a few minutes Erin and Joseph?
Erin Hafkenschiel:
I've got a few more.
Kelly Koster:
All right. Okay, perfect. So there's a question here in the Q&A of do you think it would be interesting to assess associations between negative health impacts for others looking outside the self [unintelligible: 1:05:00] the community impact when one regularly drives to campus versus the participants commuting patterns?
Joseph Sherlock:
Interesting. Nothing else to add that's [inaudible: 1:05:10]. We tried this in COVID, by the way. We ran experiments on whether it was, I forget the names of the frames, but essentially just this, encouraging people to change their behavior based on if you wear a mask, it's good for you versus if you wear a mask, it's good for your family. Versus if you wear a mask it's good for the community. And I don't think we saw in those studies, we didn't see huge differences between them. I think there was some differences variable based on groups. I haven't got the results in my head. But it'd be really interesting to try that in a sustainability context.
Kelly Koster:
Okay, and then Bob, I see you have your hand raised, I will allow you to talk if you want to ask your question live. You should be allowed to talk now, Bob. So if you have a question come off mute and let us know.
Bob:
Sorry about that I'm watching this on my cell phone, and I didn't intend on raising my hand but it's [inaudible: 1:06:16].
Kelly Koster:
Okay, perfect. Well, I will ask one more question that was asked a few times in the Q&A box, which is for you, Erin. What impacted the change the daily parking have on revenues? If you know have on parking revenue.
Erin Hafkenschiel:
Well, that's a really hard question to ask or answer because we launched daily parking essentially at the same time as COVID. So of course, our revenues were down in 2020. They have started to come back up. But they are not back to where we were in 2019. I will say that our daily parking revenue projections were.... we have not met our projections. And part of that was because we were basing those revenue projections on a park per week number. And we had assumed a two and a half park per week number, and we're really seeing closer to one to one and a half. So I think if we can rethink the rates a little bit, have better data to inform our revenue projections that in the next fiscal year we will get our revenue back up to where it was.
Kelly Koster:
Perfect. Thank you. Well, I will just say a couple of things here. Joey, do you mind putting the links to the studies that I know are on your website in the chat? Awesome, a few people are asking for those. There will be a recording of this that we will send out to everyone who registered. Maybe tomorrow but probably on Monday. So you can look for that in your inbox. And it'll be on Luums website with all of our webinar recordings. And then, Joey and Erin, thank you so much for being here. There are still so many questions. So I would encourage people, I saw Joey's email in the chat, I saw their emails on slides. So they seem open to your questions and collaboration via email. So feel free to directly email them or email me, reply to the email that I'll send with the webinar. And I can connect you and your questions. But thank you so much, Joey and Erin, just by the engagement and the questions this is definitely one of our most popular webinars. So it sounds like we maybe need to have you back or do some smaller breakout group sessions of research and pricing challenges. So thank you so much both of you. Really appreciate your time. And thanks, everyone for your time today. I know that time is incredibly valuable. So thank you for spending it with us.
Erin Hafkenschiel:
Thank you, Kelly. Thanks, everyone.
Joseph Sherlock:
Thanks, everybody.
Kelly Koster:
Have a nice day. Bye.
Seattle Cancer Care Alliance (SCCA)
This webinar features SCCA and Luum in a discussion around how SCCA made the switch from monthly to daily parking—a critical first step towards delivering flexible mobility benefits to their new hybrid workforce.
Kelly Koster:
Hi, everyone, welcome. We'll just give it another minute here as folks log on to the webinar before we get started. Good morning, everyone. We are a minute after the hour, so I'm going to get us started here, even as others log on to the webinar. My name is Kelly Koster, and I'm the Director of Marketing here at Luum. We're a mobility benefits platform. We work with employers, universities, hospitals, tech companies to offer innovative mobility benefits that ultimately reduce drive-alone rates. And so we start where the majority of Americans start with parking, and the SOV trips. So I'm delighted today to be joined by Todd Sturgeon to talk about parking, which we think is very exciting, unlike my sleeping cat who does not seem to be very interested. So Todd Surgeon is the Transportation Program Coordinator at Seattle Cancer Care Alliance. Briefly about Todd, after a long career in the service industry, he's now running point at Transportation Department at the Seattle Cancer Care Alliance. He joined the team to assist with the strategy and metrics when SCCA decided to take on a more active role in their TDM having been currently managed by an outside agency. During the pandemic, he's become its sole member and has overseen the shift from public transit integrated employee population to an almost exclusively SOV oriented in the center of an urban environment. He received his bachelor's degree from Western Washington University. So first here, I'll just kick it off by sharing some commuting trends that we're seeing in our Luum data. And then I'll share some findings that our parent company Health Equity found just a few months ago when they did a nationwide employee survey. And then I'll hand it over to Todd to deep dive into the SCCAs program, how they started by implementing daily parking, and where they're headed from here on out looking ahead to a hybrid workforce. So this will go a bit more in-depth. If any of you have seen the case study we just put out last month with SCCA that really focuses on that daily parking implementation. This, we will go even further today talking about the hybrid workplace, and how benefits are continuing to change for employers like SCCA. If you have any questions, drop them in the Q&A box. We'll have about 20 minutes at the end to ask Todd all sorts of questions. So drop those in the Q&A, and then we'll have plenty of time to get to them.
So first, a few commuting trends to share very briefly here on one slide. For all of you TDM experts out there, none of these should be surprising, but more sort of reinforcing. So with our Luum data, we've seen that there's about a 60% drop in commute trips with the biggest dip at tech companies,85% during this pandemic, compared to just a 20% drop when looking at the healthcare industry. We've also seen an increase in carpoolers and van poolers specifically compared to bus commuters. In healthcare, there's twice as much carpooling compared to busing. Whereas this trend was reversed prior to the pandemic in January of 2020, we saw healthcare had twice as many buses as they did carpools and vanpools. So those will be an interesting one to continue to follow as we do start to return to offices as we do hopefully move into a future state. I won't say post-pandemic, were seeing if people go back to the bus or do they stick with their carpools and vanpools. And then lastly, specifically, we've seen biking gain popularity at university campuses during the pandemic, more so than the bus, and other sustainable modes. This is possibly due to safety, student budget, which we all know can be tight. Also, the ability, the demographic of college students tend to be younger and more able-bodied, and they tend to live closer to campus. So I really just put this slide on here partly to maybe vent.
We've seen about a million and one surveys about what will the post-COVID commute look like, and how will it be different. And I personally am just over the word post. I don't know when that world is, and what it's going to look like. So instead, the way I'm approaching this and invite you to share your thoughts on this approach as well. But I'm just looking at what's the future commute? What's happening now, and what can I plan for in six months, in a year? How will that be different? How is transit rebounding, and how quickly? Okay, great e-bikes sales are booming? How can I encourage more e-biking, and biking in general amongst my employee population? How do I incorporate telework into policies because it's here to stay? Employees are demanding that flexibility. So that's good news. And we know the commute will look different. So really quick here, I just want to show you some of the findings from an employee survey that our parent company, Health Equity did. So Health Equity is a benefits company, all benefits under the sun. And what you'll find really interesting, at least what I found really interesting about this survey, is how it really zeroed in on commute, even though it's about all benefits. So before I dive into those findings, just to give you the lay of the land. So this was conducted this past June, the survey sample that we're looking at is 43% of the study, who are people like myself, who were prior to the pandemic, working in an office pretty much full time, and then have shifted to either full time, I've been working from home throughout this entire pandemic full time or part of the time. So it's just looking at those people who've really made that shift. So now, hospital population like SCCAs, this is a fewer number of your percentage of employees than it would be at a company such as Luum, where everyone was lucky enough to be able to work from home. So in total, this 43% of the study is just over 1000 employees from across the country. And we're going to look at what their responses were. So the key takeaways from this survey, just kind of cut to the chase but we'll dive into the details too, where employees want flexibility above all else. That's why teleworking is here to stay. Remote work support is increasingly important. And then sort of that dark horse, at least for benefits providers is there really arose an opportunity to improve commuter experiences. So let's have a look.
First, some level setting. 74%. So three-quarters of organizations say that they want to bring employees back either full-time or part-time to work in offices. And what's more, about two-thirds of employees say, I want to return to the office, at least in a hybrid model. Maybe not full-time, but at least part-time. So not quite as many as the organization's three quarters that want to bring people back, but pretty close. I know I personally fit into that. Yes, I want to go back sometimes. So here's where it gets really interesting. Of all the benefits that were asked about, and if you have laser vision and can see that the tiny print over here. There are a few things like I can wear comfortable clothes that's why I like working from home. There's childcare on there. There's mental health, productivity, work-life balance, and responsibilities, how to manage those. So there are all sorts of options for these respondents to pick. And what rose to the top as number one and number two for why do people prefer to work remotely some or all the time was because of commuting time as number one and two as commuting costs. So then thinking back to those 75% of employers who want to bring employees back, some are part of the time, where's the first place that they should be looking to do so in a supportive way for employees, and to offer a competitive benefit. It's definitely around supporting the community. And I know we can't change always, or improve the amount of time it takes to commute but we know we can certainly change how that time is spent. Is that time spent stressed stuck in single-occupancy vehicle traffic? Or is it spent on a bus, or a light rail, or bike, getting exercise, listening to a podcast, reading a book? Some things that you can't do while sitting in your car alone. I sure hope you wouldn't read a book sitting in your car alone driving. And the second one is a bit more obvious right of how can you support your employees with commuting costs? Well, you can offer subsidies, you can offer free transit cards. So we're looking more and more and seeing employers start to invest in those commute benefits since that is what employees are most concerned with when they think about returning to offices. How can we offer a flexible subsidy that they can use for whatever mode they're most comfortable in? Be it transit, high occupancy rideshare, vanpools, bike share, scooter share, there are so many options more every day. So employers are really looking at being innovative and giving their employees support around the costs of commuting.
So we're approaching this as an opportunity for change. I'm sure many of you are as well. I love this Harvard Business Review article stressing that it's time to change behaviors is when people move or start a new job, or there's a serious disruption. I think we can all agree that this has been a serious disruption. And returning to offices really does feel a bit like a relocation, it feels like something brand new. Maybe I shouldn't share this, it's a little embarrassing. I went into my office twice last week. I always ride transit, I love transit. I even have a husband who plans the bus routes and told me which one to take. And I still went both days last week, and hopped on the 11, not the 12 at the same stop on Madison there and had to immediately get off when I realized my incorrect bus and run over back to Madison to get the 12. So we're all relearning our commutes. We're relearning how to get there. And it is a time then to really influence employees and change their behaviors and change policies as well. Really, I think of it too, as a great opportunity to get that buy-in from leadership to change policies that you've been wanting to change for a long time. So quick poll for the audience. Around that sort of budget, I would call it, and thinking about what his 2022 going to bring. We're curious if you're finding that you're getting more support for commute programming, and you have the budget to alleviate costs for employees, for example, to offer more innovative benefits, or is it decreasing at your organization? Go ahead and choose your answer and hit submit. We have about 50, 60% of participants. So I'll give it just five more seconds here.
All right, going to end the poll, and share the results. So it looks like for most people, it's staying the same. Hopefully, it was already sufficient and high. For some people, it is increasing. By about the same amount it's decreasing. And they don't know. My hope with some of these data presentations, case studies, like SCCA can help organizations make that case for here's why now is the time to invest in our commute benefits. And here's why we have to do it now. The future commute is demanding it of us. Thanks for sharing. We'll have another poll during Todd's talk. So my last, I think two slides here are just a little bit what I've already alluded to as I've talked to these other slides but how are employers actually changing their benefits? The biggest one that makes our TDM hearts flutter is that employers are switching to daily parking charges. They finally have the buy-in from executives because of the hybrid workplace, because they're not requiring employees to come in every day. For other circumstances, like what Todd will share as well. But they're finally able to say hey, we want to implement daily parking charges and they're getting that buy-in. And of course, for all of us in the transportation field online here we know that that's wonderful because that's where programs need to start with flexibility. And we know that that's what reduces drive-alone rates. We looked at pre-pandemic data for Luum customers who went from monthly permits to daily parking charges. And we saw that on average there's about a 12 to 15% reduction in drive-alone rate, just by getting out of that sunk cost-effective monthly permits. This doesn't take into account different pricing. I'll leave that to the more sophisticated researchers like those at Duke doing some of that research with Vanderbilt right now. But this just looks at making that switch from monthly to daily parking charges. So we're seeing employers do that? And we're also seeing just more flexible benefits. Again, exactly what we hope and what we want. We're looking at a lot more first come first serve, just like you reserve a desk, people are starting to reserve parking as well, or reserve a seat on a shuttle. We're also seeing a lot more customized and flexible subsidies. I mentioned this earlier, where people are saying you can take any form, it's not driving alone of rideshare, bike share, and scooter share transit, and that you're comfortable with. Here's a subsidy per month you can use it on these things. So that's also exciting to see putting that choice and those incentives in the hands of employees, and commuters. And then we're also seeing a lot more formal promotions around biking, and walking and the actual education around that. So with that, I'm going to pass it off to Todd to talk about Seattle Cancer Care's journey switching from monthly parking permits to daily parking, as well as sort of where they're looking at bringing in more flexibility and continuing to change and evolve their benefits as they move into a hybrid workplace. Go ahead and share your screen, Todd.
Todd Sturgeon:
Thanks, Kelly. Click all these requisite buttons here. Alright, there we go. As Kelly said, I'm Todd Sturgeon transportation coordinator at the SCCA. We took over our program about two years ago from an outside entity that was servicing it for us and brought it in-house and have gone through all the requisite growing pains as part of that process. And just as we got on our feet COVID hit us. So as we get to the topic of daily parking, I just wanted to take a couple of minutes here first and go over how we ended up at that place. A lot of it was driven by COVID and the changes that we had to put in place. When COVID hit obviously, as a cancer care facility we didn't have the option to stop giving care to our patients. So we had to take the steps to determine what we were going to need to do to one, continue to take care of our patients and to do that how to get our employees on site. Obviously, they didn't want to be on transit, we really didn't want them on transit, we wanted them getting there as safely as possible. So we set out to identify what portions of our workforce could work remotely, what portions would have to come on-site. We had to determine what we needed to get for those that could be remote, and the impact of putting that all out. Ironically enough, as we were scrambling for parking spaces our supply departments, and our IT departments were having to bring in massive truckloads of equipment that we didn't have space for. So we started having to fill parking stalls with that equipment as well. It turns out most of our workforce even those that could work remotely didn't have laptops. So we literally had to bring in truckloads of laptops, and pass those out. But we did get adapted. And we still needed to have about 1000 people coming to campus each day to take care of folks. Prior to COVID, we had actually been pretty good with our CTR commuter production that we use here in Washington. The non-drive alone rate was 64%. Drive alone was only 36% which is a pretty decent number. But that also meant now that we had a large portion of people that hadn't been driving that were going to have to come to campus, and we did not have the stalls to do it. So we went out, we leased additional stalls from folks nearby us that did not need that, and also got some assistance from the city of Seattle. They provided us with a zone around our buildings of street parking that we could use our own systems to hand out passes for those folks. We also ended up having to suspend any of our carpool rules and a few other things to get people on campus. And that's where we started COVID. And this is when we began to realize that as we started to return to normal, and for us, that was August of last year, August of 2020, that we began that slow climb back out of this that we were going to have to have more flexibility. Prior to COVID, we had not really dabbled too much in daily parking, everybody who parked had a monthly parking stall, those that took transit didn't have any other options, those that rode bikes didn't have any options. And that was just not going to work as we began to move forward. So that's where we get to our daily parking. We had tried this out on a small scale, we had a small lot that had about 16 to 20 spaces in it. It was slated for construction of a new building, we had it for about six months. So we thought, well, we'll give it a shot. But it turned out to be highly problematic to manage on our own. Effectively how we did that process was that staff could come in to our transportation desk, and sign up, swipe their card, and pay a fee. And then we gave them a little slip of paper to put in their windshields so we knew it was them, and what day they were going to be parked there. And that was the only way we could manage it. So anybody that had to have daily parking had to go through a process that had to have a human touch. We were literally tracking it on slips of paper on a clipboard every day. We've assigned you stall two, we put their name in the spot for stall two on that piece of paper for that day, if they wanted to reserve something for a few days in advance, we would flip through the sheets, and write them down. So it was a very laborious process to do. And as we realized we were going to have to continue it and expand this, thankfully, that was when we had brought Luum on board. And they were able to offer us a method for doing the daily parking where we'd set them up, they could go into a garage, and then the system would automatically count them by our card access system, which we were able to connect to Luum. Which is great, except we had no way of controlling the volume of who was coming in. So that's now where we get to the piece with the reservations process, and allows us to balance that out. If you ask anybody when they want to come into work, they're probably not going to want to come in on a Monday, they're probably not going to want to come in on Friday. We already know that we have days that are heavier than other days. Specifically, Wednesdays and Thursdays tend to be the days that the doctors prefer to come in and do their clinics, we have higher patient volumes on those days because of it. And therefore we tend to have more workers that come in specifically on those days. So to balance that out, we needed a way to allow staff to reserve ahead of time so that they would either hit up against the wall if those days were full, and reserve our spaces, or find another day that they could come in and work.
So the question then comes, is all of this cost going to provide a benefit. It provides a huge benefit to the employees to be able to continue to work remotely, to have a spot that they know they can fall back on and park if they need. And we've actually found that employees are using it rather creatively. With the reservations process, I have staff that does drive-in on occasion but they come in early, and they will look for street parking first. Because we've priced our reserved spots for daily parking at $14 a day, which is based loosely on our monthly rate. We charge our staff $170 a month if they do have monthly parking thing, which works out at 14 to be about two to three days a week. It makes it better to go on to the monthly plan. But to save money, what they will do is they will search first for that sweet 50 cents per hour parking that Seattle still has in an area around our neighborhood. And they'll find a spot there before they commit to going into the garage, and daily parking. And that benefits us by keeping a lot of additional space available. So that pricing point there is key. You want something that they can afford that's less than the monthly to entice them to go to that option. But at the same time, you don't want to price it so low that it becomes the first location that they pick. And the same goes for your transit, and bike commuters. I find that I do have a number of those folks who will reserve a spot if the weather forecast looks bad. And then when they wake up in the morning it doesn't look so bad out there, they'll then cancel their reservation free that spot up for somebody else, and go ahead and bike. But they like having that peace of mind, and that ability to be flexible. And again, transit users will use it for things like doctor's appointments, child care concerns, and things like that, where they just need a day to drive in. And that's the flexibility we didn't have before. And it made getting people on to transit more difficult. So the advantages go far beyond just the remote and hybrid to kind of help push us back into those transit modes. Our staff over the last two years have become very comfortable with driving in, they build that habit. And as Kelly talked about in her part of the presentation, people don't make a change unless there's some other thing driving it. And so they're unlikely to want to shift back unless there is a way that's given to them. And we're finding that the daily parking is starting to help drive a little bit of that. I am slowly seeing folks go back to transit as opposed to just simply driving in. We had about 35% of our staff just turn in their ORCA cards during COVID. And now I'm starting to turn some of those back on. I'm starting to get a few more requests for ORCAs as opposed to just asking me for parking right away. So there's definitely those benefits that we're now seeing. And I really do feel that the cost of adding in that is balanced out by the benefits that you get. It allows you to utilize what parking you have much more efficiently and not be dedicated at all to a monthly partner that may only be using that spot two to three days a week but they want to have a spot available. So this way, I can take 50 stalls. And if I've got people only coming in, say once a week, that means I can park 250 people over the week, and balance it out with that reservations process. And at this point, I think before I move on, I've got a poll question from Kelly there to add in about executives. There we go. So, from your view, how supportive is your executive leadership of commute programming? And we've got a secondary question there on your corporate priorities. Let those run there, Kelly.
Kelly Koster:
We got about 40% of people participating. So we'll give it another 30 seconds here. Make sure to hit submit at the end. That second one is to select all that apply so you can select multiple Alright, just 10 more seconds here. It's actually a counter so I'm really timing 10 seconds. 2...1, all right, sharing results now.
Todd Sturgeon:
All right. So we've got a very, and a somewhat from how supportive is your executive leadership of the commute programming. The leadership piece is one that I've had a lot of experience with over the years, both in TDM and my previous life working in private security in the service sector. If you don't have that leadership that is backing you up and setting that example it can be very difficult to get these programs going. So I'm glad to see that a lot of folks are either in the very to somewhat, about three quarters are there. Nobody said against it, thankfully. So glad you're getting some good leadership. And what are the priorities right now? Diversity, equity inclusion. Absolutely, seeing a lot of that at my location as well. I would have to say that my answer would be the same on that. And then hybrid workplace flexibility, and employee experience. And that's what I find interesting. Those two right now coupled together are really driving what we're seeing at a lot of companies. And I think this opportunity to add parking into that piece is going to be very important to that moving forward. Every company is kind of finding their way, and how they're going to do this. I think a lot of companies are discovering that if they're not on the right path employees are going to go elsewhere. My facility, the SSCA is in the South Lake Union area of Seattle, and we have a rather large neighbor that ships out a lot of boxes to people's homes, I think you can probably guess who that is. And they were pretty hard on hey, we're going to have everyone back in the office, we're going to be done remote. And they've started to get pushback from their employees. So they have significantly eased their position on that. So the employee experience and the hybrid workplace flexibility are going to be key pieces in keeping and retaining the employees moving forward. And I see attracting and retaining talent right below that. So you can add that one into that bucket right there. If you're not taking care of your employees and giving them options to be flexible then you're going to have a difficult time retaining those employees. Alright, so, on that note, we talked to our employees, just like Kelly's company looked at a number of other employees, and ask them, what do you want to do? And the number that decided they wanted to just come back to the office full time didn't even make 3% out of our employees who are working remotely. Now they discovered they liked it. Almost half of them then said they wanted to remain remote. And 50% said they would like a combination of office and remote. Personally, that's what I do right now. I work two days at home, I work three days at the office, obviously parking. We all know that we have some hands-on stuff we have to do. But working remotely is nice. I don't think you'll find too many people that will say that it is not. But then we went on and asked them how they were planning to get to work if you do come into the office. And overwhelmingly, folks said that they would come in via single-occupancy vehicle. They wanted parking, they did not want to carpool, they didn't want to vanpool, some of them would take transit, almost 30% but the vast majority of 60% were going to drive in on their own. So we pose this question out to well over 1000 employees, 671 answered this question. So as you can imagine, that's a lot of cars coming to campus. We're talking about the potential for 400 people if they're coming into the office. One to two days a week, 400 is a lot of cars.
And of those SOV people, then will you expect us to provide parking for you. About 10% actually were brave enough to say that they would figure out how to find parking in downtown Seattle on their own. But 90% of them wanted us to provide a space for them to park. So that's really driven a lot of what we've been doing. And we have also initiated a method for those folks to reserve a desk, which will also help us balance out. They reserve a desk and then that system directs them to my system to reserve a parking spot. What we're finding, of course, kind of practically, is our loads are still pretty low. I actually have a desk and one of the areas that is a hotel desk station. And I might see one or two people. So we're seeing a pretty low intake rate on the number of folks that are coming to work. So far, we have opted, as I think a lot of companies have, to continue to remain flexible in allowing people to do what they want, and balancing that out with the morale and whether or not they decide to go somewhere else. I think that's going to be the key point for a lot of companies moving forward, honestly, is that competition now between workplaces to who's going to be continuing to offer flexibility and who's going to be more rigid in their policies on that. But as we speak to that, the daily parking and the ability to be flexible is going to be an absolute key piece to remote working. I don't think that anyone will be able to get away with not having some form of strategy to accommodate daily parking and flexible parking. And with that, open to take some questions.
Kelly Koster:
Excellent. Thanks, Todd. And just a reminder for everyone to go ahead and drop any questions in the Q&A box, we have a couple in there. I've also got a few. So we'll dive in here as people jot down more questions. So, David Allen asked this question, and David actually might be asking this of everyone on the line. So, Todd, I'll let you answer. But also, if folks have answers put it in the chat as well. David asks, are you considering installing electric outlets for e-bikes in your bike facilities?
Todd Sturgeon:
That's an excellent question, David. And the funny thing is, we stumbled into that, and actually already have outlets in two out of three of our bike cages. So we were lucky enough to have that infrastructure there, and are utilizing it. I'm hoping to get the budget to expand and place that in the cage that currently doesn't have it. But we've gotten to the point of we went and had our sign shop, make up signs to put over all of the outlets to flag them for folks and let them know that they are there and available for e-bike charging what the output of the outlets are. So it says hey, e-bike charging 120 volts, just so people have that expectation, and can find them. And know that that's yes, absolutely what we want them to use them for.
Kelly Koster:
Excellent. Thanks, Todd. This says a question for Kelly so I will answer it. Is the reason why people switched from transit to carpool because they felt safer health-wise, or is it because of reduced transit service and frequency? We just have the data on the commute trips by individual. So we know that people have changed their behaviors. Was busing now doing carpool, was busing now doing vanpool. We don't know the why behind it. But those two reasons I would say are pretty spot on early on for people who didn't have an SOV or didn't want to drive their SOV, that early messaging at the beginning of the pandemic was, hey, don't take transit right now. And so I think that's why we saw a lot of people shift to vanpools within their network where they trusted the other people and carpools. And that's where I'm really interested to see how that sticks throughout the next year, plus.
Todd Sturgeon:
Yeah, it's interesting. Our experience with carpools and vanpools was actually quite different than that. I think what we found is that most of our van poolers were the administrative staff. And so most of our vanpools fell apart. And we had to start putting those folks in parking. A lot of our nursing and patient care staff tends to be a little more shiftwork-oriented, and that makes it difficult for vanpools to form in those groups. So we actually saw a significant reduction. I think we had one vanpool that managed to make it through. And now we're seeing them start back up. But it's been a slow process, we went to almost none.
Kelly Koster:
Yeah, that's interesting how the shift work really does play into it. Even though you're a health care facility, other hospitals are having to have different amounts of shift work, different schedules, and different realities during the pandemic of who's commuting. Okay, a question for you, Todd. Does SCCA subsidize employee parking monthly and or daily?
Todd Sturgeon:
So we do subsidize. We charge $170 per month which is below the market rate for the area. Even with COVID, market rates started at about 225, pre-COVID, market rates were about 285 if you wanted to purchase a stall on the open market. We were operating our parking at a loss prior to COVID. We've actually managed to rearrange some of where we have parking stalls right now, and offload some of our more expensive stalls for less expensive stalls and come to a balanced budget-wise. So we're saving some money now on that area. But we do subsidize that. The daily, not really so much. We're charging closer to what a public garage would charge. You can find an early bird rate for about $16 in our area in a garage, we charge 14. We designed that rate to be right about the same as street parking in the neighborhood, just slightly less. Prior to COVID, the amount right now it's excessively expensive compared to street parking. The city of Seattle has dropped that rate. But we didn't want the daily parking to be the go-to the first thing they chose if they're going to drive in by themselves. We wanted them to use other areas, like street parking, so that they weren't clogging up our garage right away. That gives us a little bit more space to work with. If the first 20 or 30 people in the morning can find street parking and park there, then we still have our 50 daily stalls available.
Kelly Koster:
Keep going on this parking trend. There are a few more parking-related questions for you, Todd. One of them is are you committed to the daily parking fees that you have now for the long term? And if so, why? And then the second one is, is your monthly parking previously waitlisted?
Todd Sturgeon:
Yes. Two questions there. We are going to hold that daily rate at this point in time, there's no real impetus to change it, and it seems to be working pretty well. And the way it balances out with our monthly rate for folks that come two days a week to campus gives them the feeling that they're not overpaying for parking and gives them an option. So it really does seem to be kind of a sweet spot price point for us right now. We would like to increase our monthly parking but that's having to be balanced off against employee morale and such. Leadership doesn't want to increase that anymore. We're also about to merge with Fred Hutch, who they charge less for parking so we're going to leave that alone for right now. The waitlist, yes. Prior to taking over parking, we had a waitlist that was about two and a half years long. So it wasn't an insane wait to get parking at the SCCA. We ended up going out into the neighborhood and investing heavily in leased stalls in buildings that were underutilized, parking that we were having to pay the market rate for. So we were going out and paying close to $300 per stall per month, and we bought up over 200 stalls that way. And then we're reselling it to our employees at $170 a piece. So losing a significant amount of money to get that waitlist down. The waitlist was so long that by the time we started actually filling it we were encountering people that no longer worked for us on the list. They had worked their entire time at the SSCA and never managed to get a parking spot. But we got rid of that waitlist and then under COVID, as I said we were able to maneuver that around, we gained about 300 stalls from Fred Hutch that was not needing them at that point. So we moved a lot of folks to those less expensive stalls. And it's been enough to keep us balanced. I have not had to go back to a waitlist. I'm really on the cusp of it. I have a couple of buildings that will fill up and I just have to kind of wait for someone to quit, and then I stick one more in there. But I think that we're going to get past that breakpoint. I think I'm seeing enough people go to transit now that I won't go back to a waitlist. That's at least my hope and dream.
Kelly Koster:
Thinking about what you were just saying there about trying to get people back towards transit. There's a question here from Jillian. Todd, do you have any hesitancy in basing your planning on what employees say they will do in the future when it actually comes to returning to work, what employees actually do may change. Which is true. There have been a lot of commuting studies that have found what people say they will do does not match, especially in commuting, which is such a habit, what they actually do. So Jillian's question, and then I'm also wondering how are you really thinking about that 60% that says they're going to drive. And given what you just said about the parking waitlist, and looking for more stalls, how are you thinking about changing those behaviors?
Todd Sturgeon:
Well, I'm hoping that a good portion of them get on the roads here in Seattle, and realize the absolute horror that awaits them on our highways. I went back to transit as quickly as I could after getting vaccinated last January. And by the time my shots were full efficacy the first of March I was back on the train because the highways had gotten bad. There's not a ton of people coming into work. But because there's not a lot of people on transit, they're all on the highways. And traffic really in Seattle is as bad as it was pre COVID right now. It's got some weird patterns to it, but it really is heavy traffic again. So I am hoping that that starts to move people back to transit. The transit agencies have done a great job of making it as safe as they possibly can. Actually, right now it's really comfortable to ride transit. Most days, I take the train home, and I sit by myself with three seats around me, and not another person in sight. So it is very difficult to plan though. The only thing you can really do is watch how your trends are going and what your employees are doing as they're turning over. Is your uptake on parking rising? Is your uptake on parking dropping? Are more people coming in? If you have contacts within other groups especially those that have been remote, hey, are you bringing people in? But I think that when a lot of these folks are coming back to campus they're looking at their old habits, and up taking some of those. Some of them are deciding just to drive in. But I think trend-wise I'm not too concerned that it's going to drastically change from what I'm seeing right now. So that does give me a baseline to plan out what's going on. I know what my uptake is on parking spots every day, I know how many ORCA cards I'm handing out. I can see that that trend is starting to improve. So I'm pretty confident that I'm not going back to waitlists, and crowding anytime in the future.
Kelly Koster:
Are you planning Todd on serving employees? Again, I know you have the data in Luum to actually see how they're commuting. I'm curious about the why, like for those who are opting for either a sustainable mode or who are driving alone, I'd be really curious to understand the why so that you can plan a marketing and messaging campaign that's promoting alternative modes that we know will actually resonate with your employees.
Todd Sturgeon:
Yeah. And for us, that's a question we definitely need to answer. We're also undergoing a merger right now. So we're kind of putting the pause on a lot of processes for the next few months until we get that part under our belts. Fred Hutch, who we're merging with has a larger transportation department as opposed to the Transportation Department being Todd. And so when we merge those two together we'll be looking at some more processes. We used to work with them and do your transit fares and the bike everywhere day, we would do a big station for that. We were very active in that before. And I hope that we will get back to that, again. Post-merger and as more people come into the office.
Kelly Koster:
Yeah, definitely. A question for Kelly. With commute time and expense as the top two issues for employees, are you seeing companies invest more in alternative commute programs? Yes, we are. I would say that this data is a good starting point. But the data that speaks the most to executive leadership is what Todd did. In survey your own employees, and what are their sentiments around returning to the office around their commutes and ways in which they believe their employer can and should support them in that. And that'll speak the loudest to executives as far as getting them investing in alternative commute programs, or as I like to say sustainable. I hope they're not the alternative forever. And then we have two other questions that are a bit more technical on parking. One for you, Todd. Do daily Parkers have in and out privileges?
Todd Sturgeon:
Yes, they do. So if they want to go out for lunch and come back, they do. And we even set it up so that.... because health care requires a certain amount of flexibility for employees, taking extra shifts and things along those lines. We set up our daily parking program to not penalize people. So if someone normally came in two days a week but [unintelligible: 0:50:29] department went out sick, and they had to come in a bunch of extra days, then we capped it at the monthly rate for that pay periods so that their charges would stop at that point. Which was another area that really gave them peace of mind switching to that. If they were reticent that well, I just don't know what my schedule is always going to be. They would never pay more than a person who had monthly parking. And that helped us entice people into the daily plan.
Kelly Koster:
That's a similar tactic that OHSU I think used as well, starting with that monthly cap for that peace of mind. People can soon see that actually pay less usually on a daily model, that's kind of that. Now Charlie [unintelligible: 0:51:13] sure is. Okay, question. I guess for me here. Hear more about Luum's daily parking system, does Luum use third-party software like Park mobile. Just in two sentences here, we integrate with third-party software whatever is in the garage that is owned or leased. And I actually don't know Todd, what is in your garage, but Luum integrates with it to see all that employee coming and going, charge that to the appropriate employee, make sure oh, you've already entered today this is just you leaving and coming back in we're not going to charge you again. And managing those monthly gaps.
Todd Sturgeon:
Honestly, their flexibility is one of the reasons we like using their system. When originally set it up, it was set up just to use our in-house Lenell system or card access system, and it was able to read the person who had come into the lot. If they had a monthly permit, then that was it, they came in if they didn't have a monthly permit, then attacked a daily parking charge onto their account. Now we're moving on to kind of the next level, which uses a QR code. So we're in the process of getting that equipment arranged from Luum installed, and then people will be able to reserve a spot, they'll get a QR code on their phone, scan that at the gate and enter. And then that way we won't have an issue with people not reserving and coming in anyways. So it has allowed us to start it up. And originally we were just going to.... daily parking come in, we knew that the numbers weren't high. So we weren't going to run into a problem with the overuse of our spaces. Now that we're getting to a point where we may get close to that capacity. We're upgrading it so that we can have more firm control over it. And Luum is able to go through either of those processes for us.
Kelly Koster:
And Rachel, I think that answered your question in the chat. At least partly. For parking reservations, they're using the Luum app with all their mobility benefits. With desk reservations, can you say, Todd, what you're using for desk reservations?
Todd Sturgeon:
We use Condeco for desk reservations. So then basically Condeco has when they get their confirmed email, that email includes a link to our transportation page if they don't already have parking set up to help them through that process. The beauty of the Luum system once they're set up for daily parking it's no touch. They're ready to go, and they can use it at any time.
Kelly Koster:
Excellent. I have one question here to potentially wrap up if there are no other questions, and this is for Todd, but also for anyone in the chat in the audience, which is to say that we saw that a huge corporate priority for next year is diversity, equity, and inclusion, which is wonderful. I'm curious how you all Todd, you, and everyone on the line are seeing that influence commute programs, and commute policies if at all? How is that investment in [unintelligible: 0:54:29] manifesting in the commute?
Todd Sturgeon:
Well, that's an interesting question. I think that one of the ways to tackle it is that no matter who you are in the organization the parking rules and the parking process applies equally to you. So our chief officer, CEO, if you will, he has a monthly parking pass, and he pays for his monthly parking spot, you know. And he was assigned just like everyone else to the closest open spot. We make very, very few exceptions for folks even at the top of the organization for how they are treated by our program. So there's not a system whereby oh, you're on the janitorial staff, you're not eligible for anything. Those people can get the ORCA card just like.... we provide a subsidized ORCA to janitorial staff and security staff even though they are not our employees they work for an outside contractor firm. So we treat them all the same, no matter what.
Kelly Koster:
Thank you, Todd, that's interesting. And definitely good that you're not giving a..... there are still employers out there who give the tenured or leadership. With your tenure comes free parking or something like that. I am reading the comments here. Julia says I've heard of employers basing parking costs based on income more of an equity model rather than quality. Yeah, Julia, that's what we're starting to hear too, and how we're starting to build new capabilities into our parking features. Because of exactly that, especially as lower-income employees get pushed further out of cities. And I know healthcare is a place where I think more than a tech company, they feel that, surgeon, doctors down to nurses, admins, administrative, janitorial staff that are making very different paychecks each month, and probably living further out in cities. Starting to think about how can we charge different amounts for parking based on income. How can we offer different amounts and subsidies? So that's where we're headed. And just to be clear that's the features that we're starting to build into our parking as well, which excites me because I care deeply about getting people to work sustainably, but hoping that can help them keep their jobs as well.
Todd Sturgeon:
We're trying to get leadership right now to sign off on no-fee ORCA cards. Because the reality is, as you said, those folks are the ones that are still going in when COVID started. Jay Inslee, our Governor here seems surprised that the traffic on a certain highway was still very heavy despite the lockdowns. And I had to laugh at that because I knew exactly why that highway was heavy because it goes to the affordable living parts of the region. And that is where all of these essential staff were living, including myself. We all live down at the end of that highway, and we were all still making the trips to work. Arranging parking, we were cleaning, we were doing the work to keep the equipment running, and keep the supplies flowing, and all of those things that had to be done, and we all live down in that area. So in Seattle, sadly, the best way to get up from that area is transit driving is horrendous from that area. I'd like to see some form of parking equity for that. But I don't know how that would work. I don't know that the company is going to be interested in having people comparing their position by well, how much do you pay for parking? So, I don't really know how that would work. I mean, it's a great thought but I'm not sure that the implementation, especially if you're considering parking fees as something to kind of keep people from parking you also don't want to have them so low that you're enticing people to park.
Kelly Koster:
Yeah. It's always this tight balance. It's like providing something equitable but also still wanting to discourage driving alone. And then that's true with trying to balance the..... we want to discourage drive alone, we don't want to lose employees. So balance, it's always a balancing act in TDM.
Todd Sturgeon:
It's quite the belay, and especially so right now with the marketplace being upended.
Kelly Koster:
Totally. Yep. Well, I just wanted to read one other comment here. Laurie says they're looking at two angles, access to transit. Yeah, that's so key. And then also she says, I'd like to look at salary compared to the subsidy. Parking is a greater value subsidy than transit? Yes, definitely, Laurie. And we're seeing employers looking at that. Well, I'm actually providing a $100 parking subsidy each month and only an $80 transit. How can we make that equitable? And Todd, maybe we can learn from OHSU here who is launching wage-based parking reservations, and see how that goes.
Todd Sturgeon:
Yeah. I'm definitely curious to see how that goes. I would love to hear some more about that. And it's funny you mentioned the transit because if you live closer the transit subsidy is not as significant as someone who lives farther away. I mean, for me, the transit subsidiary is significant because it costs me $89 a day to come in on transit, as opposed to somebody who might only cost them 275.
Kelly Koster:
Yeah. Excellent point. Well, with that, there are more people curious to see how that goes at OHSU. We'll do another webinar maybe Charlie [inaudible: 1:00:36]. But thank you, everyone, so much. Thank you, Todd, for [inaudible: 1:00:45] the program. It's as important as we look towards this future commute that we're providing flexibility, and constantly balancing all the different inputs that commute have across an organization. Lots of thanks in the chat. So thank you, Todd. Thanks, everyone, for tuning in. Have a great rest of your Tuesday.
Todd Sturgeon:
Thank you. Thanks for coming, everyone. Bye.
In this webinar, we take a lens to the 5 essential commute policies that every workplace needs to adopt to accommodate the future of work.
Kelly Koster:
All right. I like timely starts so we're going to get started and more people can join and catch up as they are ready. So, hello everyone. This is the webinar Five Commute Policies you Should Implement for your return to Office. This is a collaboration between Luum, Nelson Nygaard, and the Expedia group, where we will focus on Expedia's commute program that they implemented pre-pandemic. And we'll apply those lessons for our return to office planning later this year. So first introductions, my name is Kelly Koster, and I'm the Director of Marketing at Luum. Luum is a commute management platform, which I will explain in a second for those of you who might be new to. And we were recently acquired by Health Equity because they see commute as more than a monthly pretax election but as a daily flexible choice. More on that as we proceed. I'm joined today by Brie Becker. Brie is a principal in the Portland office of Nelson Nygaard, where she works with public and private clients on commuter benefits program design, analysis, and implementation. And we're also joined by Andrew Koved. Andrew is an associate at the Seattle Nelson Nygaard office and has been embedded at Expedia group since 2018 helping to run their commute program using Nelson Nygaard's personnel, expertise, and Luum's software. So on some of these sides, you'll see campus commute there at the bottom, that is actually Expedia's internally branded commute program on Luum software, and Andrew's team is referred to as the campus commute team. So that is what you are seeing there at the bottom. So with that, we'll talk for 35 max 40 minutes here, and then we'll save about 20 minutes for Q&A at the end. So go ahead as questions come up drop them in the Q&A box, and we can circle back to those at the end. And today, I'll set the context a little bit here on how we're all relocating as we returned to offices this summer or fall. I'll talk a bit about some commute and return to office trends. And then I will hand it over to Brie to tell us a bit about the Expedia group story. And then finally to Andrew to close out with what you all came here to hear, about the five commute policies that Expedia implemented and why those worked so well for them and work so well for a return to office planning later this year.
Kelly Koster:
So for those of you who are familiar with Luum, this is your 60 seconds to go fill that coffee, take a sip of water, get a snack, whatever it is, you already know this. But we have a lot of new people on this webinar today so I wanted to just give a brief overview of what a commute management platform is, and why commute matters. So again, 60 seconds. Here we go. So first, Luum is a commute management platform. Commute management platforms, we focus on the commuter their journey to and from work. We think about benefits and how to make it easy to empower commuters with better parking, transit options, commute stipends, rewards to make their commutes better, and more engaging. We help administrators manage and have oversight into these programs and control the policies that they want to implement. And we do this all in our enterprise platform that's connected to HR, Payroll, parking systems, single sign-on, as well as other mobility app providers like Lyft, scoop, and Waze carpool. We do this around the country in urban and suburban areas primarily. But you can also see we have some non-urban areas. And we primarily work with healthcare, technology, higher education, public, and nonprofit agencies that are facing problems such as parking demands, they have a growing organization, not enough parking supply to meet demand. They're really trying to engage employees, retain and attract talent. They have administrative inefficiencies that they're trying to solve and get out of that Excel hell. And finally, they have sustainability goals. They want to reduce their congestion and impact on neighborhoods, reduce their carbon footprint.
Kelly Koster:
So commuting is cross-departmental. As you can see by those problems that I just listed, we have real estate and facilities teams who are worried about parking demand who are trying to maximize space. We have HR teams who are hearing that the commute is impacting employees and that's why they're leaving potentially. So they're trying to attract, retain, they want to have a good employee experience. So they're looking at how to improve commute. We have sustainability teams trying to measure impact and report on emissions. We have administrators who, as I said are stuck in spreadsheets that are not connected to each other, and want more efficient ways to manage programs. So before we move on, a quick poll for the audience here. So there should be a poll up on your screen now. It has three questions there. First, what industry are you from? What best describes your organization? The second question is, what department do you represent? Is it one of these four or is it another one altogether? And finally, what commute challenges are front of mind for you at your organization during this time? So go ahead and answer those three, hit submit. And I'll give everyone about 20 more seconds here to fill it out. I see a lot of responses coming, which is excellent. And then we'll be able to share the results on the screen. Alright, 10 more seconds or so. So make sure you scroll down and hit submit for all three questions. We've got almost everyone participating. Alright, I'm going to hit and pull. Final submissions. Wow. Just got 10 in. Okay, great. So you should be able to see the results now on your screen. It looks like the industry that best describes your organization, private employer, also some others, public agencies. Excellent. What department? Yep. As we thought, primarily human resources, which is excellent. HR is definitely getting more and more involved each day in commute benefits. And it's really exciting for us to see that. And to work with all of you to make the employee experience better. And what commute challenges are front of mind, flexibility? Yes, that is huge with the hybrid workplace. Needing to attract and retain talent. Yep, administration, parking constraints. A lot of these are actually pretty tied. That's really great. Well, thanks, everyone. We're going to hit on many of these points as we continue here. So I'll just set a little context again in both the commute pre-pandemic and the commute that we're looking at post-pandemic and then hand it off to Brie and Andrew.
Kelly Koster:
So this survey from Robert Huff you may have seen. This is from pre-pandemic, this is 2019. But it really took a detailed look at why employees care about the commute, and why employers are thinking about it. 75% of employees consider commuting when choosing a job. I know I do. 48% of employees say that commute is an important factor in job satisfaction. 60% say their employer has not actually taken steps to improve their commute. And I see that as an opportunity for everyone on this call and for employers everywhere to be in the minority there to stand out as someone who is taking steps to improve the commute. And then finally, the smallest number but probably the starkest statistic, one in four employees have actually left a job because of the commute. And what's more, there's another study by Microsoft that was recently out that said 41% of employees are likely going to look for a new job this year. So how do we keep those employees? Well, one of the most concerning workplace issues for employees is not actually the physical space they will work in but how they will get there in a post-pandemic world. So they're really thinking about what is my commute like when I go back to the office.
Kelly Koster:
So this is why we say we're all relocating. You'll find out from Brie. But Expedia's story includes a relocation in their commute story. And we realize that's actually all of us right now. After 14, 15, 16 months working from home from this office for me, it will feel like relocating when I go back to the office. And for those employees who were hired during the pandemic, it could be the first time that they actually go to the office and commute. For me, it might be that I'm going to new office space, a downsized office space, hybrid work environments, or seeing new faces, new policies, and protocols. So this future workplace, a hybrid one, requires daily flexibility and choice. The flexibility that we have come to expect in working from home. And it requires data and technology to stay resilient and organized and keep that employee-first mentality. So as always with office work, our days start and with the commute so let's start there. What might a post-pandemic commute look like? There are a lot of different surveys out there and a lot of different data. The best thing you can do is survey your own employees to get this data for your organization. But here we'll look at some surveys from Stantec and CB insights. So that first bar you can see, as we all know on this called, hybrid work, working from home 1 to 3 days per week is becoming a new standard and more popular than pre-pandemic. We also see some hesitancy with transit. There's no data to back up that COVID spreads on transit, or that transit is not safe. But there's still some hesitancy that people share around perhaps just being around strangers. And then some folks say they're going to drive with a personal vehicle so reverting to possibly old habits, the majority of Americans do drive alone to work. But the question being for employers is if that is true how do you handle that parking uptick? So we'll get into that. There's also some good news, though. So transit is safe, as I said, and it's rebounding quicker than we anticipated in many cities. I know I have a lot of hope in that as public transit is core to our urban centers, and equity and transportation. It's how I get around Seattle. E-bike sales are booming. A lot of people who never biked before or didn't own a bike tried it during the pandemic. So that's a huge opportunity for us to leverage that as a new commute mode for many Americans as we return to work. And then as we stated, we know that telework is here to stay. Another quick poll for the audience. So whether you've surveyed your employees, or you've just spoken anecdotally, curious to learn what are you most concerned about with regard to returning to the offices? What are you hearing from employees? Why did you come to this webinar today, potentially? So go ahead, there's just one question in the survey. So quick and easy. Go ahead and hit submit, and then we will look at the results again. So I'll just get 10 more seconds looks like the majority of participants have submitted.
Kelly Koster:
Okay, I'm going to close the poll, share the results. So by far, the majority here said remote work expectation setting. So setting those new cultures and norms. Health and safety as a secondary there. Yes, definitely that is of concern. And then there's a bit for transit flexibility and parking. Excellent. Okay, thank you, everyone, for sharing those. So what I really want to highlight here is this opportunity for change. So we're in this moment, we're in this life event, and we know that life events are a way to introduce new policies, new cultures, set expectations around remote work, or in-office work, a time to change benefits and that it'll actually have a long-standing impact on habits that people may have had. There's a great Harvard Business Review study that talks about this as far as changing commute behavior and introducing new commute policies, saying that the time to do that is when you move or start a new job, these life events, or there's a serious disruption that forces them to temporarily abandon habits. I think we all agree that COVID and this pandemic was a serious disruption that forces us to temporarily abandon our habits. So this is also an excellent time to influence those habits as we bring employees back to the office. If you have seniority-based parking, you can get rid of that. Now, if you have free parking, and you want to switch to charge parking, now's the time to get rid of it. If you have monthly parking permits, also the time to get rid of them. They will not work in a hybrid world. And if you want to start a healthy commute incentive program to encourage biking and other sustainable or active modes, this is the time to do it. If you want flexible commute stipends that help employees get to work in the way that's best for them on any given day this is the time to start it. So lastly, here commute benefits really are a new reality that we are seeing. And it's pacifically flexible benefits that support a hybrid workplace. And the commuter benefits of the past, the commuter benefit definition that we're all ingrained in our minds with IRS definitions of this monthly pretax election for parking and transit just isn't the future. And that's partly because of the need for flexibility, and the need for that daily choice. But it's also because of all these apps. All these new ways to get to work. We don't just have to drive or take transit. There's actually a lot of other options like bike share, rideshare, and carpool apps, and all sorts of different ways shuttle that we can get to work. So we're challenging employers everywhere, and they're challenging us to continue to think about how do we make commute benefit to employees? How do we really make it a positive employee experience each and every day with flexibility and relevant options for them? So with that little teaser on policies, I will pass it off to Brie to talk about the Expedia group case study.
Brie Becker
Great. Thank you, Kelly, and hello, everyone. Great to see so many representatives from human resources out there on the webinar today. We've felt for a long time that the commute is the next employee benefit on par with things like health care benefits. And the pandemic has certainly put this front and center for us. And so the Expedia story begins in 2015 when it announced it would be relocating its headquarters from Bellevue to Seattle four years later in 2019. And while the move was within the same region, generally this was a really big deal for employees and leadership. More than half of employees lived on the east side of Puget Sound and were really oriented to Bellevue, they had pretty convenient commutes overall, the Bellevue office was steps away from a really well served regional transit hub. And there was also a lot of parking available. So moving across the region to downtown was a big change for employees. And even though the new campus is technically in the city of Seattle, which you would imagine is a well-served place with lots of transportation options there were also lots of challenges at this new campus specifically located on the beautiful shores of the Elliott Bay, so it's bound by water on one side. And then there's a busy arterial, and a bed of railroad tracks on the other side, and also about three miles from the downtown transit hubs that really connect the city of Seattle to the region. So the focus on the commute was for two reasons. Every Expedia group really faced significant requirements from the city of Seattle as part of their development agreement. So as they started to build out the campus the city of Seattle mandated that no more than 49% of employees would be able to drive alone at the time of moving. And along with that their agreement with the city included really specific transportation programs to make sure that they could meet those goals. So on one side, there was this mandate. And then on the other side employees were really expressing their concerns about the commute. Employee experience was really top of mind for leaders, and they wanted to be able to retain their top talent through the transition. Year after year leading up to the move they heard from employees that commute was the number one thing people were concerned about. It was the number one thing they needed more information on. And so we're reminded how truly personal the commute is, how much it impacts our lives. And so as we think about the return to work, and the monumental change of all of our employees, how they will be embarking on this new transition in the coming months. We're reminded of the work ahead of us to create commute programs that respond to employees' needs, and help them get back to work, even if that work schedule looks different, or might be in person less often. So we built the Expedia commute program with the employee experience top of mind. The core of our philosophy was that commute programs should be flexible. What a lot of you have already expressed today and really respond to employees' daily needs. No day is the same. No commute is the same. And certainly, as we think about a future where hybrid work is more common policies and programs that support flexibility are going to be really important. So flexibility and employee experience were embedded into our commute goals. We also took a really data-driven approach to program design and targeted marketing. Andrew will talk a little bit more about this in a moment. We mapped where employees live, we understood what travel options they had access to, what they didn't. And really we designed programs to meet those needs. And then we use Luum to streamline the administrative burden of program management and test if we got it right. Expedia was a company that had a multitude of spreadsheets to track everything and we knew as we got bigger and as we transitioned the relocation we needed help to streamline and save time to make a really cost-effective, and seamless program. Luum tells us how employees travel, and we can cross-tab that back to how we thought they'd travel. And make program adjustments if needed based on what we know is happening on the ground. So programs like this, take a village. As Kelly mentioned, commuting is cross-departmental. We sat at the table with partners from across the Expedia group to make sure we were aligned with human resource partners, facilities, communications, PR, and we're sitting at those same virtual tables today as we prepare to return to work. We also coordinate closely with public agency partners on things like safety at intersections, and getting bus stops relocated to be more convenient. And then we've had many partners that actually help us operationalize the programs on the ground. So I'll turn it over to Andrew now who's going to talk about those five key policies and programs that helped Expedia relocate in 2019. But that we're also leaning on now as we prepare for the return to work.
Andrew Koved:
Yeah, thanks, Brie. I appreciate you taking the time to walk us through how we got here. I wanted to walk through this quickly, and then we'll have a poll question and get into the programs in more detail. But the five programs that we're going to talk about today are flexible daily parking, transit passes that are provided to all employees, shared support for shared rides such as carpool and vanpool, incentivizing the employees who are choosing to not drive, and then very specific targeted outreach and communication to make employees understand their options. So I wanted to run a poll question here to have you tell us what are the barriers that you see for implementing these kinds of policies at your organization. I'll give you maybe 15 to 20 seconds to let us know.
Kelly Koster:
And now this one you can select multiple. I got about half-answers in so give another 10 seconds here. Alright, I'm going to end the poll. So go ahead and submit your answers if you have them. And the results should be showing. Go ahead, Andrew.
Andrew Koved:
Wonderful. So it sounds like folks are looking for leadership buy-in for the budget. Employee resistance. Yeah, those are totally understandable. One of the pieces that Brie was discussing around built on employee experience, which is often employee retention, or ways to think about that. What's good for employees is often very good for leadership as well. So helping them understand why these programs are going to be impactful. So let's get a little bit into some of these policies. The first policy that we want to touch on is the transition to flexible daily parking. And Expedia group in 2015 was like many organizations, they had employees with monthly passes, and that quickly became a problem. It's not scalable. Brie mentioned there was a lot of parking. But a lot of parking is not always going to be enough parking. And what the data showed us was that employees were coming to work very frequently, but they weren't actually parking at the office very frequently. These monthly pass holders, roughly 75% of them, were parking 15 days or fewer in an average month, 15 workdays or fewer. So that leads to the problem where we have empty stalls but we can't reassign them because they're monthly spots. So this becomes an administrative burden, it becomes a really big pain point for employees. When we transition to daily parking this became a really big opportunity for employees to drive on the days that they needed to. That's the flexibility we're talking about. It's a hard sentence to say so I want to say it very clearly. The more unique number of employees parked we saw the base widened but the number of total parking stays lowered. And so what we're saying is that the people drove on the days that they needed to but they weren't forced into monthly parking contracts when they didn't need to do that. We found that to be incredibly successful in getting people to use parking as one of the tools rather than their only option for getting to work. What folks were supplementing their driving with was transit. When we started Expedia in 2015 we had an either-or option. Either employee got a transit pass, or they were eligible for parking. We made it so that employees had access to the transit card here in the Puget Sound, the ORCA pass, we provided that to them on the day one that they came in so that they had that as their go-to way to get to work. The transit system here in Puget Sound is incredibly robust. But a lot of times it's helping employees understand how to use that. And so getting the card in their hand on the first day meant that you had then had the opportunity to teach them, they didn't have to make a decision down the line. We spent a lot of time helping the employees understand how to actually go about using that. And that's a really good investment in our own benefit to employees. Lastly, I just want to touch on, we used a last-mile shuttle to connect to the downtown Seattle transit hub as a way to use the whole transit system really well. We'd never be able to create a private shuttle system that matched the transit system. This was a way of maximizing our transit benefit for employees. Additionally, one of the pieces that we really leaned heavily into were shared rides. These are things like carpools, vanpools, a lot of employees understand these really intuitively. So it's about helping them get into the carpool or the vanpool. Luum helps you with this, there's matching tools built-in. And then from the administrator side, providing vanpools and carpals with free parking, providing them prioritize parking if you have a waitlist, putting them at the top, which we did. And then small perks things like Wi-Fi hotspots, so that the people in the band pool can do work, or social media, Instagram, whatever they want to on their way to work. Or things like providing a subsidy within scoop. These are small ways that we try to encourage people to use these shared rides as opposed to just defaulting to their personal vehicle.
Andrew Koved:
And so a lot of the pieces that I just mentioned for the transit parking and shared rides are small behavior changes that we're trying to encourage. And we did a lot of behavior changes. So this category is actually a little bit of a cheat. It's a couple of pieces within one. We provided a parking cash-out. So that's any day that employees didn't drive, that they biked, walked, took transit or vanpool, we paid them $5 to do so. Now, for some employees when you give them a fully subsidized transit card, that's going to be enough for them. But a lot of employees that $5 is the nudge that they need to do this. Similarly, the guaranteed ride home program allows people who took those nonono modes to have a backup if they can't take that mode home. So if you get a flat tire on your bike on the way in this is the flexibility that encourages you to still try biking that you don't have an experience where you're stranded. To think about creating long-term behavior, we used a lot of monthly challenges within the Luum platform. So that's providing employees prizes, gift cards and things like that for using their van for taking transit very frequently. If there are 22 workdays in a month, and we're encouraging people to try and do that as many times as possible, that's creating a really strong behavior that we found created really lasting change. The last piece on this one, I'll just say is kind of lowering the barrier to entry, bringing things on site that are new and exciting and kind of rewarding that possibility. We brought on-site scooter shares, bike shares, and then provided employees discounts to be able to actually access those and do them as a way of providing new options for them, making it less scary, more available to them. And then the last piece I want to talk about that we found an incredible amount of success with is about training, education, being very clear and thoughtful about our communication. Employees receive a ton of inputs. And although our teams spend all day thinking about commute, employees often don't think about commute 24/7. And so really trying to present them with information that is going to be helpful and precise is really important to use your time valuably with them. As Brie alluded to, we divided up the Puget Sound into neighborhoods and created detailed commute plans that included the transit and the bike routes. Luum has carpool and vanpool, geographically based. So this way we could tell employees these resources are available to you. But as well, we can provide you with a more specific one on one experience. We started to do the new employee training on day one for employees to present this information alongside the rest of their benefits information. Kelly mentioned commute is the new benefit. That's how we're training employees to think about their options and wanting to make sure that they understand it's not just going to be drive alone, Expedia group is really supportive of all of their potentials. So just to give you kind of a visual understanding, this was a phased approach, we took, as Brie mentioned, four years to get to the point where we're transferring to Seattle. And, Kelly, if you advance one more slide, you can see that the impact took time. We did a lot of pilot programs, we got a lot of employee feedback over the course of time. It wasn't a light switch parking to transit, it took time. And that's based on employees setting new cultural norms, helping them get access to the programs that maybe a lot of the old employees didn't understand and the new employees did, helping meet employees where they were. This takes time. This is something that we're thinking about as we're going back to the office. This comes back to the same thing that Kelly and Brie mentioned, we're all relocating again. Expedia employees moved from Bellevue to Seattle, and we spent a lot of time with them helping them prepare, and we're going to be doing this again. We're going to be thinking about how are the employees who have been working at home for 18 months, how are they going to be needing our support? What programs can we do? What surveying can we do to understand their challenges? These are things that many of you are going to be in the same position of, and trying to think of this as the opportunity to set new behaviors, reinforce the good ones, and potentially change policies to allow people to shift out of the outdated old ones. So I will hand this back to Brie to think about hybrid workplaces.
Brie Becker
Thank you. Well, we are in this business so of course, we feel like it's exciting. But this is a really exciting time to be in our line of work. This is the ultimate behavior change moment where we can really get in front of employees with information about how to get to work, and make sure that their first instinct isn't necessarily going to be to hop in the car or top only in the car. And so Andrew mentioned that these programs they take time to develop and get right. And this slide is just a sample process to help think through how you can integrate the commute into your return to work strategy. And many of you are probably somewhere along the spectrum of preparing to welcome employees back to the office, you have different levels of programming already in place, you have different geographic contexts, some may be in more urban versus suburban context, and therefore your options available to you are different, or the culture of driving in your community is different. And so our advice is to just identify your commute program goals, asking the questions around what is the experience you're striving for? How does that align with your both bottom line but also your goals around employee retention and service to getting people to work? And then really diving into the data to see where your employees live and what options they have access to. This is something that we do again and again and Expedia. Just this week, we're relooking, remapping where employees live and how it relates to transit options that may be impacted by service changes from King County Metro. How have employee relocations or home locations changed, and therefore influenced where our shuttles are going and who has access to shuttles? And then kind of in that map of who has access? Who has good access to transit? Who has access to shuttle? Where are those zones of employees who don't have good access? And the really interesting thing that we're seeing is that people are moving away from the areas without good access. And so this tells us something about employees' expectations. And we only know this because we analyze the data and we look back to it month over month. And really designing your programs to meet the goals and serve the needs that you've set out as part of your organizational strategy around return to work. So setting up your programs to be able to track results really, really easily so that you can adapt programs and get employees back to work. And impact or inform travel habits overtime is going to be really important. So, on the next slide, this is just a snapshot of the Expedia case study on the Luum website. If you haven't seen it already, I suggest you go there and download it for some more detailed information. And I'll just pass it over to Kelly, who I think is going to help facilitate our Q&A.
Kelly Koster:
Yep, definitely. There's a lot of great questions that have come in. And some of them are surely probably answered in this full case study. So definitely download that. It's one of the most detailed case studies I think we've ever done. And we did it in partnership, again, between Expedia, Luum, and Nelson Nygaard. So here's our contact, you see our faces. But let's go to this Q&A. We have about 20 minutes and quite a few questions that came in. So Andrew, first question, we had a few around guaranteed ride home. So let's just start there. The first question on the guaranteed ride home was what is the highest number of guaranteed ride home requests that you've received from one person in a year? And is your guaranteed ride home program a reimbursement program or do you provide the actual ride?
Andrew Koved:
Great questions. What we figured out was that it's important to both provide employees access to the guaranteed ride home program, as well as make sure that folks don't have the opportunity to misuse it. So we provide 12 per year but there's three per quarter, which is to say that we want people to get home. But Expedia isn't in the business of providing direct rides every single day for folks, this is the opportunity if they happen to need it. Through Luum, we're able to use Lyft. So we provide lift credits that cover $75 for employees. We looked at where employees live, what the average cost was. And that covers, I believe it's 95% of all possible or a very high percentage of all possible Lyft rides. And that way employees aren't paying out of pocket. This is a way of keeping employees in the fold. They have the flexibility to take a carpool. And if the carpool falls through on the way home, they're covered, and it's not dissuading them from doing that in the future.
Kelly Koster:
Excellent. Thanks, Andrew. So a quick question on shuttles. How did you acquire the first last-mile shuttle, and was it through local transit or a private company?
Brie Becker
So I think I answered this in the chat. So we have acquired this through a private company working closely with King County Metro. The philosophy of the shuttle program is that we don't want to duplicate service, we want to augment public transit service. And so both in the design of our eastside shuttles and in the design of our last mile shuttle the intent is to enhance the public transit experience that's already on the ground and provide service to people who don't have a good ride on transit. So we do use a private shuttle provider for that service.
Kelly Koster:
So a couple of questions here on Expedia's return to office planning. What kinds of challenges, prizes, and rewards communications are you planning to welcome your employees back to the office?
Andrew Koved:
Yeah, it's a great question. And this is actually something seemingly, there's a lot of HR folks on this call, that we're really trying to align with the Expedia group's HR team to make sure that we are all having the same consistent communication Expedia group is looking to bring people back, hopefully soon. And so our rewards and challenges are going to be in line with those policies. So a lot of it is getting people back in the habit of doing these things. It's less about making them feel like they have to be there every single day to be earning these rewards. It's something where a lot of us are just rusty with our commutes. Luum is a commute logging tool for employees, they're providing us data on their commute so it's about getting them familiarized with that. If and when Expedia creates policies around X number of days in the office versus X number of expected days at home, we'll try and match that as well. But we have the flexibility in the interest of being in step with Expedia group programming.
Kelly Koster:
And the question from Becca related to that is, will you share any of those communication resources or collateral that you're using? She is currently revamping their communications and outreach plan, and that would be incredibly helpful. There might be some of that in the case study if I recall. I'll let you answer that.
Brie Becker
I think there are certainly some samples in the case study. We would need to get any approval from Expedia to share more explicit internal campaign information. But I think the takeaway for us in developing these materials for employees over the years is it's a marketing campaign. These materials need to be simple, clear, flashy, graphic, and they need to be offered in many different mediums. So whether it's on Slack, or in emails, or in person, just kind of the full range and suite of opportunity to get in front of employees is going to be really important.
Kelly Koster:
Great point. Definitely have to reach out multiple ways, multiple mediums. So how are expedient policies changing with the return to the office? Or are the current ones well set up pre-pandemic with flexibility, are those just continuing?
Brie Becker
Well, as I mentioned, we're doing a deep dive into the data to see what the opportunities are to flex service. As employees come back to work, I think, for now, we're keeping our core policies similar. We are phasing our employees back to work. So looking back to the requirements that I mentioned earlier set out from the city of Seattle, we have to have some of these programs in place. But we're working with them to help ease employees back to work. So as we open up the campus to just a small portion of the employees, we're adjusting our approach to parking, for example. But as more employees come on to campus we'll revert back to our old ways of charging for parking. And I think this is a communication challenge where we're offering something slightly different early on, with the recognition that it's hard that people aren't comfortable with transit right now, that they may only be coming in one time a week so it makes a lot of sense to drive but they don't want to pay. So we're trying to ease into the return to work with the expectation that it will go back to normal because we know it has to. Both from an employee requirement or city requirement standpoint but also from a demand for parking at the site standpoint. I don't know, Andrew, if you have anything else to add?
Andrew Koved:
No, I think you covered it. Well, specifically because you mentioned communication is something that we focus on a lot. That's one of the things that we're looking at how we're doing this. You all are on a Zoom meeting right now, I know we all spend a lot of time on Zoom. Previously, we'd spent a lot of time in person discussing those commute options with folks, that one on one experience was really helpful. That's going to be something that as people are thinking about how they get back to work that we're going to try and translate digitally. But also understanding people can get a lot of fatigue. And what are the ways that we can provide really detailed information to people without them having to feel like they're sitting at a computer for another hour? So it's a shift in how we're going to go about this.
Kelly Koster:
So, Brie, you were touching on this in your response there. But how do you think an effective return to work strategy will impact the employee experience at Expedia? And you're kind of getting at that with easing them back in to parking charges. But anything else you want to add there?
Brie Becker
I think it's just recognizing that commuting is going to be so key to the life shift that we're all going to be experiencing in the coming months. If we have children, as their children are going back to school, as our offices are opening up. And so to me, and I mentioned this earlier, we always thought about the commute as being part of the whole package of how you help employees enjoy working at your companies. And so this is I know, primarily a Human Resources crowd. But if you walk away with anything today, I hope it's that you see the integral part that you all play in connecting commute to employee retention, and to getting employees back. And if you're wondering how we get as an organization our employees back to work because we know we want to get there, we know it's good for our culture, the commute program is going to be key to opening access to people and helping them get back to work. And it's going to look different for everybody where you are on that spectrum of the level of commute programming that you're offering. But even just talking about commuting as part of your return to work strategy, not just expectations of this is how many days you need to be in the office, or this is what management is saying. But really linking all those pieces together is going to be really important.
Kelly Koster:
Yeah, definitely. And I think there's some more actual data that you've surveyed your employees in that case study, talking about their improving satisfaction with commute over time.
Brie Becker
Yep. Again, data, data, data is really helpful.
Kelly Koster:
How many more times can I get you to say data? We'll see. We'll count. So a question is related to this as well. How do you motivate employees to come to the office after the pandemic who may not have public transport access in their vicinity, they may not have bike options, it's too far, how do you motivate them to come back to the office?
Brie Becker
Andrew, do you want to take this one?
Andrew Koved:
I think that's challenging. I think there are maybe two elements of that question. One of the questions is, what is the motivating factor for people to be in person? And the other is what are the safe ways that employees feel like they have access to actually access the office? So I'll touch on the second part first. I think we've found a huge amount of success with carpools and vanpools. And then thinking about a post-pandemic situation, we all have our little pods of people that we feel comfortable with. And here in Seattle and King County, we have an incredibly high vaccination rate. And so I think there will be a lot more comfortability outside of those immediate pods. But thinking about providing employees with a very consistent, this handful of people I carpool with, or it's the handful of people in this fan pool that is going to feel maybe safer and more immediately interesting to them to want to get back to work outside of just getting back in the car. Then the piece about motivating people to get into the office, I'll say that the Expedia group is very interested in these test and learn environments. Launching, iterating, phasing things in, we did a lot of pilot programs with our commuting. And they're doing that with the return to office. Not everyone will be expected to be there on day one. But in fact, almost the opposite. They're keeping a small group or kind of a small availability at the office, and we'll increase that over time. And to the point Kelly and Brie made about serving people, let's get the data, what did they need to feel comfortable to come back in the office? What do they want out of their office experience? Our team does a lot of surveying. We're serving the people who have started to trickle back to Expedia to help improve our messaging for the future. If they're telling us I really need more craft services, or I really need whatever the benefit is, that's going to be what we're going to look to. Because we can't necessarily just know it out of thin air.
Andrew Koved:
And are those surveys optional or does HR compel employees to complete them?
Andrew Koved:
Good question. They're optional. But to the point we made on one of the slides about targeted outreach, we think a lot about who we're serving. We know who previously vanpooled or we know who previously biked to work because they reported that on Luum. And so we're asking those people very specifically, what would it take you for you to bike to work again? Or you used to be in a vanpool what do you need to get your vanpool running again? Do you need administrative assistance to set the vanpool up again? Have you lost your ORCA pass? What are those pieces? And if you survey everyone, you may not get as helpful results. We think a lot about who are we serving and what's their possible outcomes.
Kelly Koster:
Excellent. Okay, we have just under 10 minutes, and still a lot of questions. We're going to do a quick vanpool question. Then there are some compute cash questions. And then there are some leadership buy-in questions. So I'm trying to group them that way. And we'll see how many we get to. So the quick vanpool question as a follow up, Andrew to what you're just speaking about was, you showed a slide that said that you put fully subsidized vanpools before launching Luum at Expedia. Wouldn't it be easier to form vanpools after launching Luum, and what was the result of your vanpool program?
Andrew Koved:
I apologize, potentially, I misspoke. We did have vanpools prior to Luum. We integrated them into Luum and then formed them both with Luum as a matching tool. And outside of Luum, a piece that we used very heavily at Expedia is Slack. It's something that employees are very comfortable with. We have created channels for every neighborhood that employees live in. And that's a good tool to help employees find nearby neighbors to match with. It's all optional. People often are in many neighborhood channels. But these are great ways for people to find shared rides, carpools, and vanpools as a way to connect. But also the Luum tool helps us. So I think that answers the question.
Kelly Koster:
And I believe if you look in the case study you doubled vanpools, nearly doubled the number of vanpools at the organization.
Andrew Koved:
Vanpools are in many ways, something that you as the administrator have a huge opportunity to help create. Employees find a lot of satisfaction in them. They tend to be very popular but it's something that they're not familiar with. So Luum is a really good facilitator of that. But you need to be the ones putting on a vanpool breakfast. We do a lot of vanpool breakfast. You buy some bagels, you help explain how vanpools work, and then you eat some bagels. And that's a way of helping get people really comfortable with the idea because they tend to like it, even if it's something that they're just not familiar yet with.
Brie Becker
And that's a good example of a program that we knew we needed because we did that detailed analysis of where employees live, and what they had good access to. So they were really targeted. We didn't try and match the whole region, we had very specific neighborhoods that we knew needed help.
Kelly Koster:
Okay, excellent. So commute cash questions. Let's roll through this really quick. Can you explain the commute parking cash-out program a bit more? And some of the specific questions about that is, in delivering it, how do you validate that employees have taken a sustainable mode on a given day? The second sort of piece that's related to that is, how do you handle tax implications for that daily cash incentive? And just generally, would a cyclist who also uses transit get $5 a day, and a free transit card, for example? Let me know if you need any of those repeated.
Andrew Koved:
Yeah. Okay. So just to answer the last one, first. All of the benefits that employees have are universal, it's not an either-or situation. So everyone has a transit pass. We have roughly 90% of employees with transit passes in their hands. So yes, you can both ride your bike and have a transit pass. Both of those modes are eligible to earn you the $5. But it's one per day. So you get $5 if you biked, or $5 if you take that transit. To come back to the first question of just operationally, how does it work? Employees use Luum to log their commutes. So if I bike into the office, I log on to either the Luum app or the desktop experience. I drag a little icon on a calendar saying I biked this morning. And then that $5 will be accrued over the course of a payroll cycle. Luum then sends the file to payroll. That's an automatic integration. And that's provided on an employee's paycheck after an administrative waiting period to make sure that all of that information is correct. Employees have the opportunity to fix any errant commutes. And we have our setup, where the commute cash is post-tax. So employees are receiving that money in their paycheck as a line item after-tax. Related to misuse. Expedia group has a really strong culture of making sure people are using their benefits to the degree to which they're supposed to. There's a pretty strong culture of not abusing things that they shouldn't be doing. But we do a lot of work on the backend to make sure that people are doing these things correctly. So, Luum automatically ingests all of the parking information. That's how people are getting charged. So you can't accrue commute cash if you're being charged for parking. Similarly, our shuttle information gets sucked into Luum so you can't accrue it. If you took the shuttle, for example. We as well look at the badge swipe on campus who is actually showing up. It's impossible to get inside the building without your badge. So you need to have been on site to have earned that. So there's some amount of trust and some amount of double-checking. I think that was all.
Kelly Koster:
Thank you. And then we just have a couple of minutes left. So I really want to get to this question on leadership buy-in, especially since that was a primary barrier for a lot of people on this call. So Katie was asking, can you provide advice on how to get leadership approval? What data specifically, going to get you to say data, again Brie, they're looking for to be convinced to implement new policies?
Brie Becker
Great questions. Well, of course at Expedia the start of all of this was the city requirement. And I know that not all of you have that. But that was such a baseline for why we were even allowed to enter the room. And so how can you think about starting these conversations if you don't have a mandate like that. One thing I will say is the power of monetizing parking. In buildings that we lease, often the cost of parking is embedded in the lease cost so it might not be separated out. Or obviously, if we're building our campuses it's annualized over many years, and it's not a line item in our budgets necessarily. But really doing some due diligence on what is the true costs to the organization of building or leasing, or operating that parking is going to be a really important starting place so that the line item for the free transit, or the shuttles or whatever programs you have in place aren't being compared to nothing. Because that's the risk. It's like, well, this is a totally new cost, and it's way more expensive than what we pay today. And most likely, it's not. It's just that, that line item for parking is not outlined in a compelling way. So doing some homework on the financial side to find that number I think is a really good starting point. The other piece, which always goes a long way, is document what your peers are doing. There's nothing like just a little competition and telling your leaders how you're stacking up against people who are taking your employees, or threatening to take your employees. And so that's another really easy place to start just mapping out, this is what we see in the industry. This is what our peers are providing. And this is what we're providing by comparison. So I think those are a couple of pieces that you can start with. And then the employee sentiments and really understanding and asking your employees through surveys, like we've been talking about, what challenges do you have getting to work? What is your satisfaction with your commute? And having the data in your back pocket to be able to say this is what we're hearing from employees, and these are the challenges that we're facing, and where we need to start from to try and address those challenges. So those are a few ideas that are top of mind. And I know we're at the top of the hour.
Kelly Koster:
Yeah. One final question for those without maybe leadership buy-in at this time or without a big budget. How can you balance the incentives and disincentives to reduce the overall budget cost? And what would be sort of where to start? Are there any ideas of which policy you might start with if there's not as much openness to compute benefits at an organization right now?
Brie Becker:
Well, again, I think it depends on what options your employees have access to. There are many ways that you can think about scaling a commute program that doesn't necessarily mean you have to be all in subsidy. So whether it's 50% subsidized transit passes, or a few guaranteed ride home passes, or just starting to think about the small scale version of introducing this idea of flexibility and options, so that you don't have to assume that people are going to drive to work or that they're going to take transit or have no option. So again, you can think about that on a scale, in terms of how much you want to invest. And then show the benefit of people having options to subsidize transit passes, and this is what it did. And then maybe scale up from there.
Kelly Koster:
And I'll put a final plug-in for the Expedia case study download. You go into a lot of this buy mode and the impact and the total ROI for the program. Sorry, Andrew, are you going to say something?
Andrew Koved:
Oh, no, I think that's very true. The one last piece I would add, is just asking people, what are the challenges that they have? And then what are the ways they can solve it? And to Brie's point, it doesn't have to be fully subsidized. You don't have to do everything all at once. Perhaps people just need a little bit of subsidy on their transit pass to start using that. Maybe they'll tell you.
Kelly Koster:
Yep. So it sounds like we're saying start with data [inaudible: 1:00:56]. Alright, well, with that, I just want to say thank you to Brie, and Andrew for their partnership. And thank you to all of you for being on this webinar today. There are tons of questions, we didn't get to all of them. If your question wasn't answered, feel free to reach out to us, our emails around this screen, and ask the question. We're happy to start a conversation with you and talk specifically about your program, the commute challenges that you're facing, and whatever help and recommendations that we can provide. We'll share the recording and the slides and some blog post takeaways tomorrow. So look for that in your inbox from me. And thank you so much, everyone.
Brie Becker
Thanks, everyone.
Kelly Koster:
Have a great rest of the day.
Andrew Koved:
Thank you. Bye all.
Get a first-hand look at the policies and platform that have shaped the Expedia Group commute program, making it one of the most forward-thinking, employee-empowering programs out there.
Casey Murphy:
Okay. Good afternoon or good morning, depending on where you are. I want to welcome all of you here today. My name is Casey Murphy and I'm ACT's Director of Programs and Events. I want to thank you for joining us today for ACT's second webinar this month entitled Reduce, Relocate, Revitalize the Expedia Group Commute story. Sponsored today by our friends at Luum. Before you hear from our presenters this afternoon, I wanted to quickly take care of a few housekeeping items. First, all attendees are on mute during this webinar. If you have a question or have a problem hearing us please type it in the chatbox located in the toolbar at the bottom of your screen. We will do our best to answer your questions as the webinar gets going. Second, we will be hosting a Q&A at the end of the webinar. But please feel free to type in your questions as we go. Just note that when you're typing in your question, please also identify who the question is for when putting it in the Q&A box. Finally, this session is being recorded. And we will have the recording on the ACT website within 24 hours after the presentation ends. Now I'd like to go ahead and pass things over to David Strauss, ACT's Executive Director to give an update on what ACT has currently going on. David.
David Strauss:
Thank you, Casey. Good afternoon. As the premier association for TDM professionals. ACT is focused on efforts to build a strong community of individuals and organizations working to advance and implement TDM at their worksites and within their communities. ACT is your association. It's wonderful to see and hear from many of you how valued ACT membership has become during the pandemic. We continue to welcome new members, certified new TDM CPs, and host hundreds on our webinars, virtual discussions, and chapter, and council meetings. I know that many of you are facing unprecedented challenges within your own organizations and communities, yet you still prioritize time and energy for ACT. For that, I'd want to say thank you. If you're not yet a member, I invite you to join your colleagues and become a part of our community. I guarantee you that ACT membership will be a valued investment in your professional growth. Before we get started, I want to take a quick moment to update everyone on some of the news from ACT. Our virtual TDM forum is quickly approaching. The event will feature unique opportunities for attendees to network and discuss TDM issues in small groups. We will host the charrette focused on addressing the return to work utilizing the Atlanta region as a starting point and example, which will feature a fun and fast-moving online brainstorming session. The event will also feature the release of ACT's 40 under 40 honorees. So I encourage you all to take a moment to register for the forum. Group discounts are available if you have five or more people wanting to attend. I know that many have already logged into our Connect site, our new online member community where ACT brings TDM professionals together. This is an exciting new benefit for ACT members to post questions, share resources, and network with their colleagues. If you've not yet logged in, or if you've logged in but not yet activated your account, I encourage you to do so, so you start getting the messages and information that's being shared on the site. It's now my pleasure to introduce today's webinar, Reduce Relocate Revitalize the Expedia Group Story sponsored by Luum. Today we'll learn about a case study on the Expedia group's relocation from Bellevue to Seattle. The case study examines each policy change by mode revealing details about intention, timing, and impact. As we all know, no one mode is right for everyone. And the Expedia story is proof that flexibility and diversity of commute options are key to achieving lasting commute program success. It's now my pleasure to welcome Kim Jones, Customer Service Manager at Luum to kick off today's webinar and introduce our speakers. Kim has an extensive background as an advocate and consultant for customers tackling everyday challenges. At Luum she finds great joy applying her passion for learning and empathy to help Luum's partners, reduce parking demand, attract and retain talent and meet sustainability goals. Kim, the webinar is yours.
Kim Jones:
Thank you David and Casey for that warm welcome, and intro. I am super excited to be here with you all today. I think that the Expedia group commute story is really embodying a lot of challenges that pandemic has perhaps put a spotlight on, but it's not unique to the times at hand. So I think a theme that we are all seeing across the board is that we need to relocate back to the office. Today we're going to give a general overview of the Expedia story but I will plug we do have the in-depth case study coming mid-November. I'll put this again at the end of the webinar. But to consider today a general overview, more details to come, and we are happy to answer your questions along the way. So to kick this off, I think the headline says it all, we are accepting that when folks start commuting back to the office, it's going to be that to one of a hybrid working space. We imagine there will be people splitting their time between working at home still, going into the office at times. But the key takeaway here is that with the pandemic, we have a catalyst for behavior change, as we think about how to support employees get to the office safely, ensuring that they feel empowered to make the best commute choice for them. I think the thing that we really want to consider is that the world is a little bit different when we go back, obviously. What was a prior commute, perhaps you took the bus? It's possible your route out doesn't exist anymore. So is there a way that we can balance needs, flexibility, and choice to allow team members to make that decision from their self how to get to the office, and ensure that they have the information at hand and readily available, and feel really supported by the organizations? The other thing that I really want to press upon is the importance of data and technology. I think something that we really see is that we need to iterate a lot. Our CEO at Luum, Sawyer, recently presented to the Washington State Transportation Commission, and I think he put it best. We need to adopt and perpetuate a living laboratory. We need to absorb data, learn quickly, be able to pivot, optimize, and that this is really a cycle. It's not a set it and forget it. And I think Expedia group has done a really nice job partnering with Nelson Nygaard to illustrate the importance of iteration. The other thing I wanted to discuss briefly is as a Customer Success Manager at Luum, I have the joy of hearing what many organizations are tackling right now. And I wanted to share some general themes that we're seeing across the board. Some of them are exhibited by experience as well, but Josh and Melanie will speak to more details in a moment here. I think the general shift we're seeing is offering employees more choice in that flexibility. So here are some ideas that we're seeing, it's really an opportune time to start considering the shift from monthly parkets to daily parking charges. And that's great for employees because you only pay for it when you park. It's more flexibility or other things. Working from home isn't traditionally a benefit for most employers and employees. And now we're moving to this hybrid workspace where you anticipate people will be splitting their time. So in thinking through this time of uncertainty but also confidence at some point people will be again relocating back to the office. We're really curious about what are the biggest challenges that you predict at your organization. We have a pull-up on the screen. There are a few options to read through so I'll give you a little bit of time to digest them. Something I will offer generally that I see is that this is an opportune time to introduce new policies that perhaps wouldn't have been considered or adopted previously. But again, the pandemic is a forcing function the time is prime to start thinking through how we can present more customized, and flexible options for the people that we serve who are ultimately the core population of employees. Looks like votes are coming in. We'll give it another few seconds here.
Casey Murphy:
Yeah. Almost about half, Kim.
Kim Jones:
Sounds good. I'm curious guys get your votes in. And it's multiple-choice, select more than one. I see a couple that I'm really curious about. It's how you collect data. How you ingest data. Is budget? There's a lens on budget right now for many organizations as things are shifting in the workplace.
Casey Murphy:
You let me know when you want to close it out.
Kim Jones:
Let's go for now. You guys had your opportunity. Let's see what the results are.
Casey Murphy:
Alright, share results.
Kim Jones:
This is pretty interesting and telling. So a lot of folks that look like engaging employees is a challenge that [unintelligible: 0:09:08]. I know that communication can be challenging right now with either organizational limits or not knowing where to start. You are in the right webinar because Expedia group really puts their employees first, and has invested a lot of time and thought to engagement strategies. Something else that I called out as well as a concern is that budget or how to get buy-in from leadership for these maybe cultural shifts as we move to a flexible model. This is great. And again, you're in the right place. Thank you, Casey. So excellent. So you've probably heard enough about me hopefully, I've primed this conversation well for you, and I'm very excited to introduce you to Josh and Melanie. Josh is Expedia group's global workplace solutions director, and Melanie is a senior associate at Nelson Nygaard, who has been embedded at Expedia group to manage their commute program. They're going to provide a general overview. Again, I'll plug this one more time case study and details to come next month. But for now, I'm going to turn it over to Josh.
Josh:
Thank you. Hi. So I am not a TDM professional but I was smart enough to get Nelson Nygaard onboarded early on in our planning. Our move to Seattle has been over four years in the planning. So somewhere in about 2015, when we started talking about shifting from Bellevue, which was a central business district, very typical of Expedia group's portfolio around the world to a location out in the Interbay neighborhood in Seattle for our new HQ. It was a very seminal shift for our employee base, and for the Expedia group. The city of Seattle S dot was also asking us to fulfill certain conditions in our TMP plan. And so to help with that, Nelson Nygaard came in to help us plan for Seattle. And early on in that conversation, we started to realize that we couldn't plan for Seattle without instituting change in Bellevue itself. And we needed all this time to do outreach to our employees, to help them change their way of looking at commute was the single biggest question and concern people had when they heard about our shift. And so everything here became about well, how do we manage it, and how are we going to even think about Seattle seriously, if we don't know how to get there? And it didn't help. There was an interesting challenge that our location in Seattle being what it was, wasn't downtown. So it wasn't a central business district. We had to bring in all sorts of new programs, and amenities to help our people feel excited about moving to Seattle. And along the way came all these changes we did in our commuter offerings. Could you move to the next slide, please? So as I said, I think one of the smartest things we did was we hired Nelson Nygaard. But really, there were three or four key milestones along the way that came into play. We sat down with Nelson Nygaard, and said, "What should we be changing? What could we change? What should that future state look like, and how do we not in a rip the band-aid way but in a progressive way, move our general way of thinking about the commute to that place." And we had. The one luxury we had was time, the reality was that our commute options were going to be very different from where we were starting to where we were ending up. So we did it progressively. The first year and a half, was really about people understanding what they could do in Bellevue itself, and really changing their thinking about well, I'll just pay for monthly parking. And because now I'm paying for monthly parking I'll drive every day. There were no real incentives. There was some vanpool and carpool, very minimal. So every time somebody new joined we just went and got more parking spots. That was our commute program. Pretty early on into that, then when we started to realize how robust our data requirements were everything from where is our primary employee base to how many new employees are joining, and what are the choices we are offering them. We realized we had to move beyond Excel. We were in a really robust Excel world. And that's when we identified Luum as a partner. And they helped us build out a brand new interface to help manage all these various options that we were providing, and all the information that was incoming. And it was pretty dramatic. We knew that what we were doing in Bellevue was going to be different with Seattle because again, we were working with landlords in Bellevue. And so we had to go in and talk to them about well, we need to put in this additional software that can track our people's badges and tell us who's occupying what garage, etc. It was just a very interesting realization about (A) what data can do but (B) what the pitfalls are or the hiccups are along the way when we're not set up for that, and we don't have time to plan for that. And then the single biggest outreach that our commute team did. And by which time I think Melanie, we were up to four-plus people for that big push in 2019. We literally went all out. We had this massive internal group that was sitting there and working through how we were going to communicate, what we were going to offer, what kind of outreach. So we had everything from you can slack us with a question, you can come to the drop-in desk. They were doing bagel mornings and trying to create communities from neighborhoods. And I think the results that came out was seriously impressive because the number of vanpools that we were able to establish they literally came up with data on you live in Lynwood, and these are the commute choices that you can use, or you live on the east side well, we can talk to you about our shuttle program. And the kind of outreach that went on and the kind of data crunching we had to do to support that outreach was seriously impressive. And we couldn't have done it without Nelson Nygaard. And so I'm going to hand this over to Melanie to talk about what her team did, and how we went through with this wonderful experience that we've had so far.
Melanie:
Thanks, Josh. Yeah, four and a half years in the making. As Josh mentioned, we did have the luxury of time. So early on, when we were brought into the process we were able to really dig into what those requirements for the city of Seattle were going to be for the new site, as well as how the employee experience was shifting. Josh mentioned that everyone's commute was going to be different just given the Bellevue to Seattle transition, and their options. So we really use those as the framework to build these commute program goals and then use the strategies to meet multiple goals within a single strategy. That employee experience was really top of mind for Expedia. It's only 13 miles between the two sites but it's night and day. You are coming from a central business district with a transit center, half a block away, many freeways, lots of parking, to a just out of downtown, sprawling, beautiful on the water site with limited transit access, less freeway access, it was just very, very different. So we really wanted to make sure that employees were aware of those changes early on and could help make choices about what they wanted to do at the new site well in advance of working from the new site. So they could test them, they could do them during different times of day, they could get comfortable with transit routes. That was really, really important to us. The second was managing parking demand. As Josh mentioned, in Bellevue, we often just grabbed more parking because we had it in the central business district. The inner Bay region of Seattle has limited parking as does our site. So we really wanted to make sure employees were prepared to have a really constrained parking section, and how that would impact the parking price, and just their ability to get to campus. So we started with a goal of reducing parking demand in Bellevue, and we were successful and did that through a variety of flexible programming and daily parking. And then that was just part of the behavior change leading to Seattle. Reducing employee drive-alone rates is a mainstay of any good TDM program, really wanting to get people out of their cars. And that was part of our city of Seattle requirements, the goal was to have a 49% drive alone rate in 2019 decreasing by 2%, about every two years until 2031. So pretty substantial for the employee population that we were talking about in the part of town. But really that change wasn't just for Seattle. It started in Bellevue, we wanted to reduce costs through reducing leasing parking, and we wanted employees to start that behavior change early. And that was just the underlying goal of the entire design. And then being a good neighbor. We were the new kids on the block. We had not been in inner Bay before much less Seattle. So we really wanted to understand and mitigate the impacts on the community we were moving into. The new site is positioned just south, mere blocks from a major port in Seattle where lots of cruises come in. It's adjacent to two really residential communities. So there's a lot happening. People are commuting downtown for work, people are coming for vacations. We wanted to make sure we would have the least impact on those groups moving throughout the city. Next slide, please. Thank you. So Josh also touched on all of these bullets but I want to just dig in a little bit deeper. Flexibility was really our goal, and approach from the very beginning, understanding that employees had different needs on different days based on their work schedule, their personal life, etc. And we wanted to give them the ability to make those decisions on a daily basis. So that meant helping people understand that monthly parking wasn't the only way of life. And that once they tried one commute mode, there may be others that also met their needs but on a different day. And the other big piece that we worked really hard to communicate to employees as we didn't want to villainize parking. We get it, everyone has commitments, and every day is different. Maybe you're late, maybe your kids need to be picked up. Maybe it's raining, and you just don't feel like fighting with the crowds on the bus. I don't know. But it's okay. We wanted to help communicate that just because you chose it one day, it didn't mean you needed to choose it every single day.
Melanie:
Consistently meaningful employee outreach, and education. That was huge for us, as Josh mentioned. We took a really, really high-touch approach to employee engagement. This meant everything, from personal one on one sitting down with someone to talk about how their commute was going to change, both in Bellevue or Seattle, laying out every step by step direction to get them from point A to B on a bus taking into account their trip training. So do they go to the grocery store every day after work? Do they have to go to the gym? What are those pieces that we can help build in to make their lives more efficient? We had and still have drop-in sessions for employees. So open office hours if you had in school, we man a station, and people can drop by anytime during the day to ask us questions about the benefits, about their actual commute. And that is hugely popular. We're currently doing it digitally as everyone's working from home. Helping to stay engaged with employees, and answer any questions they may have about traveling. What else did we do? Josh mentioned the neighborhood engagement that was a really big thing for us before the move. So we really focused on smaller regions within Puget Sound, dividing the region into 36 unique neighborhoods, and creating really specialized commute information for them. Transit, bike paths, shuttle, etc. And then we compared each mode to the cost that employees would be spending and the travel time. So it really helped lay out their specific options. And then give them a platform to speak to other neighbors in their groups via Slack. So that was our best way to build critical mass in these neighborhoods, to get people to rideshare, to get them to talk about what they've been doing, to share their insider tips with their friends. Those are still really active, and we use them really frequently to push out information to employees. For example, a major bridge in Seattle is offline for the next decade, potentially. And we have been using our neighborhood Slack channels to really engage with that group to talk about their options, to talk about what may happen at some point when it is okay to go back to the office, how are they going to get there? That is a really top-of-mind problem for these folks. And so we're still actively engaging with them in the ways that we designed for the move but they expand forever. With data-driven decision-making, Expedia has a huge data-driven philosophy internally, and we really agree with that. And I guess, aligned to it to start, even from the beginning tracking as much information as we could so we could identify trends. So we could start making decisions based on what employees were doing. So we could understand how we should be budgeting for our programs, so we can understand what kind of programs we should be turning on. And a lot of that has been things to Luum. So we utilize that service for our employee-facing website. That is where everything is hosted. All the materials we make, up-to-date information, etc. But we also pull from it. So Luum has the ability to integrate with parking software, Strava for bike walk, shuttle systems, Lyft, I'm probably missing a million of them. But we just gather all of that data and can create this very robust report on what employees are doing, how often they're doing it if this is a well-utilized program. And that has been so valuable to us to help inform everything from program design to employee engagement. And it allows us to have a more personalized approach to employee engagement by understanding what they've tried, what they haven't tried, what they're comfortable with, what they maybe need a little more support in. And it's really been a very, very effective tool for us. So this flexible commuting is really built on three pivotal programs. The rest of them are really important, thinking about other modes, vanpool, carpool, bike but this foundation really built the structure to allow employees the space to try those other modes. So the first change that Expedia made, on my very first day at Expedia I would like to add, we switched from transit passes only for folks who didn't choose parking to transit passes for all employees. And Josh and I stood in the lobby of the event headquarters building and manually registered people for ORCA passes on paper and then passed out ORCA passes. Wildly popular, we ran some giveaways but the goal was really to get employees to understand that even though they had a parking permit, we were going to provide them with free transit access so they could give it a shot.
Melanie:
Today, we have over 80% of employees with transit passes, and every new employee is given the option on their first day in their first meeting to get that transit pass. It's just a great benefit that we're offering, and it really takes advantage of and pushes people onto the public systems. The second was the transition from monthly parking permits to flexible parking. In 2018, I believe we did that with the help of Luum, as Josh mentioned, many conversations with parking garage landlords. But it was a huge shift for employees. A lot of people did not understand that daily parking is actually great for you. You only pay for parking, when you need to pay for parking. You don't need to pay for it when you're on vacation, you don't need to pay for it when you are working from home, and you don't need to pay for it if you carpool with your neighbor. So that was a huge change management activity for us to get the benefits of parking across. But it did open those doors for employees to try different things on different days, and create just the baseline behavior change for flexibility. And then incentives. With Luum we started running, I want to say monthly challenges based on different modes, or your employment status. If you're a new employee, we would create challenges for you. And those were very popular. We gave out gift cards or rewards or coffee, whatever. And then we moved to campus and we had a fully integrated system of our own. We switched to an actual daily incentive for anyone who walk, biked, van pooled, or took transit to campus. So it was kind of that final incentive to get people out of their cars and move them into potentially another really nice mode. And the fact that it's a daily incentive meant that they didn't need to do it every day to get rewarded. It's just an added bonus if you decide to hop on the bus instead of getting in your car each day. Next slide. All right, here, we're going to talk about the success. So this is a very meaty graphic, it covers our mode share from 2015 all the way to prior pandemic 2020. So January and February. And it calls out what we consider to be key milestones, programs, and policy changes. You'll see the first is the transit passes in 2015. And that really did start the increase of transit ridership for the employees at the Expedia group. Second, we have some parking rate increases. And some high-touch bike and education programs. Those seem insignificant but as you're teaching people about what their new commute is going to be, teaching them how to use those modes is also important. Bellevue is not necessarily a super bikable place so getting folks the actual hands-on education that they needed to try biking or to try getting on a bus was really important to us, and we started that early on in this process. It wasn't just six months before we decided to move to campus. It was continuous over three years, four years. The drive alone rate, we saw starting to increase early. It started going down the first deal as you'll see with the black line. But a really big decrease came when we implemented daily parking in 2018. I will say that was only a portion of our parking in Bellevue just given the limited constraints with parking landlords, and technology implementation at third-party sites. So it gave us a taste of what employees wanted and how successful the program would be when we got to campus and had our own facilities. But then, in 2019, when we started moving to campus, everyone was able to take advantage of that daily parking benefit. And you see the drive-alone rate go down even farther.
Melanie:
And then really importantly, employees really eagerly adapted to the new programs on the Seattle campus. The shuttle program, which we had never done commuter shuttles before was so popular. We had a 25% shuttle mode share in the first year. I guess the only year on campus given that we're all working from home right now. But that was huge. The employees had to learn a whole new system, they had to learn how to make reservations, they had to learn about parking rides for shuttles but they dug in and they really accepted that as their new commute platform. And we had people taking that four and five days a week to work and just really thankful that they had a non-drive option. A little bit about our shuttle program, we really tried to make sure we were serving portions of the population without good transit access to campus. So we had a handful of parameters that we followed but it was designed not to overlap with public transit in the Seattle region. So not create more congestion and help serve people who don't have many options to potentially other employees. What else? Josh mentioned vanpool, we actually progressed the vanpool programming as well, starting with partially subsidized vanpool fares going to fully subsidized when providing such amenities as hotspots and matching and things like that. But we now have the second-largest vanpool program in the region, which is pretty huge, considering our peers are places like Boeing, Microsoft with 10s of 1000s of employees versus us, which is right around 4000. So that's a really nice list to be a part of. And then transit. We knew a lot of people wanted to take transit, we had a fairly high transit rate in Bellevue, and I want to say it was. I don't know, I can't read the graph. Right around 20, 30%. And then that just carried on to Seattle, which was huge, made a 26% transit mode share in 2020. And that says a lot about employees wanting to take transit because they don't have a direct connection, almost everyone taking transit to campus has to pass through downtown Seattle. So we know that a lot of people are making transfers, and that's not always what employees want to be doing on their way to work. So amazing. I do want to talk a little bit about the other things that aren't shown in this graph that we've tracked year over year that just speak to the return on investment of these programs. Our employee satisfaction with commuting and their commute options has increased every year since 2015. So we know that employees are responding well to our program and our outreach. They enjoy what we're doing, and they're taking advantage of it. We've seen a ton of environmental benefits. In January, and February of 2020 alone, Expedia group employees offset over a million pounds of co2. We know that because Luum tracks it and we can pull great reports that tell us. Administrative efficiencies, Josh mentioned that we amped up to four-plus employees pre the move just to engage with employees and make sure everyone had the right information. But Luum allows us to have a standard staff of about three of us who are doing employee communications, program design, vendor management, etc. in a nice clean way, instead of Excel sheets for every program. It helps us keep everything in one central location, and understand what's going on. Give back to the community. Josh oversaw the update to a huge trail that runs adjacent to campus as a major arterial for bikes and walkers in the Seattle region. And so not only do our employees have a great bike path that they can use that separates peds and bikes but so does the general public, and we really use this as a tool to promote biking with our employees. You don't have to be on busy roads, you don't have to do lots of traffic. If you're coming from the north or south, you have a really dedicated, clean, active commuting path to get to campus. And that's been such a great benefit. And then, just to get an employee experience, we have so many happy employees with what we've done and what Expedia group has supported through the past four years.
Kim Jones:
Excellent. Thank you, Josh and Melanie, that was such an insightful overview. And I think those on this webinar can start to connect, relocating again applies today. It's not unique to the pandemic but there are a lot of things we can do right now with this uncertainty. So when we have that return date, we can put things in motion. I think the expedience story reminds me to suspend my assumptions about what we think people want to do. I keep mentioning parking, and maybe that's an element but let the data lead. Let yourself iterate, and embody this living laboratory that I think Expedia group does incredibly well and put employees first. Again, they know what is best for them. And it's about empowering them to make that choice, and ensuring that they have all the options available to them. So another plug for this case study. I am curious, what are the specifics about how you did all this really cool stuff, and have such a high return on investment. The case study is coming again to your inboxes the week of November 18th. And definitely recommend you keep an eye out for that. It's going to dive a lot more deeply into the actual tactics for each mode, what the results were of that, learn how they actually went about transitioning, and engaging employees. And I'm looking forward to it myself. I'm really excited to share. And the last parting thought I would have is it's, again an uncertain time but we have mechanisms in place to start planning so we can do this together, we have really big goals, life happens in a longer time frame than just the past few months or even looking ahead to the next year. And let's just keep collaborating and keeping the discussion open. With that, I imagine there are some questions for the group. So why don't I turn it over to Casey to help facilitate?
Casey Murphy:
Thank you very much, Kim, and thank you to all of our panelists this afternoon. We do have quite a few questions. So folks, stay with us here as we get through most of them, and try to do our best. Kim, if you want to advance that last slide. In case we do not answer your question this afternoon as people are typing them in, I do want to let you know that all of our panelists today will answer any questions that you have after the session concludes. So please feel free to ask them after if we cannot get to your question. The first question here. And I'll pass this one over to Josh. What's the expedient teleworking policy? And how does that work in conjunction with commute management at Expedia? For instance, how many people percentage of employees are able to have flexible hours, and or days that they are expected to show up at the workplace? And how does this affect parking demand, and or transit demand?
Josh:
I think there are two separate answers, you know the latter one, post-COVID, of course. Pre COVID, the discussion was a discretionary one between you and your manager. And what we went by, we didn't have a direct data set to reference for that. We went by occupancy of buildings, so our highest occupancy would range in the mid 60% to 70%. And we were cross-checking that against our parking rates, which wasn't the only way to do it. We did have a lot of other data sources. So at no point were we more than 60 to 70% occupied. And we use that to assume that our people were either traveling for work or working from home, or taking vacation. And as we started reaching out to people more through the commute program, and the other change management we were doing, we realized not a huge number, but say about 30, 40% of our people had a relatively high amount of flexibility in their work schedules. The commute plan actually helped us push the question further of how do we grow that in the future. And of course, this COVID experience has shown us that we all need to do that. And that is the way forward.
Casey Murphy:
Excellent. Okay. Thank you. This next one, probably for you, Melanie. But Josh certainly can jump in. I'm interested in learning about the neighborhood Initiative. Have you faced any GDPR issues? And how open are employees with sharing where they live with others?
Melanie:
Yeah. You want to take it, Josh?
Josh:
No, go for it.
Melanie:
We work really closely with HR. So it really captures the overview of the neighborhood of initiative. We created those 36 zones, created the specific commute information for them, and then we reached out to employees living in those groups to hold events so they can meet their neighbors to create the Slack channels. But the way that we built those was by working really closely with HR to get the employee data of home locations, and employees. That is a thing that we had to go through a ton of security, and all of the hoops to jump through to get access, and then we don't share it out. So we do our mapping and analysis. We invite people more broadly saying we know you live in this region but we're not connecting someone who lives down the street to someone else. That is for them to communicate as they're in those Slack channels and those meetings. Employees are pretty open to sharing. The Luum platform has the ability for an employee to put in their home address, and it does have the ability for employees to volunteer to carpool or vanpool together. And so we saw high usage of that. And then this neighborhood initiative was just taking it a step further, and giving them real-time access to each other. It happens less in the public Slack channels, obviously. But we know in the events employees would just say I live here, let's talk, and really share that information. But as far as us presenting any of those private data, we don't share it outward. It's just a thing that we work together with the HR from Expedia group on.
Josh:
And just to be clear what Melanie means by that also is that it's split up. So she'll get a list of names for a neighborhood saying ABCD lives here in this general zip code if you will, or neighborhood. And then she'll get a second set of data without the names of the employees giving her locations. And they don't talk to each other. They're separate discrete groups but they correlate by neighborhood. So if employees choose to share information beyond that, that's at their discretion. But we don't get a chance to correlate data on our own.
Casey Murphy:
That's great. Thank you for that. Good question. So next question is, well, we got a few questions on the ORCA passes here. Are the Orca passes automated now? And if so, how much do the Orca passes cost?
Melanie:
Can we clarify what automated means?
Casey Murphy:
I think mainly the kind of like a tap and go. I don't know if adding money to it. Not sure what that person meant by it. You were handing them out in person, she just said.
Melanie:
Got it. So, yes. We were handing them out in person. Our team is highly involved with new employee onboarding. So on everyone's first day, we meet with them, we present about the commute options, and then we host a little drop-in after they get out of their last meeting. And during that drop-in, we basically ask, do you want an ORCA pass, and explain the benefits of transit ridership and all the systems that are covered. So yeah, we hand them out in real-time. And then, as you're handing it out one of our team members is recording the card number in that person's Luum employee profile. So it's automatically connected to them, and we understand that they have it. And that is the same to go for if you lose your pass, or if you're an existing employee who decides they want to switch to transit, it's all requested through Luum, we pass them out, they can pick it up at the walkup desk, or we make an appointment to go see them. So very automated, very clean, lots of visibility into where those passes are when someone loses them when we need to turn them off, etc. ORCA recently switched to a different passport invoicing program for businesses. Expedia subsidizes full transit but it's based on actual employee usage. So I can't give a good estimate on how much it costs. It's different per person given the system they're riding, how frequently they're riding, times of day that they're riding. So there's a lot of math that goes into that. And we really rely on KCM to support us there.
Casey Murphy:
Excellent. Okay, thank you. I guess we'll hand this next one to you, Melanie, as well, since you're the ORCA professional here. Since providing ORCA passes for all, how has the use been? And this person said we find it can be hard to sell sometimes for our work sites.
Melanie:
As I mentioned, we have great transit usage. We've got a 26% pre-pandemic transit mode share and a 10% vanpool mode share. So wildly popular, I would say the way that we saw that success was with our really detailed one on one outreach, and working with employees to understand how they ride the bus, which routes are available to them, the frequency of those routes, all of the things that people are nervous about as they switch to a new commute mode is really what has made the success of our transit program. And we live in a place that has a great regional network so it's not just buses, it's the light rail, it's commuter rail. There's a lot going into that but it's helping the employee understand their options within those services.
Casey Murphy:
Yeah. Certainly is a gray area for transit. This next question, curious to know as well, did you incentivize employees to move closer to the office at all?
Josh:
It was on the table as an option. I think benefits came up and said, if you want to consider it, a couple of our financial partners could help you get mortgages and stuff. But there was no incentive beyond that. So they created some convenience relationships. But that was about it. It wasn't so much the move it was that we started attracting because we announced that this far ahead. Prior to our move, we found that a lot of people who were joining Expedia were joining knowing that we were going to be in Seattle soon. So we actually started attracting a lot more Seattle-based would-be employees. So it was a very natural reset in that sense. The Puget Sound region is highly competitive living conditions. It's not a cheap thing to do, and it's not easy. So we weren't expecting too much. And it just shifted our demographic as we move to Seattle.
Casey Murphy:
Okay. Thank you. This next question, probably for you Josh, and Melanie too. How are you measuring employee satisfaction?
Josh:
A lot of it is survey. So we do not just every two year CTR, we actually do an annual. But we also do employee surveys other times. And because of elements like Slack, we get a lot of instant feedback. Our employees get either a testimonial or concern. So we are seeing live, real-time, a comment come through, and other people support it or not. And our service, especially the commute ones, are actually pretty well responded to. We got a lot of good feedback there. And then, of course, our open houses and stuff.
Melanie:
Yeah. So we do an employee survey every two years, as Josh mentioned, at the same time of year, that asks a lot of the same questions, just so we're tracking information year over year, and understanding how employees are feeling. That does have a specific question about employee satisfaction related to their commute options, their actual commute, what they're actually doing, our team, and a handful of other things. And then as Josh mentioned, we do get really robust, real-time feedback. So we've created some systems for tracking that. It's everything from the topic of the feedback, to how many people have brought it up, how many people have supported that comment. And then what has been done about it. So we have a really deep understanding of what our employees are saying, and what they want to see from us.
Casey Murphy:
Excellent. Okay. [Unintelligible: 0:46:31] around here a little bit, get some other questions that have recently come up. This next one. How do you see the TDM strategy responding to COVID-19 requirements in greater hybrid work from home options? That might be you, Josh.
Josh:
I think the flexibility of working from home and doesn't mean that everyone is suddenly just going to stay home and not show up. People are suddenly going to have new scenarios that they need to deal with. And I think they're going to need somebody to help them navigate those choices. And so I do see the requirement being there, and the questions actually shifting. And so the scenario planning that needs to go on is going to be slightly different to what we had in say, March.
Casey Murphy:
Okay, excellent. To this point a little bit, is there pressure to reduce TDM now with more folks working remotely? Will a higher level of remote work be expected from this point forward?
Josh:
I don't think anything is off the table. Nobody's really open to that scale yet to know that. I think what it is going to do is it's going to shift the conversation some. So we had hoped right up to February, we were so thrilled with our SOV rate dropping the way it did that we didn't anticipate that we're suddenly going to be in this place where people are going to need to come in, and want to drive single-occupant vehicles. So there is a shift. But on our part, specifically, we have a requirement from the city that we report out very robustly. And so I don't see our program shifting dramatically from a personnel point of view. I do see our programs adjusting post-COVID with all these new considerations.
Casey Murphy:
Okay, excellent. This next question, probably for you, Josh. Were there cost savings from the move that funded the enhanced TDM efforts?
Josh:
It was a split. So some of it was what the city of Seattle required us to do. So going in that was a capital commitment EG agreed to. But yes, on the flip side, the conversation we had with Nelson Nygaard when they joined was, we are spending so much on it, and this was in Bellevue. We are spending X on subsidized parking day over day, month over month in Bellevue. And how do we balance out that cost to Expedia with the cost of these programs, and then carry that same construct through to Seattle? So a huge part of it was if we can save Expedia money on parking that Expedia was paying for. And so the capital investment on Expedia sites stays frozen rather than growing with every parking spot we added on. How could we then reallocate some of those funds to some of these other programs? And so yes, there was a very interesting conversation on how at some point it could become a self-funded program. And that really worked well for Seattle where we were required by the city to charge for parking, and then parking would pay for a lot of the other programs that we were planning.
Casey Murphy:
Okay. I know you've mentioned at the beginning of this webinar, and we talked about folks who will probably return more of a hybrid approach here. This next question asks, when people do go back to work, Josh, what is Expedia expecting in regard to the percentage of employees returning to work, and or utilizing Expedia sponsored transit options in the future?
Josh:
Your guest right now is going to be as good as mine. Employee sentiment has been shifting. So I think if we talked about this in April, I think generally, everybody felt oh, I'm never going back. And over the last few months it's sort of becoming I want to come back, but, and a lot of the part is around their personal home life, etc. So I do think it's going to end up being a very robust employee choice for individuals at a very personal level as to what they'd like to do. And I think Expedia would support that. The question becomes when they want to come in how we can support them. And so that's how we're playing it. We don't have any clue yet as to how much they want to come in. Numbers are rising in Washington State right now. And so we're going to go in very low to start whenever we do, and we're going to be flexible enough to adapt when we keep getting data on people returning and study that very hard to plan for the future.
Casey Murphy:
Excellent. Okay. This next question, I thought it was kind of interesting, it just came up. How did the move affect employee retention? Did you find it to gain more employees? Did you lose some? What was the retention like after you moved?
Josh:
It actually balanced out really well. Again, we announced our move four years before we actually moved. So people who started in 2016, saying, oh my God, I will never move to Seattle, had ample time to either change their minds or find another role somewhere else. And the closer we got to our move in 2019 we found more and more people joining that said, oh, I'm moving here from the Bay Area, 13 Miles is nothing, or I'd love to live in the city, or I just got a place in [unintelligible: 0:52:55], and can't wait for the move to happen. So because it was such a long drawn-out piece we didn't find a massive hit to our retention plan at all. It happened incrementally over time. We did find that moving to Seattle actually became highly attractive to individuals who already lived on the Seattle side of the pond.
Casey Murphy:
Okay. Just going to really quickly ask this question because we got a few of them from both the chat and the Q&A. Folks are trying to kind of figure out looking at their own parking demand issues, how many employees are located in the Seattle region?
Josh:
Sorry, do you mean in the Seattle region overall? What is our employee base right now?
Casey Murphy:
Yeah, I would guess that's what they're looking at.
Josh:
I think we've been everything right up to about 4500. And with everything going on right now, we may be at about 4000.
Casey Murphy:
Okay. This person said, thank you for a great webinar. From the Expedia perspective, could you talk about the working relationship with Seattle DOT, what was helpful or not helpful from SDOT, and when it came to changing your TDM program, and how has this working relationship continued?
Josh:
It's a very progressive group, SDOT. We had to game up for that candidly. We could not come in as a Suburban let's just go and get another parking spot for this new employee sort of approach. And that's why it was really key for us that we strategize with Nelson Nygaard. The relationship has continued to be good. They really met us halfway. They asked us to innovate on the shuttle management, the shuttle program. That was their first time, right, Melanie that they'd asked for an employer to start the shuttle program. If I'm not mistaken.
Melanie:
You provide the background, reasoning, and understanding of a shuttle program. So we had a full shuttle implementation plan in addition to our TMP and master use permit for this site. So we were really connected with SDOT and still are.
Josh:
And it's worked out well. I think we are transparent. And they appreciate that. And they have shown a willingness to work with us.
Casey Murphy:
Excellent. I haven't really heard you fully mention it yet. But what are the plans to return to the office in order to keep the telework going forward?
Josh:
We're looking like every other employer in the region we're just looking at the right time to commit to that. We are looking to January but again, let's see what happens. So I think it's a moving target. But we would like people to come back. We think we've created safe enough conditions, it's just going to depend now on getting enough of a group of employees to feel that way to restart that process.
Casey Murphy:
Okay, let's see if we can get one or two more questions in here before we finish up. This next one is for both you, and Melanie. Has there been a discussion on how the transit pass program might be changed due to the pandemic? The example is given that employees using transit might come in less often to work now in post COVID? So what is still be economical to issue monthly passes, or would there be other forms of incentives for less frequent transit commuters?
Melanie:
So, as I mentioned, the ORCA pass program that we use is not based on a monthly pass program, it's actually based on someone's transit usage. So we are invoiced or responsible for someone's actual trips. So if we think that people aren't coming to campus every day, or maybe trying to choose other modes, we anticipate that our transit costs will go down in the short term, and then as life starts to return to normal, and transit comes back online with budgeting improvements, and the pandemic goes away we'll return to our previous levels, hopefully. So not anticipating a long-term change in any sort of cost or participation there. But the ebb and flow with the pandemic. So, that is different for transportation systems around the country, and the way that they structure their employer passes, some are monthly passes. And I think those would need to be looked at it in a cost-benefit analysis. But for us, because it is the actual trips it's a little bit more flexible, and we have a little bit more ability to forecast those costs.
Casey Murphy:
Okay, great. Let's see if I can get another question in here real quickly. How did you all implement daily incentives for those who use alternate modes?
Melanie:
With Luum.
Casey Murphy:
Can you give us a little more of an example?
Melanie:
One of the reasons that we chose to partner with a system like Luum in 2017 is because of the technology functions. It's all tied to badge swipes, trip logging, and payroll. And that makes it really easy for our team to have that all be very automated. Someone bikes in, they park their bike, they log their trip and their commute calendar on either the Luum app or their desktop that is automatically connected to the payroll system. It's all just very fluid. And our team is reviewing that data on what people say they're doing, versus any other badge, scans they may have, or if they're actually on campus, and just seeing what employees are actually doing versus what they say they're doing to keep costs, and people honest. But it's really simple and really useful. And it's easy for employees, which I would say is the nicest part. It is not a heavy lift, it is not confusing. They just have a really simple singular action every day.
Casey Murphy:
That's a great place to end it all here. And I want to thank all of our panelists today for a wonderful job. We did not get through all of our questions believe it or not even with 20 minutes left. So I encourage any of you if we did not answer your question today to please reach out to our panelists below. We want to thank you all again for a wonderful webinar. Thank Luum our sponsor today for hosting this. And I want to let you all know that our next webinar will be Tuesday, November 17th. It will be on implementing safety features to build rider trust, and that will be sponsored by trip shot. And registration for that will be open tomorrow. So once again, I want to thank all of you for joining us today. We had a great turnout, and we appreciate it. And I hope you all have a great rest of your afternoon. Bye-bye
Whole Foods Market & Movability Austin
In this webinar, we join forces with Movability and Whole Foods Market to discuss returning to the workplace, commute trends in light of the pandemic. We explore why now is the time to update your policies and benefits towards greater flexibility and convenience for employees—to help build confidence in their commute as they get back into offices.
Kelly Hostetler:
All right. Let's get started, Kate. It's 7am in Seattle, 9am in Austin, it's time to do this.
Kate Harrington:
All right. Lucky us that we got the later time. Good morning, everyone. Thank you for joining us this morning. Today you're going to hear from two companies that Movability is fortunate to work with as members. I'm Kate Harrington. I'm Movability's Outreach and Engagement Manager. And before we start a little bit about Movability. Movability is central Texas's Transportation Management Association. And we work with employers and providers to connect employees with better commutes that take single-occupancy vehicles off our roads, improve the region's health, and help employers improve recruitment and retention. This webinar came about as we began discussing what a return to work might look like, and why mobility is an important part of planning for a returning workforce, and how we can help employers with those decisions. We know there's not going to be a day when everything suddenly goes back to the way it was in February. And different factors will impact commutes from continuing to keep kids learning virtually, employees' teleworking more in the future, needing flex time, to understanding that transit won't be an option that some people will be comfortable with right away. At the same time, many people in the workforce have just experienced a massive behavior shift away from their typical commute. All that means it's the perfect time to examine mobility options that are safe and flexible, so we don't see a resurgence in drive alone [inaudible: 0:01:32]. And even worse congestion than our cities experienced pre-COVID. Among other commute benefit tools, today you're going to hear about parking management. While that may feel counterintuitive when talking about reducing drive-alone habits because the majority of Americans and Austinites here where we're based this morning, still do drive alone. Starting with tools that track and manage those habits helps employers work toward behavior change, and incentivize new commute options. Many cities are tackling similar back-to-work challenges, and we hope that this snapshot of what Luum and Whole Foods are doing in Austin will help other employers start to plan for their commutes. It's my pleasure to introduce your speakers today, Kelly Hostettler and Aneka Patel. Kelly is the Director of Marketing for Luum where she brings her experience in transportation planning, and behavioral psychology to the work that Luum does with employers helping them seamlessly incorporate transportation demand management, or TDM into their workplace with commuter benefits and parking management tools. With data, software, and a scientific approach to behavior change Luum helps employers reduce drive long commutes, which saves businesses money, and makes employees happier. Aneka Patel is the Transportation and Security Program Manager of global facilities at Whole Foods Market, where she develops, supports, and grows the global team member commute program, campus TDM strategy, and physical security program across Whole Foods Markets growing urban campus in Austin. And Aneka used to be a colleague of mine at Movability, where she managed the Mobility Challenge program. And with that, we will go ahead and get started. We are going to reserve the last 20 minutes or so of the webinar for questions. So please do drop your questions in the Q&A feature. And make sure to indicate who your question is for, and we'll get to it at the end. All right. Take it away.
Kelly Hostetler:
Excellent. Thanks for that intro Kate, I think you really set the stage there. I know early on we had a lot of webinars in April, and May we were all planning for an imminent return. And of course, all of that has changed a lot. And the stake in the ground keeps getting moved back. Many of us now are looking at January. So this webinar was born out of a conversation with Kate, and Aneka about how companies are planning now and what they're doing. So today, I'm going to kick it off, and I'm going to talk a bit about some of the trends that we're seeing during COVID, and about the return. I'll briefly talk about what commute management platforms aka Luum are. And then as Kate mentioned, I'll dive into a bit of the policy, and technologies that employers are using and how they relate to behavioral science. And then I will pass it over to Aneka for the closer, the star of the show to talk about the Whole Foods Market case study. So keep drinking some coffee with me. So we're all awake, at least by the time Aneka talks.
Kate Harrington:
So I love this quote because I think it really captures what's happening right now. So one of the most concerning workplace issues for employees is not the physical space where they will work but how they will get there in a post-pandemic world. This is from the JLL workplace experience survey. Look it up if you haven't read it. It's a great survey. But the thing that really strikes me about this is post-pandemic. They're not talking about January, or when we return they're talking about when this point in time is over when this pandemic ends, which is not until there's a vaccine likely would be the trigger. And so it's talking about a long time from now. And what I think about when I read this is that the commute is forever changed. We're really changing the way that employers need to approach the commute. So stepping back, there's tons of survey, tons of data out there on what's happening right now, preparing for the future and the uncertainty. There's a lot of good stuff. I'm just going to focus on a few that have been resonant to me but there's so much other stuff out there. So what story is this data even telling us to? That's what I want to look at. So again, from that JLL survey, they found that 34% who previously took public transit to work will seek alternate forms after, there's that word again, after the pandemic. This doesn't mean they're all going to drive necessarily. I took public transport to work depending on when we return, I might bike. However, it does mean we need to influence those public transit commuters who might change their mode. And we also know that even small shifts towards driving have really significant impacts on congestion. One Vanderbilt study during the spring found that in the Bay Area if one in four public transit riders switch to driving that would add 10 minutes onto the morning commute. And I don't know about you but the morning commute in Seattle is a lot lighter than the evening commute in Seattle. So that's not even talking about what's going to happen in the evening. And we also know transit ridership is down. Obviously, a lot of us like myself are working from home right now. But it's down 75% in Austin, Houston, and Seattle, as of when I put this slide together on 8/26. And we know that car traffic is rebounding much more rapidly than transit. Car traffic in Boston for example is already back to pre-pandemic levels. And here in Seattle, it's I think, 6 or 7% shy of being at pre-pandemic levels. So car traffic is rebounding when transit is not rebounding as quickly due to a whole host of reasons partly in how we fund our transit, which I won't get on my soapbox about today because that's not what this webinar is about. But we could do a lot better job funding public transit in this country. I'll leave it at that.
Kelly Hostetler:
So what we're really seeing with the employers we've worked with, and a lot of this is really in the last three, four weeks, there's been a lot more clarity around four workplace strategies that employers are approaching to return to work. The first one, they're never going back. So you've probably read about some of these folks in the headlines. But they've actually decided we're giving up all our office space. And we're going to be a remote company forever. If you're one of those companies. I don't know why you're on this webinar because it won't apply to you. However, if you're one of the following three, this does apply to you. So if you're partially going back in front of a lot of employers who have realized telecommuting is actually a pretty good thing. Maybe we should do this part-time, let's put some formal flexible teleworking options in place, and even reduce the office space that we do have. We've also heard a lot of folks who have said, we're all going back as soon as it is safe to do so. It's our company culture, it's our ethos, we're going back to the office, and we won't have a formal teleworking part-time policy. And then, of course, there are the folks who've never left. The essential workers, healthcare workers. They never stopped commuting during this time. So I'm curious what you all have a little reminder for myself there, pull. I'm curious what strategy you all fit into. So there should be a poll up on your screen now. So go ahead and tell us which one you are. And I'm seeing the votes come in. I'll just give it another 10 seconds.
Kate Harrington:
Awesome. Looks like about 80% of you have voted. Okay, so I'm going to go ahead and close the poll and share the results with everyone. So strong majority is in that partially going back category. They're formalizing some flexible teleworking options, maybe reducing office space. A lot also in that all going back, a few of you in the never going back. So thanks for waking up so early to be here. I hope you find something useful. And very few never left. So let's move on here. So given that there are so many of you in that partially going back category, I think this is really important. But why invest in flexible commutes right now? And flexible is key. And we'll dive into that in a bit too. First and foremost, employee experience. Alleviate that commuter anxiety, help employees have a positive experience when they do return to work, and make flexible options available to them. They're aware of them, and they're easy to use. It's also about being more agile and data-driven. So we need data to be able to understand what's happening, how employees are commuting, and then to be agile, to quickly make changes in policy if needed, or communicate with team members. And then finally, optimizing your parking program, whether you have enough parking, or you're worried you don't have enough for the return to work. Whatever you do have, you want to optimize it. You want to be able to better utilize those assets so that more employees are able to use them, and they're full more of the time. If they're not full then you could reduce them. So I really emphasize flexible, and many of you fit in this camp. You've all seen so many surveys I'm sure about this. We did a survey as part of our luminary conference back in May. And at the time 65% of respondents said that more than half of their workforce will continue to work remotely. And here 60% of you said, yes, my organization is partially going back, we're going to have some formal, flexible telecommute policies. And the fact is that fundamentally changes the way that companies have to approach the commute and their benefits for employees. We also did this survey back in May with the imminent return that was not so imminent. And we're looking at how commute investment priorities are changing for organizations as they focused on teleworking, and flexible policies. So I'm again, curious how this has changed, and if it's changed.
Kelly Hostetler:
So yet, again, I've got a poll on your screen to share the results. Are you all still focusing on telework, and parking management, bike walk, and employee comms? Or have those shifted yet again? So you can select multiple in this category, though, I do love a good quote by Brene Brown, and she says, "If you have more than three priorities, you have no priorities." So maybe keep it to three. Once you select those three make sure you hit submit for the answers to go through. And I see about half of you voted, so I'll just give another 10, 15 seconds. Drink some coffee. All right, so I'm going to close it. So if you have some answers, click Submit. And then I will share these results with everyone. Alright, sharing results. So let's see what we got here. Looks like still telework policies, which is in line with the way you answered the last question, are a big focus as well as some of those other top hitters with communication, and bike walk programming. And some focus on shuttles, carpools, and vanpools. That's a great, wonderful, safe way to get folks to work. All right, come back to another poll, one more time.
Kate Harrington:
So I'm not going to dive into these commute policies too much because Aneka will take you through them with Whole Foods. And I always love a detailed case study. But these are some of the policies generally that we're seeing employers break from the status quo. They're breaking from monthly parking permits, they're moving to daily permits. And sometimes that's just for a better employee experience because they want their employees to only pay for the days they park. And given the new flexible work environment, they're only coming into work one or two days. It makes sense. Also, of course, back to that parking asset utilization, monthly parking for an employee who only coming to work 60% of the time, means that your parking space is not used 40% of the time. So a lot of folks are making that shift, which is wonderful for me to hear because we know that's also what changes behaviors, and breaks commute habits. We're also seeing employers shift from first come first serve parking to actually using daily parking reservations so that they can manage demand so that employees know if I do need to drive today, I do need to go to the office, I have a parking space. Again, alleviating that commute anxiety. And then we're seeing a lot of people really focus on making it easy, flexible, and seamless for employees to use subsidies for safe alternative modes, and to make that distinction themselves. So they're saying, here's 100 bucks a month, use that for rideshare. Use that for carpool, use that for pretax transit benefits, whatever you feel comfortable with. And then we're also seeing a lot of focus on bike, and walk programming, amenities, education, bike buddy programs, all sorts of stuff. So I think I have two slides here. What is a commute management platform? Well, let's break it down.
Kelly Hostetler:
So first and foremost, commuter, we're focusing on the person, how they get to work each day. Second is benefits, managing, pretax, post-tax, subsidies, parking, transit benefits all in one place, and rewarding commuters for the commutes that the employer decides they want to incentivize. Management. So wide-ranging oversight and control over every aspect of commute benefit policy, meaning you have all the levers at your fingertips to change policies when you need to. And then a platform. We truly integrate with enterprise systems HR, parking, single sign-on, payroll, and also all sorts of mobility providers. Whether it's rideshare, carpool platform, Strava, or shuttle company, to bring that all into one place for the commuter experience, and also for the admin experience. And we focus on enterprise and truly focusing on policy. Because we know policy is what changes behaviors, policy is what shapes company culture, and driving results through our partnership. And these are some of the industries that we work with, healthcare, technology, universities, and also a [unintelligible: 0:17:43] catch all the public agencies nonprofits. And they're facing these challenges. And these challenges aren't unique, necessarily to this time with the pandemic. But they're also exacerbated during this time. Parking demand, employee engagement, retention, administrative efficiencies, or what I call excel hell, and then sustainability goals. And what we're seeing is that even if these challenges seem like they're in the background right now a little bit because maybe you are working from home, or you don't have as many employees commuting, they're just going to get that much worse when we do return to the office. COVID is just exacerbating these. And so if you're not planning for that now and preparing you should be. And that's what you'll hear from Aneka from Whole Foods about their program planning during this time. Okay, last poll here. So, I'm curious do these challenges resonate with you? Or what major challenges do you actually see at your organization for the return to the office? And again, you can select multiple if you see a few different challenges, and then make sure because you can select multiple make sure you hit submit at the bottom.
Kate Harrington:
All right, we'll just give it another 10 seconds here. So go ahead and submit your votes. And I'm going to end the poll. Share results. So it looks like the top region here which makes a lot of sense is budget reduction. So you're facing budget constraints while you're trying to deal with exacerbated problems, needing to offer more safe options as that was the second one. Lack of safe options for employees as well as just employee engagement, and flexibility. So now I'm just going to breeze through a few policies and technologies that we are seeing employers use, and how those relate to science. So I'm going to start with the science. I love this study by Harvard Business School. These two professors looked at commuting specifically and applied social behavioral psychology proven theories to try to change commute behavior. And ultimately, what they found is that those behavioral change nudges, as we call them, didn't actually work. Turns out commute is very much a habit. And it's very hard to change because of that. What they suggest at the end is they say, okay, here's three things that employers can do to help shift employees away from driving alone. First and foremost, life events. So they've talked about marketing commuter benefits if your office moves. Not many of us do that. But there's also new hire onboarding. We do change jobs so that's a great opportunity. And then pandemics. I added this one because this study was done last December. But this is a huge life event for people right now. It's a life event for me and for all of you, I'm sure. So it's a great opportunity to change benefits, and refresh your program. The second one is convenience. I think we all know what that means but really, truly making subsidizing alternative modes or sustainable modes, as I like to call them. Subsidizing sustainable modes making them more convenient than driving alone. Make it easy to get that transit pass, make it easy to submit a reimbursement for a bike share or scooter share, give priority parking to carpools. And then finally cost. And this one's the kicker but it's the bread and butter, it's the foundation. Make the daily cost of driving alone more apparent, and real for employees. And at all costs, avoid monthly parking permits because then you're just encouraging your employees to drive. If they've already paid for something they're going to keep driving to make the most out of that. So really quick here, major life events are a moment to refresh benefits. This is the time that we're in now. Right now everyone is in this. And we're seeing employers like Whole Foods do this, and communicate along the way with employees when benefits change and how they're changing. And engaging employees. We have a number of customers who are actually doing rewards and challenges right now encouraging people to bike even though they're not coming to work. Just bike today, take a trip, and log it. So it's proven that it's a wonderful time to refresh benefits and engage your employees. We're also seeing a lot of people focus on convenience to activate safe options. And many of you said that safe options were one of your challenges. So what we're seeing is a lot of people are using closed network carpooling and vanpooling to match employees to get them signed up now for the return to work. And then also when we see a lot of people make it more convenient to carpool or vanpool by splitting parking charges and giving priority parking to those with carpools and vanpools or reserved parking.
Kate Harrington:
We're also seeing a lot of folks use subsidies. And I mentioned this briefly before but the whole idea of here's 100 bucks a month, and you can use this however you want for safe options that you deem safe. We have so many apps on our phone to get around. We all have different preferences for which ones we like to use. Giving employees a subsidy per month that can only be used on those apps that are not driving alone is a wonderful way to give them that choice and autonomy but also feel supported and cared for that they do have this subsidy they can use. Also for many of you who said the budget was an issue. Pre-tax commuter benefits, which we literally are launching today, right now, launched live. Pre-tax commuter benefits, that's a wonderful way to save costs both for the employees who are commuting for parking or transit and as an employer. It's a no-cost benefit or even one that you make money off of by reducing payroll taxes if you have enough employees elected to the program. So there are options for everyone no matter what your budget is. Aneka will talk a bit more about parking availability but using parking reservations, and availability for those who do have to drive. Or on the days that they do need to come into work they want to know there's a space waiting for them. Also, as an admin, you want to manage that demand. So we started doing parking reservations online, you can have a payment as well, or you cannot have a payment. Again, we suggest a payment. And you can reserve a spot. And then you know you have that peace of mind there's one waiting for you. Obviously, it also helps manage that demand from the employer's perspective. We're also starting to let employees Park off-site. So this is actually maybe a scenario where you don't have much parking, and you don't want to get more parking, good choice. But let's think long-term here. You don't want to get more parking for the return to work when employees come back. What can you do? Well, there are actually ways that you can allow your employees to park nearby lots and garages and still pay for that parking through their payroll, or through a subsidy, if you did offer a subsidy for parking, perhaps just when employees return at the beginning. And so there's some great technology out there that allows this. And one of the other flip side of that technology is you can also, if you have plenty of parking, and you own it, perhaps let's say you can actually allow other people from other employers to come park in your lot. And then if you encourage your employees and you reduce your own drag lawn you open up these spots to sell to other people on the street and make money that way. And a way, if you do lease your parking, it's a great way to return lease parking by reducing your own drive-alone rate load. And then the last slide, the real money side, which is we know daily parking charges greatly reduces demand, even a nominal amount reduces demand because of loss aversion theory. So you don't need to go with that $15 that's on the screen there. Five, three, and it'll make a difference. And it helps make the cost of driving more apparent to employees, especially when you offset that with subsidies for sustainable modes. That is the recipe for a successful TDM program. So again, I totally recommend checking out this study. It's wonderful. Harvard Business School, why it's so hard to change people's commuting behavior. Find it. So with that, I'll just leave you with, now is the time if you do have employees working from home, this is a wonderful time to refresh benefits. You need to be changing policies to prepare for that flexibility to be there to support your employees when they do return to the office. And it's a great time to put a program in place. And if you need any more resources on return to work you can find some at luum.com. We've kind of collated a bunch and created some of our own. And with that, I will turn it over to Aneka from Whole Foods who will take you through her case study for their Austin headquarters.
Aneka Patel:
Thank you, Kelly. I appreciate it. And thanks to you and Dave and the entire [unintelligible: 0:28:19] team, Kate, and Lisa Kay, and their team at Movability for hosting today's discussion. We're super excited to continue our work with both of you. We've been working with Luum for over a year, since before I joined Whole Foods Market. And this year, we really ramped up our work with them to develop our policy and technologies to support our Whole Foods Market commute program at global headquarters. I'm excited that we are formally launching the Luum platform in, hopefully, early 2021. So we're working through all of that right now. We're also proud members of Movability. As Kate said, I was part of the team just last year. We as Whole Foods Market have participated in the Mayor's mobility challenge for a few years. And our work with Movability and their support have been really key to designing and implementing the Whole Foods program, and they continue to support us. Their advocacy leadership is really important to the region. And we thank you for your support, and for being an amazing resource. Our old staff photo. I will talk a little today about our location. We are located, headquartered in downtown Austin. And give you a little bit of a context of how the commute program started. Also speak a little bit about our business motivators, why we're putting resources towards a TDM and commute program at our local campus, and how our employees get from home to work. We call our employees team members at Whole Foods, and so you'll hear me refer to our employees as team members throughout the presentation. I'll talk about the status quo of our commute benefits, and kind of the history of them and what we're currently offering and how our program is currently evolving and how we're hoping to have it evolve a little bit more. And then a roadmap of all the exciting things to come [inaudible: 0:30:20].
Aneka Patel:
So you can see this is a beautiful view of downtown Austin from Ladybird Lake. It's grown tremendously over the past 10, 15 years. That red circle shows where Whole Foods Market is located. That's our main building. And I'll show you a photo of our campus here shortly. The very first Whole Foods was built just down the block from where we are now, 30 years ago. We're very proud to be a homegrown company in Austin, and we've grown literally in the exact same spot while downtown Austin has grown around us. Our main office is literally on top of a grocery store of an 80,000 square foot of our landmark Whole Foods store, which was rebuilt in 2003, I believe, which is great. It's great to be around our store team members, it's great for lunch, and it's great for spending money on a lot of things we don't necessarily need. But also a little cumbersome and difficult for managing so many customers and different stakeholders that are coming to that part of downtown that we share our space with. As many of you probably know, Austin was a small city, a small town that became a pretty big city pretty quickly. Densities have increased. The region has definitely focused on mitigation efforts, mitigation for congestion, and just building out a comprehensive transportation system. But in my opinion that we're still a little bit behind, of course, thanks to groups like Movability, and their advocacy efforts we're moving in the right direction slowly. But there is, of course, we're growing healthy, vibrant cities so there are traffic and parking challenges. And as an employer, we can certainly advocate for that. But we are trying to offset it for our team members, employees, and our stakeholders. Everyone knows the [unintelligible: 0:32:14] study that ranked Austin as I think, the 18th worst city for congestion and traffic in the country. We see it every day. We don't necessarily need a study to confirm that, we hear it from employees and employers and everyone that uses our transportation system. Capital Metro our transit system is a great partner. They were excited for Project Connect to hit about this year. But there are certainly not enough mass transportation options to make it competitive with driving alone to work right now. We're on the edge of killing it slightly. We're on the edge. This is an aerial view of our campus. We're quite spread out. I think we are unique in that we have a campus in an urban downtown environment. So you can see our buildings highlighted here. We have eight total buildings. We're finishing building [inaudible: 0:33:09] right now. But we have eight total buildings in Austin, five downtown. And you can see some of the parking garages highlighted. I think we have 1....2...3. 6 parking garages. So we're definitely spread out. Our main building is right there in the [unintelligible: 0:33:27] on top of the store. There's a surface parking lot that serves our customers but with over 1600 team members at global headquarters and being spread out not only within the downtown campus but then with other buildings in the city it does make it a little difficult to build a really super successful commuter benefits program. Some of our parking garages are owned, some are leased. I sit on the global facilities team and from an operations and facilities standpoint we own some of our garages, we lease some of our garages, and we have a lot of oversight over our garages. We don't have a third-party operator. As Kate mentioned, I also help manage our corporate physical security program with the campus. So we work with a third-party security team to do our parking enforcement right now. So with that oversight comes again, opportunities and challenges spread out around our campus. In 2019 Whole Foods Market saw tremendous growth as a company. Pre COVID, I think I have this number correct, or the annual growth rate was about 4 or 5%. So we know that based on survey data, our drive-alone rate is, it's about 80% right now. And if that driver alone rate stays the same in 1, 3, 5, 10 years, we're going to have to add a significant amount of parking spaces to accommodate that mode split every year, which we don't want to do. We know it's not the best option. Historically, as a company, I'll talk about our commuter benefits I think Whole Foods has built a great program so far compared to other companies in Austin. I have that experience with my time at Movability working with many other companies. But historically, we've been focused on balancing and potentially sometimes increasing our parking supply versus reducing demand. So we're trying to shift that. [Inaudible: 0:35:23] right now.
Aneka Patel:
We are an Amazon company. Whole Foods was acquired by Amazon in 2017. We do not have a big influence from Amazon, and certainly on this program. But they are certainly a resource. We do talk with them. And of course, they are also a Luum customer, and I know that they have found success with Luum. So we have been able to benefit from a lot of the features, and the innovations that they've created throughout their time with Amazon. Of course, they do it on a much larger scale with their employee account in a much more dense area in Seattle than we have in Austin. We have our own core values, the mission that drive our decisions surrounding commute. Again, the scale we operate at right now is much smaller. Because of my position, I was mostly focused on our global headquarters in Austin. So we operate pretty autonomously. And our commute story is still being written, as you'll hear.
Aneka Patel:
Our program at Whole Foods has had really humble beginnings. It was started by a dedicated group of volunteers years ago, some of whom are still at Whole Foods Market, and I have the pleasure of working with and hearing and understanding the historical context. And they have literally been running the program, I think, until the last two years. I was hired at the end of 2019, in the fall of 2019. And prior to that, my team, the global facilities team was managing the commute program. Our leadership saw a need with our growth and with our real estate analysis that we needed to focus on this and make this a priority. Our leadership posts push for a position to get ahead of the issue, put a full program into place, identify the gaps, create a program off of issues, and this is all to meet a variety of goals that are important to us as a company, to our core values, to team member happiness and to remaining competitive in Austin market. Whole Foods Market's mission is to nourish people on the planet. And my team, the global facilities team global workplace experience has a parallel mission to that to take care of our people. Of course, Whole Foods Market is a grocery store. Our priority is our customers. And our priority for my team is.... our customer is the employee, is the team member. So for our executive team is to take care of our people. And then our value proposition for my team is that we're devoted to taking care of our people. Their conscientious effort focuses easily on an exceptional team member workplace experience, which is built upon the three pillars that you see on the screen. Promoting wellness, enhancing productivity, and fostering cultures. And these three pillars translated to our business motivators. They drive everything that we do. So discussing kind of the three business motivators, promoting wellness. [Unintelligible: 0:38:46] has our ethos is to... we have a strong mission linked to the health of all of our stakeholders to our growing partners, to our customers, and to our team members. Employee wellness includes healthy bodies, a healthy mind, and a healthy environment, which again, is really critical to our entire ethos, our company's [inaudible: 0:39:08]. And seeing this pillar, obviously, as many of us know when TDM relates directly to TDM and commuting to work. It's the first part. It's the start of our day and the end of our day, and we want people to show up in a great mindset when they arrive to the office to start their day. And certainly is a motivator for reducing our drive-alone rate at Whole Foods.
Aneka Patel:
We've been working with Movability for the past many years. We also work with a transportation consultant. So we've done some surveys, and we're still using that survey data. Years ago when we did the last survey or actually nine years ago, a couple of years ago, we found that almost half of our team members had less than positive experience with their commute, self-reported. So this is a great data point to again support the creation of the program, to formalize a position, to focus on the program, and to understand that we didn't know before we did this survey that team members were necessarily not happy with their commute. We all know that lost time equals lost productivity, whether it's their experience getting to our campus, or moving around our campus, circling the parking garages, looking for a parking space, or walking half a mile from the bus stop, or not being able to find bike parking. We know that the commute has a big impact on people's attitudes. We are impacted at Whole Foods by our spread-out campus, by our geography, our one-way streets. We have pedestrian access issues that we are also tackling. And when team members show up to work angry or stressed, and have to spend extra time getting to their desk, that's lost productivity. So we are continuing to understand how to make that commute better and better understand where to use our funds to make that investment for the best ROI.
Aneka Patel:
This is our co-founder and CEO of Whole Foods, John Mackey. The company has always put an enormous value on team member experience. Again, we have a culture of providing a stellar team member experience, and customer experience for our customers. And part of that is this culture of providing a parking ratio that meets the demand for our team member population. In Austin to remain competitive still against the other companies, big companies, whom I won't mention, who are also providing fully subsidized or partially subsidized parking. That's a key recruiting piece here in Austin. But we've grown rapidly. So providing that parking ratio has become a little unrealistic. And instead of eroding the culture by saying we can't guarantee this to you as a new team member, we're working to create a program that keeps everybody happy and provides options and flexibility. And acknowledging that culture is really important. Because we know, this was talked about on another Luum webinar, that we know incentives don't necessarily drive behavior change. But we know that we have to figure out what will drive behavior culturally. And so acknowledging, again, our culture at Whole Foods and the strength of our culture, and how deep our culture bank is really important. And as a fairly new employee at Whole Foods Market, I'm still learning that culture as well. So coming to work for our team means starting with the commute. Again, everything we do is about providing that great employee experience. Being homegrown, remaining competitive to retain and attract top talent, we're trying to balance that ratio by providing free parking and other benefits. So we talked in the last couple of days about that front door to desk experience and getting people to work happy. So using those three pillars as our framework, the first thing that we did when this position was created, and the program was formalized was to do a scan of our existing commute benefits, or policies, or programs, who we partner with within the company. So that's what I've been doing is kind of the healthy discovery period, because I started in [inaudible: 0:43:54] and so for the first six months was really understanding. Our status quo, policies, and programs, the approach for the role is to understand manage, and influence. I think we're in the understand and manage piece right now. Some benefits that we provide to our team members are obvious to them, like the subsidized parking, while others are underutilized like our subsidized transit pass program and our lift first my last mile program. Last when we surveyed employees 30% did not know what benefits were available to them. And during my time here at Whole Foods Market, I've spoken to quite a few existing team members, new team members who did not know these programs existed either. So I believe that that 30% is actually higher, which gives me good work to do. And I can understand where to get started. So that discovery period and that scan really helped us create a snapshot of what we needed to understand, where we wanted to head. It was important to me to identify near-term quick wins for our team, especially having this be a new position for the company, which is a big deal. Not many companies have a dedicated transportation TDM person. And then look at a long-term strategy. When we learned that not all of our team members knew what benefits were available to them we understood obviously, and this is ongoing for any company, any program that we needed to really focus on education, communication, and marketing for what we currently have in place. We recently launched a new SharePoint page, which it's our team member portal, internal portal, or intranet. So [unintelligible: 0:45:36] can easily access everything related now to our commuter program and parking program, which includes maps, benefits, parking applications. Right now we're working with Luum. And so soon, we'll be launching the Luum platform, which will also serve as our one-stop-shop for all active commuters where all of our resources and employees can learn about their options. And this has been really important to us on the global facilities team. We have dedicated a lot of time to it.
Aneka Patel:
Some of the things that we figured out, we wanted to do better and introduce. Of course, partnering with Luum is a big part of that strategy. As I mentioned, we were volunteer-run. We did have dedicated, some staff on our Google facilities team prior to my arrival working on some of these programs, but it was fairly spread out. So being able to work with Luum will create that centralized hub for information. We have, in our conversations with Luum, and Movability we understand now that we can send, which is part of our plan to send relevant messaging to commuters based on the mode they take to work. We do have people that bike, people that walk, people that carpool to work but we don't know who they all are right now. And once we gather that data we can have some really great tailored messaging to them. We've been working with the recruiting team, HR team, our team member services team to make sure that we're reaching out to employees, team members right when they start. Of course, that's the best time to reach them, while they're exploring how they'll commute. Whether they're moving here from out of the city, or out of state, or still local everyone's commutes change when they change jobs. So a really key part of the position is developing those relationships with the recruiting team, HR, our office team, and making sure that they are all pivotal to the.... they're ambassadors for the program, and they can share the information. So really excited to get Luum started. And they set up all those automatic emails for me, making things easier. Transit passes, we have a group of dedicated team members right now that do take transit to work. We offer subsidized Cat Metro passes in bulk. We split the cost right now with our team members who want to purchase them. This is a great example of how commute policy and how processes matter. The number of [unintelligible: 0:48:02] that currently take transit to work and buy transit passes is fairly low. I'd say we've been tracking it less than 100 people right now. But I don't actually have a great way of knowing exactly how many people are taking transit. And I'll use myself as an example. The process right now, partly because of the way our process works. And partly because of Cat Metro's limitations. It's a little cumbersome and inefficient right now for team members to buy passes. They have to come in person to one of our reception desks on our campus to buy a pass in person and pay their share. And then we upload the pass either to the app or give them a hard copy. I'm using myself as an example, since I took some starting in October 2019. I had been taking the bus to work pre-COVID, and it was easier for me to just buy my own pass on my app. And the one-way fair is fairly inexpensive here in Austin so I just bought my own pass. So that's not captured anywhere that I have been taking transit to work. So that's going to be a big priority is to change that process. And again, with Luum's help, we'll be able to automate all of that through the app because encouraging transit use is a key tenant [inaudible: 0:49:19].
Aneka Patel:
We're hoping to return to work in early 2021. We know that some employees may not feel comfortable taking mass transit or traveling in groups. So we're focusing on modes that typically take more time to plan and manage. And we've not been carpooling in the past but we'll certainly focus on it now within the network for Whole Foods and certainly active transportation like walking, promoting bike riding. We have made significant investments in the bike culture and bike amenities at Whole Foods. We had three showers in our main building, and we built five private showers this last year. We opened a 120 secure bike parking facility called the wheelhouse. And so we want to capture the data. We want to know who's using all of these amenities, and make sure people know about [inaudible: 0:50:12] bike parking elsewhere all over campus too. But we want to make sure to promote that and track who's biking. I'm going to start speeding through this as we only have a few minutes left. We do currently offer fully subsidized parking. And right now for the near term, we absolutely will continue to do that but with one caveat. We are making, again, significant-tech investments not only in the [inaudible: 0:50:35] platform but we are also installing RFID readers onto our garages across campus. We do not have any infrastructure right now, like gates for people to go in and out. And so our next big priority is to understand our parking numbers, our utilization, and with Luum's help again and the RFID readers we'll be able to do that. So understanding that data is a big piece of the puzzle. Again, we loosely know our utilization rates thanks to our physical security team doing enforcement on foot. So we know the garages fill up but we don't know when, we don't know if they remain full throughout the day. We don't frankly know if they are full. As you saw, we have many garages, and they're spread out. Employees will be able to use the Luum app to determine whether a spot is available and where it's available before they even arrive on campus, which will hopefully reduce their stress level and will provide a great team member experience. And then also on reducing the congestion of just traveling around campus to go to different garages to find a spot. I spoke just now about our brand new wheelhouse bike parking facility, again, tracking these computer program investments, making sure that they were a great use of our funds, and then potentially right building that budget. These infrastructure investments were successful.
Aneka Patel:
And then lastly, of course, we're all wondering what the new normal is going to be post-COVID. We are a 95,000 person company. 90,000 of our team members work are essential workers and have been working in the stores. And so it is part of our culture and our executive leadership, we will definitely be returning to work on campus. Certainly, we don't know more people may drive, more people may decide to work from home a couple of days a week. We don't know how this has been affecting our parking numbers. And we have been kind of trying to make those assessments right now. During COVID, it's been a really great time for us to bring the Luum platform onboard and to reassess our policies and programs, and kind of re-engineer what we're doing because we have time to do it right now. So we're hoping that we are ready to go with the Luum platform and some new processes in 2021 when we returned to work. My manager Heather is on the presentation too, and she's been closely monitoring a lot of our assets. We did recently return some. We have some parking on campus that had a short-term lease and we were able to return that parking because of course it's been sitting empty this whole time. So constantly re-engineering is really part of what we're doing.
Aneka Patel:
This just kind of talks about some of the RFID technology that we are implementing. We again looked at different solutions, gates, [unintelligible: 0:53:48] LPR, which is pretty expensive. And with Luum's help, we decided to choose RFID readers as a low-cost solution. And then here's the flow of how those readers work. Employees will request a parking pass through the Luum platform. They'll get a windshield tag from a teletype technology. We're installing the readers at garages. Data is sent over a cell network, and then it will open up your [inaudible: 0:54:17] platform. And we'll get all this really valuable data. That helps us to understand our parking events on campus and provide a really great experience for our teams as well. Give us real-time data. And then just to close we all know that you need data and engage employees to make these things happen to create a successful program. So regardless of what happens with COVID, we know we needed to collect data and centralize our commute program resources again with Luum's help. I'm super excited to have everything, have a one-stop-shop and a centralized hub, and get our hands on that data over the next year to re-strategize and build out our program. Without the data, we can't strategically get people to change behavior. So we're trying to design this program now a flexible program that we may have to change when our team members return to work. So this is on the Whole Foods website. Throughout Whole Foods history, challenging times have been a catalyst for growth and reinvention. And that certainly applies to everybody right now. So we're hoping to make the most of what we've been able to do during this time, and be ready for that growth and reinvention and go back to work. Thank you.
Kate Harrington:
We have a few minutes for Q&A. So I'm just going to launch into those really quick. The first one is from Sara, I'm curious if there are any city TDM requirements Whole Foods is subjected to and what they are? Have those city requirements been helpful to advance TDM strategies? And do you have any other commentary related to top-down requirements?
Aneka Patel:
That was a long question. The city requirements, Kate?
Kate Harrington:
Just to summarize, are there any Austin TDM requirements that Whole Foods is subjected to that are shaping your policies?
Aneka Patel:
Not right now. And Lisa Kay would probably be a better person to talk about that. But not right now. Not that it affected us or myself in the time that I've been in this role. Certainly, as our campus grows, and as we potentially build new buildings. I'm certain that there are..... I don't know where the city is right now with your TDM requirements but I believe that they're being built out. And so, again, potentially, the building of a new building, we would be subject to those I hope we have some TDM requirements [inaudible: 0:57:05].
Kate Harrington:
I'll just leave on that one real quick. We do not have citywide TDM requirements. Part of that is because our air quality has kicked in some of those requirements. But the city is really starting to bolster its TDM program. And it's recently passed a new mobility plan that aims for really robust mode split in the future. So we might see more of that coming down the road. Secondly, I think this is aimed at Aneka. Are you making any changes to your bike commute program?
Aneka Patel:
We're not making any significant changes right now, except for I spoke a little bit about the significant infrastructure investments that we made as a company in the last year. And I'm just hoping to promote those amenities that are on campus. And then once we start engaging with our team members through the Luum platform, we can better understand how many team members are biking to work and build challenges and programs to get our potential bike riders and existing bike riders better engaged. It's definitely something that I want to focus on quite a bit. And I think we have a really healthy bike commute population in Austin. And so definitely looking to increase that, hopefully, bike's workday comes back. And, of course, everyone knows that bike purchases have gone through the roof right around the country. And so we are planning to have a bike 101 webinar in the next two months. The weather, well, actually the weather's not cooling done yet. I was going to say the weather is starting to cool down in Austin but it's not. But more people will hopefully start riding. And I want to do a bike one on one class for folks that are interested in riding but need some help. And we'll definitely already speaking to [unintelligible: 0:59:04], thank you.
Kate Harrington:
Excellent. And I'm sorry, Kelly and Aneka, I have somehow lost my view of the Q&A. So I don't know if any other panelists can see the remaining questions there. I'm sorry. I don't know why it just disappeared on me.
Kelly Hostetler:
Yeah, I can see some here. So the question from Casey is, is there a sentiment among employees or companies that transit isn't a safe commute mode due to COVID? And if so, is there any education on the safety of transit? And what does that look like? I mean, I would say that there's a perception with some employees that it's not safe, which is just due to being close to other people. But I think a lot of transit agencies and a lot of organizations are helping alleviate that fear of public transit. And I know transit agencies across the country are doing so much around cleaning and mask-wearing and all sorts of stuff. So I hope that by the time we do return to work that sentiment will have gone away mostly. I don't know if you have anything to add Aneka?
Aneka Patel:
I would echo the same thing. I've been keeping track of that. And I assume that there will be a change, and there will be some stigma. [Unintelligible: 1:00:30] is sending a lot of great resources right now in the chat. But I certainly think that some people will be averse to taking it maybe at the beginning. I'm really excited to get back on Cat Metro buses to get to work. So I think it's all of our responsibilities to change that conversation and to promote what our transit agencies around the country are doing to keep their customers and all of our stakeholders safe.
Kate Harrington:
I got it back. We are out of time now. So I think let's do one more question. And then we'll let you all get on with your day. This is from Kim Johnson. Do Whole Foods have a similar program in other cities, similar to the one in Austin? And if so, do those depend on ordinance requirements?
Aneka Patel:
Sure. So we do have regions all across the country. My position and my role are right now focused on our global support offices, our global headquarters in Austin. My team, the global facilities team has been working with regions, their corporate offices. I've worked with a few of our regions in the Pacific Northwest, in Seattle, and in Atlanta as they're moving offices to help understand their commute needs, and commute options. So we are slowly starting to build out to the regions. My program right now does not touch the store team members. During COVID, I have been focused on helping our store team members get to work with COVID and reductions with transit service and reductions with ridership, and increasing operations cost service has been reduced. And so we implemented a contingency plan with Lyft to get a lot of our team members around the country to work. But I'm slowly starting to understand what all of our different regions are doing. And yes, absolutely, there are state and city ordinances that affect a lot of our regions in California, and elsewhere that I am starting to wrap my head around. But it's all part of the plan.
Kate Harrington:
Alright, so with that, I see that Aneka and Kelly's information is up on the screen. Please do feel free to reach out to them with more questions. And of course, reach out to us at Movability, movabilitytx.org, for any more information on our TMA and TDM in Central Texas. I don't want to cut any other panelists off but I think we're ready to wrap it up. And thank you all so much for joining us. I hope this has been helpful and informative.
Kelly Hostetler:
Yeah, thank you, everybody. Thank you, Kate and Aneka.
Kate Harrington:
Take care all.
Aneka Patel:
Bye-bye.
DIGITAL CONFERENCE | June 8, 2021
Featuring Google, Tesla, Whole Foods, Vanderbilt University, King County Metro Transit, and others! Get insights from the brightest minds in mobility and learn about the benefits that are changing the way we commute.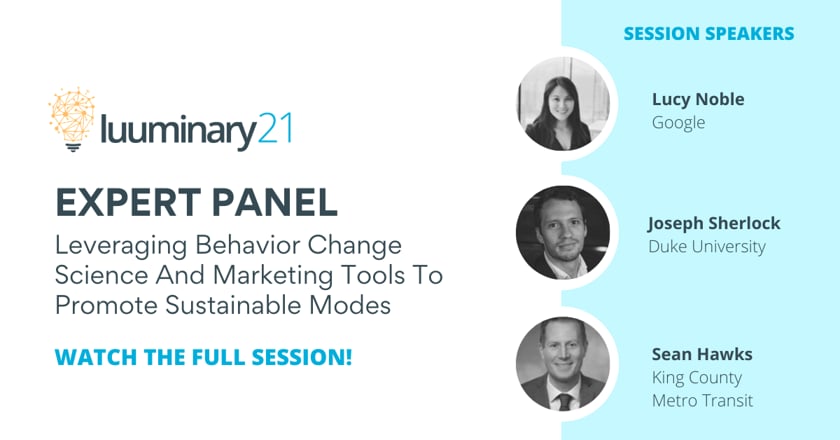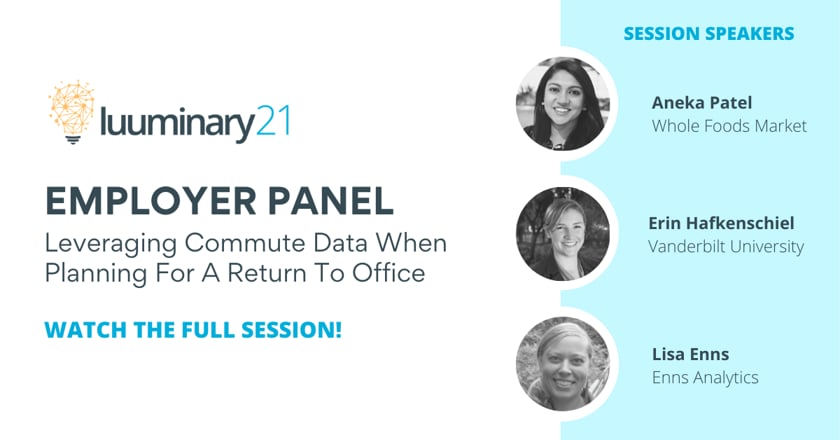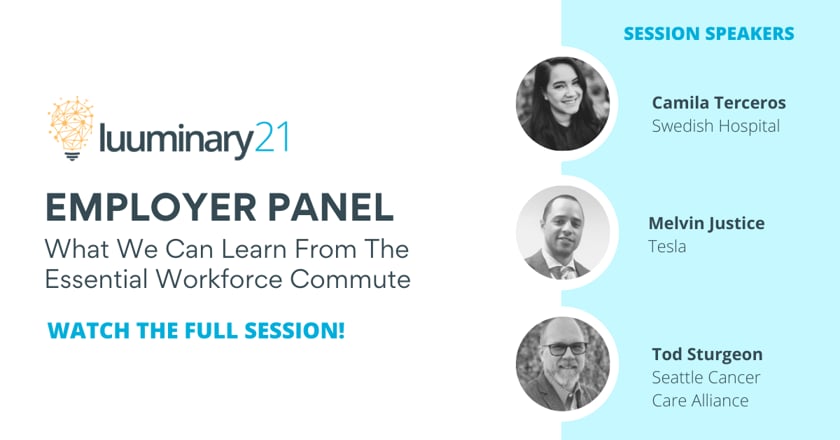 Marko: Great, Kelly. Thank you so much. And thank you for everyone who's tuned in today. So, I'm super excited about this next panel. The topic for today's panel is what can we learn from these essential workforce commute? So, as we know throughout the pandemic, our health and the economy is being maintained by the efforts of those jobs that are considered essential. Health care heroes, frontline workers, they've been in desperate demand and employers have been trying to do everything they can to provide safe and productive environments for them. And so over the last year and a half of the pandemic, there've been so many discussions on how do we return to work? What is going to be the appropriate policy? Well, I'm really pleased to introduce the panelists today because they have actually been doing that in real-time. They didn't go away. They had to respond on their feet to constant changing scenarios of dynamics, abiding by CDC guidelines, dealing with city and state mandates around essential workers, seen cuts to public transportation.
And so the three panelists we have today have done that for a year and a half. And so for all of those attendees on the call today, I want you to get your questions ready. Because so many people are thinking about how do I get leadership on board? What is the appropriate mix of policies and programs that we can roll out as part of our return to work, return to the office? The panelists before you today have been through that, through trial and error through a lot of changes. And I'm really looking forward to hearing about the journey they've been on throughout this pandemic. And how some of those policies are going to stay post-pandemic, have maybe made a lasting imprint on their programs, and some of the ones that have also been temporary as well. So, without further ado, I want to introduce our panelists for today. We have Camila Terceros from Swedish, Melvin Justice from Tesla, and Tod Sturgeon from Seattle Cancer Care Alliance. I'll give you all just a quick couple of minutes to introduce yourselves in terms of your role and your organization. Camila, do you want to first, followed by Melvin and Tod?
Camila: Yes, of course. Good morning, everybody. My name is Camila Terceros. I am the Manager for Parking and Commute Services for all Swedish Health Services.
Melvin: Cool. I guess it's my time. I'm Melvin Justice with Tesla, and I'm Senior Transportation Project Manager. I cover everything; commuter benefits, parking, vanpool, carpool, you name it. I'm in it. So, that's me.
Tod: Good morning. And I'm Tod Sturgeon with the Seattle Cancer Care Alliance. We had just recently started our transportation program before COVID. And we went from people to just meet right as COVID peaked. So, I now take care of pretty much everything transportation related to the SCCA.
Marko: Great. Thank you all so much. To jump into our first question, Camila, I'm going to start with you. So, I'd love to hear a bit more about some of the policies and programs you implemented during the pandemic, what worked, what didn't. You know, I think you had a really interesting approach in terms of effectively linking your policies to COVID waves and CDC recommendations. Do you want to take — [crosstalk]
Camila: Yeah. So, that's totally correct. So, at Swedish what we decided to do was, listen to our own experts and make sure that we were making decisions based on how the COVID waves were going along with the CDC recommendations. We started seeing that buses were going to start to be limited. And so due to that limited option of transportation, we at Swedish decided to offer a temporary free parking benefit for those caregivers that were affected. So, for those caregivers that would have commuted via mass transit. At the same time, when King County Metro decided to stop collecting fares, we decided that the right thing to do for us was to stop any payroll collections for already subsidized ORCA pass that we provided for our caregivers. So, those were very interesting as we went — people were very confused as to like, is this going to stay forever? Because we don't know, right? When COVID was happening, we didn't know what the future was. But we were able to terminate this program on, I believe, was February of this year in transition again into what would be buses [02:10:00] and offering carpool and vanpool options.
Marko: And Camila, I guess as a follow-up question, how did that communication go with workers? I mean there's a lot of change going on, it can sometimes feel like a bit of a yo-yo. And we know that when it comes to rolling up programs and getting that behavior change that communication is really key. How did you do that?
Camila: Right. At Swedish, we do have a great, great communication team that I'm so thankful for. We were able to get into some type of like war room situation and see how we are going to spread the word. And most of the times, the communications came either from our leaders from each campuses. I myself manage this for seven campuses in all the clinics around Western Washington. So, for me to get the message out, I had the help from our leaders, which is great. At the same time, there was some trial and error because there was a second wave that we thought it was — when was it — in October, we thought that we were going to be good by November. And we did cancel our free parking for two weeks. And then we realized that this is not the right time to try to go back to pushing people to the buses. So, we reinstate it. So, it took some trial and error. But I think that our caregivers understood where we were and how we were making the decisions. And at the end of day, all that we wanted to do was for them to not worry about the parking and how am I going to commute to work, so that they could focus on offer the best care available that they could.
Marko: And so it sounds like you pretty much February of this year, you kind of went back to the original program, correct?
Camila: Correct.
Marko: Tod of SCCA, those are similar approach, but you actually, in August of 2020, you know, effectively made the decision to really implement daily parking. Do you talk us through what that process was like?
Tod: Yes. So, when COVID initially hit, we realized that we had to accommodate as many people as possible. We accommodated about 700 people that normally would have come via transit, put them in whatever parking spots we could get from our neighbors, from the city, everywhere. But our parking program is predominantly based upon leases. So, we couldn't just get out of those leases. And we were continuing to pay for all of these parking stalls across the system, but we weren't bringing in any of the revenue that we previously had been. So, by the time we got to summer, the recognition was made that we just couldn't afford to do that anymore. And it was time to bring people back and say hey, it's time to pay for parking again. All of the people that we had added on at that point, we said, hey you've been put into an extra spot, we can continue to accommodate you. But now it's going to be time for you to kind of pick up your share of it. And most of them decided to do that.
A number of them opted to just try and find street parking of which hasn't been too difficult in Seattle in most areas, because not a lot of other companies are downtown. So, some transitioned back to that and they parked a little further away and walked. But for the most part, employees were fairly understanding of what the organization was going through. We were spending a lot more money on their PPE, we were spending in a lot of other areas and it just wasn't something we could continue to afford to do. So, we made that transition back. And we have remained there since then with paid parking.
Marko: Tod, tell me about the — you mentioned about 700 transit users. And so did you offer them spaces? And what's, I guess, the thinking and the plan to maybe get them back onto transit, get them comfortable with transit? And the reason I asked that question is that one thing that maybe I don't hear a lot about is how do we get people who are cycling, taking public transit to work, pre pandemic haven't actually done behavior change in like the opposite direction of TDM, right? They're now starting to drive. Maybe their work schedule is actually encouraging driving. You know, I'd love to hear your thoughts on how you think about that employee population. And if it's [inaudible 02:14:28] insight that you have — [crosstalk]
Tod: Well, yeah, it's — [crosstalk] It's a great question. And it's something that we're struggling with right now and trying to come to terms with. We saw a reduction in our work accounts, approximately 35%. Prior to the pandemic, we had about a thousand people that had ORCA cards for transit. We're down to about 650 right now. So, we've seen a significant shift to people driving. And as you said that it's been a year and a half now, they're ingrained in that method. They have rebuilt their habits. So, what we're looking at at this point is actually moving to increase our costs for parking, and decrease our cost for the ORCA card. We currently charge a $15 fee, just meant to be a token amount to ensure that people actually want an ORCA card before we issue on out. So, we're looking to reduce that, and at the same time, increase the monthly fee, and continuing to offer the daily parking so that folks have that flexible option, I think that's been one of the biggest pieces for us is adding that daily option so that they don't feel like they're tied to transit. Prior to COVID, we only had monthly parking. So, you either drove or you took the bus. There was really no good option for you on a day where you needed to leave early or do something else. And now we have that option for people. So, we're hoping that will help them get back into a better transit habit.
Marko: And then Melvin, jumping over to you, you've got a very different scenario here, in terms of parking, in terms of transit options, trying to move tens of thousands of employees from vast differences. I'd love to hear how it was that Tesla responded to the pandemic and what you saw in terms of changing behavior around Can you and of course, like some of the policies that you implemented?
Melvin: Yeah. Thanks, Marko. You know, March 2020, we had this toilet paper craze, right, everyone rushing in store getting toilet paper was both freaking out. And one thing to notice was with every business, how do we survive, right? Tesla's business is finished goods, right? That's our backbone. And how do we maintain that by keeping people safe and healthy? But then at the same time, how do we get them to work? Right? And how do we maintain those commuter benefits and all those good things that [inaudible 02:16:55] learn? So, what we did was we [inaudible 02:16:57] a fun approach, right, work with their prize and say, boy no one wants to hop on public transit. Right? That was a scare, right? That public transit [inaudible 02:17:07]. Right? So, you're stuck with shuttle, vanpool, carpool, right? And then you're saying with carpool, no one really want to do that, right, because of the proximity issue. Right? There's no — very hard to social distance. And with that being the, really the height, the start — height of the pandemic, we're left with a couple options, which is vanpool and shuttle, right?
So, shuttle, the people are still trying to figure it out. Let's do social distancing. So, we decided to go with vanpool. And one of the things that we did was we said, how do we make vanpool work? Right? How can we make this possible? And one of the things we looked at, which is the backbone of vanpool, is the bandwidth, right? If you know who's with you, right, and you guys can talk amongst each other, figure it out, right, you're going to know if you're healthy or not, you're going to know if you're not feeling well, all that stuff. So, the commuting really was the key, right? And it was a private commuting, right? If you only look at the same four or five people in that vehicle, right, and then now you have to look and understand well, how do we socially distance, right? So, [inaudible 02:18:07] came with a fantastic idea and said you know what? Let's get one person for — let's get big panel vans, right, put one person per row, we can social distance the van in a diagonal fashion, right? And that's exactly what we did. Right? We split vans up, we split vans up, we ended up actually, ended up being a huge success.
We had stakeholders, right, from the EHS, Environment, Health and Safety, VPs, everyone, started doubling, tripling down. Right? So, we showed them the model, we took a chance, provided [inaudible 02:18:37] kit, right? You get all the wipes, the mask, the gloves, the disinfected [inaudible 02:18:45], right? Let's double down here. Let's go ahead and let's roll this dice. And it ended up being our enrollment for vanpool went up like 2,000%, man. I mean [inaudible 02:18:56] like 30 vans. We're almost over 350 vans now. So, I mean, this is — we took that model and ended up rolling out, the enterprise rolled it out. But the beautiful thing is we decided to innovate. We didn't want to have people sitting around and we didn't have any issues. Everything was great. We had no COVID scares, anything. It was actually perfect. And all we did was keep on cranking vans. And so we did that. Shuttle said you know what? Let's go down that road with you. And so they did the same thing. Let's social distances, put dividers in the rows, let's have one person per row, let's put digital temperature standards on the buses. Let's get social distance markers. Let's get PPE. Let's provide — We did it all, right? And so here we are with the COVID guidelines from the US, which is the federal guidelines, the lowest percentage is going to be 50% or 25. So, we kept doing that, Marko. And the beautiful part about it is we didn't stop hiring, right? We just kept on going as if the pandemic never happened. And we worked with those guidelines and we just kept rolling.
Our numbers for vanpool skyrocketed. Our bike numbers skyrocketed, right? We went from a [02:20:00] $5 a day model, a $15 day model right in the middle of pandemic. And we said, you know what, the biking craze is out of control. This is the wild times of biking. let's double triple down. Did that and it just blow up [inaudible 02:20:15] it went phenomenal. We gained 300% month over month — bike. We're still cranking out. So, the pandemic was actually a godsend in a way, meaning that it really helped us be able to identify reducing the [inaudible 02:20:32] side of the house, right, by then go to alternate transportation, but pushing towards the modes. The vanpool is probably the cheapest mode we have outside of transit. And then the shuttles was just like, hey, these are the areas where we can solve for hey, vanpool filled the gap for shuttle, right. But then also for those that were still scared to ride the shuttle, right, and that general pop, kind of feel, hey, go to vanpool, they'll go in that kind of confined, private setting where you [inaudible 02:20:57] environment. So, it's amazing. That's what we did there.
Marko: Yeah. Just a really quick follow-up question to that, Melvin, and I think it'd be really helpful for attendees, as they think about their questions is, we heard Tod, and Camila really speaking about daily decision making and schedules and programs and the importance of that. Is it safe to assume that at Tesla when employees make a decision on shuttle, vanpool, bike, is it more a kind of single decision they make? Is more on a monthly basis when they shuttle, when they vanpool? Or do you still feel it has some daily decision-making kind of properties and elements?
Melvin: I think it's a daily decision unless you're cookie cutter, right? You know, and I think what happens, here's a good example, Marko, you're going to grandma's house on Friday you may need to be a little more nimble than going with a — maybe a vanpool, maybe my vanpool leaves at five, and I gotta leave around six. Right? So, they'll take that shuttle. Or I'm going to be staying over here for the week I'm going to bike over. So, I think what happens is the nimbleness between the three is more of a daily, I want to say a daily concept because everyone's, especially during that time life was changed, right? Some people had to move out. Some people said I can't afford here or the situation of life at that time was very much dire, right, for a lot of people, whether it be mentally behaviorally, right, I don't know what's going on, I'm nervous. Or heck, I need to survive, I need to make money for my family. There were these different things happening. So, I think that the situation individually at that time specifically changed rapidly, right?
So, we wanted to have a pivot and solve that we'd be able to say, hey, for the short distance, we got the biking, for some of that mid-range, you can go with shuttles, or potentially vanpool or mid to long, vanpool or shuttles, right, and keep our network open and solid to help employees really — And we listened, right? We didn't just roll this out and say, hey, we're just going to take a shot. No, we listened to employees. We found out what worked, we worked with stakeholders, we took the time, right, and really tried to find a V1 version of this, that we ended up just doubling down on it worked. So, took a lot of buy-in. We wanted to make sure that employees had a say and that they were enrolled, pre-wired to adopt something that they really want to have.
Marko: And look, it's a really interesting thing you raise in terms of, you know, all three of you needed to be incredibly responsive to a changing, I think global environment, changing employee needs at a time when essential workers were scarce, effectively [inaudible 02:23:37] a lot of organizations where it is really difficult to find people. You know, Melvin I know from Tesla having to go out incredible distances to find employees. And so as you're all in this process of quickly adapting, learning, rolling out these changes to your policies, what is it that each of you learned through this pandemic that you said, you know what, like this lesson, this policy is actually going to stick. And we're going to hold on to it as part of our future commute programming. Camila, I'd love to start with you.
Camila: Yeah. So, what we quickly realized — what it was that our staff needed to be moved around from all of our locations. So, how do we do this safely? How do we get people on a one to 24-hour notice from one campus to another? So, we decided at Swedish to implement what we call an inner campus commute pass that we did with Lyft. So, this became a pass that any caregiver could work, could use while being at work to commute to and from any of our Swedish locations, including all the clinics that are scattered throughout the Western Washington. This is a benefit that has stuck with us. We are really pleased with how our partnership with Lyft is working. And it is something that the caregivers like because previously, we used to have shuttles. We don't have the shuttles anymore. But the destinations of the shuttle were very limited. So, with Lyft, we've expanded how our caregivers can travel in between campuses.
Marko: And what about yourself, Tod?
Tod: Well, initially, as we were trying to put folks in places, we had spaces that we were leasing from our neighbors as backup spaces, but those were limited to people who were going to use them on a day-to-day basis. And what we ended up doing was working with the city to block off a hospital zone around the SCCA, and we used those for the people that were needing to come to campus less often. So, we had about 50 or 60 of those spaces, but we gave over 200 and something passes out to folks and say hey, try this first, park on the street, anywhere there's one of these signs. If you don't find a spot, let us know, we'll get you in somewhere for the day. And then that eventually transitioned into our daily parking program. Because as we move through the pandemic, and even to today, while a lot of people are remote, they have needs to come to campus, they do have to be able to come sometimes. And it's not always convenient for them to do transit or bike or walk or whatever. So, creating that option for them to just be able to come and park for one day and not be shoehorned into a monthly parking program or transit program or any other program has been key.
Marko: And Tod, without putting you too much on the spot, is it maybe safe to say that given how the return to work is more hybrid approach and your parking policies around daily, is that naturally making you really think about your — I guess, your real estate goals in terms of parking and leasing parking overtime because how you use that asset is fundamentally changing?
Tod: Yeah, it really has. We've now started the process of reducing some of our more extended parking leases that we had further out and that were more expensive to save money and trying to squeeze as many people into the daily spots as possible and continue to use some of the excess that we leased closer. Our real concern, and I'm sure a lot of other groups will have this and we're still struggling, is what does that return to work going to look like? And how are we going to balance that out? I can do a lot with 50 to 75 spaces for daily parking, if folks are coming in one day a week, and it's balanced across. But if there's a decision I know, I heard one of the other panelists earlier talking about well, everyone has to be there on a Monday or everyone has to be on Friday, well, that's going to cause a huge strain on that parking. So, what we're trying to get groups to do is to be more spread out in their days, and not be set upon a certain couple days a week that everyone is coming to campus.
Marko: Got it. And then Melvin, from your standpoint, it kind of sounds like you just need people there all the time. And so when you think about some of the investments you've made in terms, your vanpool policy, is that really seen as a long-term plan to just reduce that demand for parking? Or do you see, you know, still parking demand continuing to increase regardless of those efforts at times?
Melvin: Yeah, it's a good question. I think there's two things happening. Number one, we were at capacity parking lots even without people coming to work. So, imagine that we're going to have people [inaudible 02:28:50] office here next week, right? A lot of us here. How does that work? So, the good thing is is that with the vanpool, shuttles, right, these biking, these alternative modes, right, which are awesome. The one thing we're able to do is continue to push, right? And so we've done parking placards, right, in one of our locations, where if you don't have a placard, right, you can't park at that site, it's kind of like being at an arena where you have four seats, club seats, and nosebleeds, right? If you're not someone that fits one of the three areas, right, if you're not one of the first two, you're in the back. And so in order for people to come to one of our sites, you'd have to have — be in a vanpool or [inaudible 02:29:26], right? So, it makes people say, all right, I can get valet parking or — parking if I'm in a vanpool. I can just walk right in, right? And so that's a big deal. Parking is a huge, huge deal at Tesla. It's probably the biggest of all.
And with that being said, the alternative side of the house is the way to go. I mean, with Bart in different, I would say mass transit modes that people are still hesitant on, they're trying to find that equilibrium. You know, driving, the gas is expensive, right? You look out there it's four something per gallon. Right? Or the EV side of the house we're looking at, you know, doing EV [02:30:00] carpool, like having some cool EV carpooling initiatives that we're pushing out, right? So, we're looking at this and saying, hey, we know that more people [inaudible 02:30:07] people were driving in, right, people are looking to find a way back, but it's going to be a trial getting on the site. So, let's go ahead and get you locked in already, pre-wire you to some of these modes that we know had worked, and they're working now, and that will continue to work. And we'll continue to invest as Tesla, in those alternative transportation modes as our ethos, right, since we're a sustainability company. So, it really fits well with our mission going that route and continue to push forward, especially as those really, current employees or basically new employees, right? It's like you're having a brand new employee come back to the site. It's been a while for some folks. So, really gets them enrolled and I would say download pretty quick, as they look to make that move back on-site as we look to emphasize that alternative mindset.
Marko: And it's actually a really good segue to the next question. So, yes, you have a lot of essential workers on-site, on-campus right now. But you know, there's still a bunch more who have been remote, and who are going to start coming back in different ways in different capacities. You know, Tod, starting with you love to hear about what do you foresee some of the challenges are when you really start to bring everyone back?
Tod: Well, yeah, the big challenge is going to be how many of those folks are going to come back? And how often will they be coming to campus? You know, if we flipped a switch today, and everybody started coming back for campus, I'd have cars still sitting on the freeway or on the Mercer ramps, trying to get in because we still have parking right now close to the number we had pre-COVID. But that doesn't include probably half of them that aren't coming to campus. So, I probably still have at least 300 or so people who aren't coming to campus, but had parking. And many of them will likely expect to return to parking. So, we're working with Fred Hutch very closely, as they're still furloughed until September. And we're trying to come up with a way to balance that so that we can continue to share these places.
They're not — because they haven't really had anybody coming to campus, they're not really in a place yet, where they're ready to start a daily parking program, but they know they're going to need one. And so we're trying to give them the assistance that we can in that area and hope that we can balance our two parking plans out so that we're flexing into each other's spaces as needed. Whereas previously, we were very much segregated in this lot, so many of these places are SCCA spaces. And so many of these spaces are Fred Hutch spaces. And if Fred Hutch folks weren't coming in, there was empty spaces and vice versa. So, you know, there's going to have to be a lot of cooperation between the organizations, because we did borrow about 300 of their stalls from them, their permanent monthly stalls to make these accommodations for our staff that can no longer rely on transit to get to work.
Marko: And I really love that, Tod, because it takes one thinking out of what is our organization going to do with the spaces available to us? And how do we look at the challenges that are being faced by our peers and our neighbors and actually tackle this together? You know, I think part of that really ties in well to some of the work, Camila, you're doing around transit and this connection between yourself as an employer and public agency in transit. Do you want to speak a bit more about what you're doing with King County Metro?
Camila: So, we have partnered very closely with King County Metro, we make sure that we are listening to them, and we are also telling them what are our needs? Where do we see our caregivers coming from? And two, they're able to show us reports of where people are commuting to and from. So, we have one partner with King County Metro, which we meet every month and we discuss about future changes that could or could not affect our area. So, that's what our partnership with them.
Marko: And then tell me from a communication standpoint, tell me what else are you doing, for those that are coming back? Because I know that's a big — [crosstalk].
Camila: Well, what happened at Swedish is that we realized that we can do telehealth pretty well. And that we also can go into a hybrid mode for caregivers that are non-clinical. So, for those caregivers that are non-clinical, we are funding all the safety measures so that they can come back to the hospital in certain times when they have to be on campus. But at the same time, this is like a new culture for us because you would think that health care workers, they need to be there to actually provide health care. But that's not always the case as we can do this telehealth thing. But I think that having, like I said before, our communications team and preparing all these communications for them, letting them know what is available, letting them know what routes are close to their zip codes, letting them know how many vanpools we have around them, how many carpools we have around them. We have subsidized carpools, we have free parking for carpools and vanpools.
So, we are able to show them beforehand, when you're coming, this is the place where you go to get all your information about transportation. Another thing, we have to make sure that we are good partners to our other facilities where we're leasing parking stalls from, because the majority of the parking stalls at Swedish are owned by Swedish. So, we kind of like can figure out what to do on our own and making sure that we have enough spaces for patients and enough spaces for caregivers. But there are those locations where talking about challenges, it's like we have to find a model for flexible parking that works for them and it works for us. We have to make sure that we are trying to save as much money as possible from our caregivers, but at the same time being good partners for those who have hosted us for so many years. It's a challenge. But I'm pretty sure that it's a work in progress.
Marko: And what feedback, if any, are you seeing at the moment? Like, I know you've done a lot of policy changes, like what is the workforce telling you?
Camila: Feedback-wise, it's just like, because things are changing constantly with health care, and with COVID. We have to make sure that our messages are concise, and that they're scheduled in a way that they don't get lost among all the other changes that are happening at the hospital with the visitor policies, with surgeries that are changing, with teams that are coming back. So, we have to make sure that our communication is clear and targeted. That's one of the biggest feedbacks from caregivers. And, of course, they all want to park at some point because they're now in that mentality that I have a spot and I want to go. And it's like we have to show them that we, Swedish, we have to make our part on making sure that we're being green. We want to make sure that we are being green. And by green, I mean being [inaudible 02:37:45]
Marko: And Tod, you know, coming from a health care provider as well, what is the feedback you're hearing from the workforce in terms of the policies you've implemented? And how's that involved in some of your policy planning as well?
Tod: Well, the feedback on some of the additional options like daily has been very, very positive. And I've actually found that a lot of staff are using that very flexibly. Our daily rate is currently $14 a day, which is a significant rate, but was in line with what the city was charging for street parking pre-COVID. They're charging less now. So, what folks have started doing is using that as their parking of last resort. Because with Luum, they can sign up for it, they can be prepared to use it, but they don't have to, there's no charge if they don't. So, what they'll do is they'll come in, they'll look around on the street for a few minutes, if they find a street spot, and they'll, you know, pay the two or $3 that they pay for that. If they don't find anything, then they come into the garage. So, it really has kind of helped us keep the number of people coming into that garage fairly low. I've got hundreds of people signed up for the daily parking, but I've only got about 40 or 50 of them that are using it on any given day. So, granting them that kind of flexibility to kind of create their own path is very useful. Because if you give them steps and your parking becomes the most expensive part of that step, then that becomes their last resort as opposed to giving them a cheap parking option that they're going to jump on first.
Marko: Got it. I got a couple more questions for Tod and Camila that are parking-related, then Melvin, I'm going to the jump to you with a couple of questions we've got from the audience. So, Tod and Camila, so much talk in our space in TDM around going from monthly to daily. You've been going through this process through a global pandemic. For all the attendees on the call, what are your recommendations? What are your words of wisdom in terms of getting that policy decision going from monthly to daily supported [02:40:00] with the appropriate stakeholders in your organizations? 'Cause I think a lot of people are looking for that, a lot of people want to go from monthly to daily. And having, you know, two great examples here on the call is an opportunity that I'd hate to miss out on during this panel discussion. [crosstalk]
Camila: Go ahead, Tod.
Tod: It's tough to say that. I mean, we didn't run into any resistance whatsoever. I mean, and it was kind of one of those no-brainer things. A lot of our leadership were the folks in that group who were able to drop their monthly parking and switch to daily because they weren't coming to campus that much. You know, it was our core staff of nurses and janitors, and those staff members that were coming to campus every day that were remaining with their regular parking option. So, when we said, hey, we want to take this big chunk of spaces and turn them over to daily, they saw it as a huge win right off the bat. So, I have to say we didn't really have to fight that battle at all.
Marko: [inaudible 02:41:00] Camila, what was your experience?
Camila: So, for us, we already have been offering daily flexible parking since 2016, at Cherry Hill and 2017 at First Hill and Ballard, which is where we have another location. So, people really knew that if they're not coming to work, they're not paying for the parking. So, they were not on this like monthly set up deduction, which that culture, that mindset was already there. Now, for the other locations, we told them like if you know that you're not going to come, and we help them make the map of like, this is how much you pay for monthly. And if you are only coming once or twice a week, you're actually paying this much for daily parking. So, instead of you going and parking at that location, come park at your own Swedish location and take a short walk because all of our locations are close enough that you can walk to them. And of course, if it's raining, if it's other things, we do have tunnels and people can use those. So, we try to like help them understand how their deductions are working. Because what happens is like they only see their paycheck, right? And then it says parking deduction and a set amount.
And most people don't — they just glance over that. So, we're like, hey, this is where you need to pay attention to. And this is where you could be saving money that you could be putting into something else. So, one thing is just to educate people on how parking is being paid, because a lot of people don't pay too much attention to that. And then the second piece, it's like, I realized that it is my job to be an advocate for my caregivers within my organization and outside of my organization. So, I would go and have virtual meetings with different departments. And my first question was like, how can I help you? How can I make parking the last thing you're thinking about so that you can come and talk to that patient that needs you? So, once I gather all of those, I would get like bullet points ideas, and go to my leaders and be like, I need to get this, this, and this result. And it have solutions A to Z, and please pick one. Like, always come to your leaders with options, multiple options, I would say.
Marko: That's really good. Thanks for that. So, we've got just over 10 minutes left. We've got a bunch of questions streaming in. So, for the attendees, feel free to keep adding questions. If we can't get to them. We'll make sure that answered in the background or post-call. Melvin, I'm going to start with you. I see you've already tagged one of the questions to answer live. This is a question from Erin regarding to [inaudible 02:43:39] hierarchical access to parking stalls. You want to pick that question up?
Melvin: Yeah, I think that's the one. Yep. That's the one from Erin, right?
Marko: Correct.
Melvin: Gotcha. So, really, it's interesting, because I guess somewhat maybe early in this keynote talked about corporate ethos and equity, right, [inaudible 02:44:02]. I would say when it comes to your parking, no matter if it's paid for or not. It's all about equity. Right? What about me, right? Why am I not able to park as close to or not have the same caveats. And I think what we looked at at Tesla was really the main, the main driver we talked about earlier was the finished goods business, right? Who's touching the car, right? Who's touching these products? And the people touching the products are the key drivers, right? They're the most prioritized, right? It's not the executives. It's the people that are touching the cars, right? So, we look at our production workers, we say, hey, listen, you guys are touching the cars, whoever's touching them, you get the best parking, right? We need you there because revenue is based on — if you're late, right, we lose money, right? I mean, every product has to be on time. And if someone's late, someone's not there, and if parking is the driver for that, we see that go right into our business forecast, right, right into our analysis. And so when we look and say, hey, fair enough, who's supporting those people, right? Who are those managers, right? And the folks that are around them to support them for that — for them to be there. That's the next tier.
And then those that are outside of that — those that are not part of those two elemental factions that are going to be very vital to the success of Tesla from that lens is on the isn't that kind of nosebleed tier, including myself, right? So, I think the way we messaged it, and how we came to that, people understood it very clearly. And I think parking's so critical to our bottom line is. So, when you look at it from that perspective, and when people especially internally, they go, you know, what that makes sense. And I think that's what we're realizing and reaching to your audience and understanding that. But it's gone pretty seamless. You would think, hey, 13, 14,000 people, how could you get it over? Right? And it's actually been easy, because again, most [inaudible 02:45:52] are not there, it's mostly production. And now we're bringing people back, this then gives those folks, hey, if you want to be on the outside looking in, come join the alternative. So, just to circle back, it was the ethos of the VPs all the way down to the frontline guy that was aligned here, understanding as a company, what were the core responsibilities and the core factions needed to park in order to make that bottom line work and have it relative to our success.
Marko: Yeah. And I really liked that, Melvin. I think it's such a great — In a way, to summarize that, it's to say, hey, like, if you need to get that component on the car, and all these people are responsible waiting for you at that point in time, you need to be able to park, you need to be able to get access. If you are going to be late to a corporate meeting by five minutes because you couldn't find a park, not as big a deal based on being on the front line putting the vehicles together. Another question for you, Melvin, also from Erin, but a different Erin, I might add, how did you facilitate vanpool formation? And what kinds of subsidies do you offer? Do you have a minimum ridership requirement for each van?
Melvin: Yes. So, I think first one there is how do you get the formations? How are you able to get people to get together? And so there's a couple different avenues to think vanpool [inaudible 02:47:15] on this call, right? And it really, it comes down to a couple things, how you advertise, right? And I think it's important, you know, I've gone — the factory being as big as in Fremont, a lot of our locations. It's how do you message, right? How are you able to [inaudible 02:47:31] even the message? What does your audience care about? In this case, they cared about parking. So, we said, All right, what can we do so subsidizing will fall a little bit in this answer. But we assess it. We'll subsidize the whole vanpool program, right? We cover everything; gas tolls, maintenance, we cover it all. You don't have to pay a dime. And really, the whole goal of that is saying we care about it so much, we will over invest in vanpool. And then what we said is, hey, in order for you guys, [inaudible 02:48:00] our employees to get together, right? This is what we're going to do. We're going to go ahead, make it free. All you got to do is find a couple people that you work with or live with, that work in the same place, that live around the same area. And what we did was most of the folks that are on site, especially production, even our admin, most these guys are already talking, right? They're already around each other. And so it's how you get to them. And what we did was we did the three different taglines that made sense to them. Number one, valet parking, or premium parking for those places that didn't have it. Number two, no cost. Number three, free vehicle. I'm going to give you a way to get to work, you don't have to pay for it, and you'll get guaranteed parking wherever you want. And those are the keys that allow people to say that's what I want. And that's how our programs just blew up. When it came to — I think the other portion of the question was, I think I understand the minimum ridership requirements. So, I think during COVID, right, I think a lot of the local subsidies, local meeting around California and some of the other avenues, they said, hey, you know what, let's drop it down a little bit, let's go with four. And so we dropped it down to four people; driver plus three riders in order to get people in there. And also for the social distancing, right, in order to maintain that, in those bigger vans, that's what we were able to get away with, right? And as you get back into pre-COVID measures here, where five and six is kind of the norm. We're going to be up ticking there. We're actually moving and advertising that now as we get into that next season, right? So, our requirements, minimum about four, we aim for five to six for this next upcoming — in a couple months, we'll be going that route, but it was four for quite some time, which made it easy to do social distancing and actually a safer way to travel. I think that pretty much covers it.
Marko: Good. Great answer. Thanks, Melvin. So, broadening our thinking and the discussion a little further with a next question from Perry, for the hybrid workplace, has anyone evaluated the operational [02:50:00] cost savings potential if days in the office are coordinated by building, by floor, by workgroup? It's an open question to all panelists.
Tod: We have some folks looking at that right now. Unfortunately for us, we just finalized two building leases at the very end of 2019 that we're now sitting on. So, we're definitely not adding anything else at this point. And we're looking to see what we can do moving forward, how we can go into hotel desking, and all of these other things. Because there is significant savings by not having people's rears in seats every day. And we have obviously now proven that there is a large number of jobs that can be done remotely, even for a health care facility. You know, we have people in accounting and purchasing and all those types of areas that their workflow has not stopped at all, it has not been impacted by this. And do we really need to devote entire floors of buildings to those staff when we can bring them in only occasionally and have them work from home the rest of the time?
Marko: Camilla, has that been the same in your experience?
Camila: Yeah. So, for us, we have a whole group that I'm a part of, which is the Swedish Real Estate Team. And with the information with parking, that we're able to provide a long with schedules that they are able to see they are doing all the studies. And we have actually, we started shuffling teams from buildings to another building, just to ensure that we are occupying our space to the best of the capacity that we can. But it takes a lot, it feels like a puzzle, right? It's a moving puzzle because departments have different requirements especially within health care. But for those non-clinical ones, those are the easier ones to manage. And we are implementing, and we started doing this in our own suite of the Swedish real estate team that we have some people that are permanent desk, and we're creating hotel spaces for those that only need to come in once a week basis. And these hotel spaces are equipped with docking stations, multiple screens, where people can come and we have all of the stuff there so that people can have their areas and it is working for us. We're trying it on ourselves first before we try it on everybody else. Right? And then I think this is going to be scaled to the rest of the organization, hopefully.
Marko: Melvin, anything to add? Or should we jump to the next question?
Melvin: Yeah, we can go to the next one. I'll just say this real quickly, though, at the end of the day, Tesla did kind of a hotel desk deal already where like, essentially, before you get on-site, you're already hotel desking. So, and I think there is — I think what Camila talked about is important, right? Because there's like engineers. There's people that you just can't move [inaudible 02:53:01] there's things that are just you can't move it, right? They need some specific peripherals that are specialized. But for the most part, it's hotel desk city, because everyone's got to [inaudible 02:53:15] janitorial does a great job of getting that done. So, maintaining that clean environment with — actually, we don't have people automatically come to site, right? So, we see the production really well as far as admin working home doing a fantastic job. Based on some of those guys coming back on, some of them don't have to. And so we hotel desk it, people love it, and they're happy.
Marko: So, with a couple of minutes to stay, I want to actually pick one of the lightning round questions for the three of you. And the reason I'm picking this question is because I know firsthand how much the three of you and your organizations have been waiting through such a dynamic environment, especially over the last number of years. Like the policy changes, the program changes, it's been an absolute roller coaster. And the three we've all done incredibly well in your organizations. That said, on the other side of the pandemic, the dust is yet to settle in terms of what like the post-pandemic commute looks like. And so given everything and have experienced and seen, just a quick answer from each of our panelists today is if you have a magic wand, what is your one wish for the future of commuting as it relates to your organization?
Camila: Should I go first?
Marko: Absolutely.
Camila: Okay. So, if I had a magic wand, my one wish would be that we are some way, somehow carless.
Marko: Love it. Tod?
Tod: You know, my biggest complaint is always the difficulty of getting people from the east to the west and back from the west to the east in Seattle on transit. With our hourglass-shaped city, a lot of our commuters have to go from a northern home down into downtown, transfer a bus, and then go back up to get to our location. And that turns a lot of people off of transit. I can get here — it's 25 miles from my house, I can get there in about an hour. But a person that is only five miles away can take 45 to 50 minutes because of that.
Marko: Got it. And Melvin, to round us out?
Melvin: I think just SOV, man, let that thing just dissipate. If we got rid of the SOV I think that would be the godsend for everyone. We'll go Europe on you. And that's [inaudible 02:55:51].
Marko: Love it. Hey, thank you all so much. Always a pleasure working with you. Thank you for being such a frontline TDM professionals in our space. Kelly, I'm going to hand it back to you.
Kelly: So, now, I'm continuing here and I will move over to our first panel, which is on leveraging data for your return to office planning. And I will hand it off to my colleague, Pragathi, who will introduce her panelists and the panel topic as today's moderator.
Pragathi: Hi, everyone. So excited to be the first panelist of the day. Sorry, first panel session of the day. My name is Pragathi Balasubramanian. I'm a Product Manager here at Luum. So, I'd like to briefly kind of introduce what the purpose of this panel is. And that is when we picture a workplace of the future, we're likely thinking of one with greater flexibility, where an employee can work in the office some days and from home on other days. Many employers and agencies today are planning their return to office and they're considering strategies like this for this hybrid work model. But where do you start? To answer this, we have to begin with data. In this panel, we'll be exploring methods of data collection and analysis. And we'll be asking experts about how they leverage data to improve their employee commutes, and how to modify policies so that when employees do return to offices, they continue to have the flexibility of this hybrid work model.
So, today, we are fortunate to have Aneka Patel from Whole Foods Market, Erin Hafkenschiel from Vanderbilt University, and Lisa Enns from Enns Analytics here with us today. Thank you all for making it. We appreciate your insights. So, I'd like to kick us off with a brief round of introductions. Erin, Lisa, Aneka, if you could take a few minutes to tell us about yourself, your role, and your organization and where you're based.
Aneka: Hi, I'm Aneka Patel. Can you guys hear me? Yes. Okay, perfect. I am based in Austin, Texas at the Whole Foods Market global headquarters, where we have roughly 2,000 team members [inaudible 00:48:01] team members here in Austin. I joined the company in late 2019 to build and manage the TDM program for the Global Campus as it has been growing [inaudible 00:48:16].
Erin: Hi, everyone. I'm Erin Hafkenschiel. I'm Executive Director of Mobility and Transportation at Vanderbilt University. We are located in Nashville, Tennessee, which is a rapidly growing region of just under 2 million. The Vanderbilt campus itself is about 330 acres, and we're just about two to three miles south of downtown. But we like to think of ourselves as sort of our own little mini-downtown because we're one of the largest private employers in Tennessee. Prior to COVID, Vanderbilt had about 12,000 daily commuters and 6,000 undergraduates on-campus that live on campus. And we're also co-located with our Medical Center, which combined, again, pre-COVID, we had about 55,000 daily trips, compared to downtown Nashville, which is about 75,000. So, very much a mini-downtown. And we're very jealous of Aneka and Austin and their recent transit referendum because our referendum did not go so well in 2018. And then we've been faced with three years of budget cuts to our transit system due to a city budget crisis, and then COVID. So, Nashville is still very car-centric, and our transit system is not great. We have one of the lowest per capita sort of spending on transit in the country. But fortunately, we live in a relatively walkable neighborhood and a lot of our community lives relatively close to campus. So, that's just a little context of the mobility environment that we're operating in.
Lisa: [00:50:00] Hi, I'm Lisa Enns. I founded Enns Analytics a year ago in the middle of the pandemic. I'm a Data Analyst. And talking to all of you guys, I realized that there's a lot of data out there and a lot of new data sources that can be used to influence our TDM programs. So, I started my own firm to start helping other programs deal with their data. And previously, I was at Seattle Children's for several years, unfortunately, did not overlap with Paulo. So, that's my background. Oh, and I'm based in Seattle, but I work nationwide.
Pragathi: Thank you for the round of introductions. It was super interesting to hear about your challenges, Erin. And kind of segues really nicely into our next question, which is this question is directed at you, Aneka and Erin both. I'd like to know a bit more about your policies and programs and kind of how these unique challenges you face at your organization and your locations kind of interface with that.
Aneka: I can give a super quick introduction. I'll just preface that by just describing a little bit more about our campus. So, we have about nine buildings in the Austin area again, that's primarily managing our global team members here. We do have regional corporate — other offices around the country. And we're primarily focusing on building our commuter program here in Austin before we roll it out to the rest of the region. But I've certainly been helping them in the last year since coming on with the company. Of course, just like every other company, we've been working from home, and we are planning a return to office. So, again, to preface this conversation, we are here at Whole Foods for everyone. Of course, our grocery stores are essential services and have been open this whole time. And we have a shared fate mentality, which is one of our core values. And so we technically never close our offices. But of course, the majority of our team members that work in our corporate offices have been working from home. We are excited to welcome our team members back to work starting in July. The first week of July, we've asked everyone to come back about two days a week. And then at the beginning of September, we've asked them to come back three days a week, and that will be the schedule for the rest of the year.
So, I started in this role about four months before COVID hit so we had a good amount of data. The team that hired me had worked with a consultant to do some research, and get a good understanding of the status quo of our commuter program and our benefits and what employees want. And some of the opportunities and challenges that we were facing. One of the recommendations from the consultant was to hire a full-time TDM Program Manager, which is when I came on. So, I started, kind of jumped in and conversations with Luum had already started, and I'm excited to say that this year was pretty productive. We have contracted with Luum. We've taken this year to use the opportunity to build a program, to build our commuting hub, to get Luum up and running to decide and you know, thoughtfully and strategically think about how we want to use it. And so we're really hoping to launch Luum when people come back to work and use this as an opportunity to kick-off and kind of treat everybody as a new employee, and take the opportunity to reintroduce all the great commute options that we have and the policies that we have, which include a hundred percent subsidized transit passes, a guaranteed ride home program, and first our last program with Lyft. We're planning to subsidize B cycle — our B cycle, bike share program here in Austin, which was recently taken over by Capital Metro. And yeah, and start pushing carpooling and all the other great options that we have right now before Project Connect kicks off.
Erin: So, our strategic plan for mobility and transportation we call MoveVU. And our goal is to reduce our drive alone rate from 76 and a half percent to 55% by 2025. And that sort of came out a number of sort of master planning projects. So, I definitely think that sort of data and analysis was at the base of what we're trying to do. I heard one of the questions to Paulo was sort of why do people start these projects. And Vanderbilt's story is relatively unique. We, during our master planning — our campus-wide master plan process, we did sort of analysis of how much parking we had and what our occupancy rate was. And across our 330 acres, 82 of our acres are being used for parking. We have over 22,000 parking spaces, and our occupancy rate is around 65%. So, we have too much parking, which is an unusual problem to have. But because the Nashville region is growing so rapidly, we've gone from sort of a very suburban campus, to a very urban campus in about a 10 year period of time.
And as a result of that, the value of land around us and on our campus has really skyrocketed. And so as we want to try and build new residential colleges and new academic buildings, we want to be able to reclaim some of that land that we're currently using for parking, and use it for other academic and mission-related purposes. So, that's really been the driving force behind our program. And MoveVU is helping us sort of reduce that demand. The core of our program is transitioning from annual parking passes to daily parking charges. Our MoveVU commute hub, which is powered by Luum, and then this September, we're super excited about launching our sustainable commute incentives. So, those are sort of the core of our programs. Similar to Aneka, we've been in sort of a hybrid model over the last year, but all of our classes are going to be back on campus starting in the fall. And a number of our staff departments are going to be doing sort of a hybrid work model. So, that's sort of the return to work future that we're looking at.
Pragathi: Gotcha. Yeah, it sounds like there's a lot of specificity for the programs in terms of where you're based, but also different challenges depending on the return to work circumstance you have there. So, my next question is for Lisa. Lisa, you help TDM teams like Aneka and Erin make sense of their data. What are the common questions you're hearing with return to office on the horizon?
Lisa: There's a lot of questions. There's just a lot of uncertainty right now, and I think maybe a little bit less uncertainty than previously, as we're all sort of like starting up again. I would say in Seattle, one of the main things is the trade-off between transit and parking. So, Seattle has a pretty good or historically has had a pretty good mode split all over the city. We have pretty good transit service, people ride the bus, it's very common. So, figuring out how that balance will tip as we go forward. Because right now, a lot more people are driving because they're not comfortable in transit and there's no traffic. Well, not no traffic, but there's minimal traffic right now. So, people are finding it much easier just to drive to work. Some employers are offering free parking during this time if they have essential workers to be able to get them to work. So, figuring out when that pendulum is just going to slip back towards transit, you know, when people are going to be more comfortable, when transit service is going to resume in fall. And then you know, how to balance bringing back parking rates, versus bringing back maybe your transit connection shuttles. So, that's the big one that I think people in Seattle at least are looking at right now.
Pragathi: Gotcha. Yeah, there's so much about commuter habits that are just changing with different reopening schedules.
Lisa: Yeah. And I think it's important to look at what other employers in your area are doing, like, look at when the colleges are coming back, look at if you've got an Amazon or Microsoft, whatever, Boeing in your area, sort of try to figure out what they're doing, because then you can sort of match what you're doing along with them. Because for us, when Amazon decides to come back, I mean, that's major, that's a huge thing. It's traffic, it's more people on buses. So, you can kind of balance your own program along with those.
Pragathi: That makes sense, looking to kind of the large pockets of employees in your area and kind of seeing what their employers are doing also goes a long way. And this kind of goes towards my next question, which is knowing that these habits are changing so fast, how do you even start with a plan? How do you design policies knowing that this data is going to change on a regular basis? Yeah, let's start with Erin this time.
Erin: Well, I was going to add on to Lisa's comment. Unless one of those major employers is going to offer free parking then [01:00:00] it's okay to buck against the trend. We've been hearing rumors about some of our newer major employers that are trying to offer free parking as a way to incentivize people to come back to the office. But we're holding firm and not offering free parking. So, I think we've learned a lot from Lisa and a lot of the programs that are doing this work across the country. And as I said at the beginning, our program was intended to be very data-driven. It started with this big analysis of our land use, and we've started to put up new sensors, and we're using the Luum commute app, and so really, really trying to be very data-driven. But there are so many more unknowns and uncertainties as we come back. September 1st is when all of our new parking permit starts. So, that's sort of what we think of as the start of our year. And we've had all this data in the past. We actually did a really big parking operation study in November of 2019, to help us inform the launch of our new daily parking program, and what the demand for that program was going to be.
And of course, in — and we knew how long, which parking lots people like to park in, what our occupancy rate was, by parking lot. We knew, on average, how long people stayed when they parked in a certain parking lot. And then, of course, as of March 2020, all of that data became really irrelevant, really obsolete, and not super useful. So, we did go ahead and launch our daily parking program in September of last year. And we're able to collect some data for that. And so we're doing that again this September, while also expanding it to an additional garage and adding in the commute incentives. But we don't entirely know what the demand is going to be. So, we're going to have to have a month period where we're really flexible, and we're making adjustments based on that demand. But I think as Lisa said, we have the tools in place to be collecting that data in real-time so that we can, hopefully, make changes as quickly as possible.
Lisa: Yeah. I would say don't be afraid to make decisions based on a week or two worth of data, because that's all we have right now. And you know, really get on board with your leadership and what they're planning on doing. Like Erin said, she knows that the students are planning on being back, but the staff is maybe doing a hybrid model. So, before, you could maybe sort of say, well, this is what everyone's done in the past, it's sort of like the same trend going forward. And you can't really do that anymore because leadership is making these changes about who's going to be in the office. Are you going 40% in the office, 60% in the office? And this is a time when you really need to like be in sync with everybody at the top and figuring out what's going on with your organization.
Aneka: You know, I think that in terms of kind of being flexible and asking our team members, our employees to be flexible. My team certainly had to be flexible too. This year, we started this — I started in this role, knowing that we would build a TDM strategy and build a commuter program for our Global Campus here. And we certainly knew that we had a challenge in having a lack of data. And luckily, the leadership that hired me put me into place and allowed me to determine the best way to really understand how to make the commute better, and what to offer and how to provide flexibility, and where to use the funds in our budget to make these commute investments for the greatest ROI. So, when COVID hit, I'm glad that that momentum didn't stop, that we continued down the path to move forward with Luum to understand if it could and how it could benefit us. And, you know, was basically flying blind before without having any data to inform our strategy. And like I said, we used this last year to build that business case and to really mold Luum and create a commute hub.
And we also, as part of our real estate portfolio on our campus, there are some buildings that we own, there are some that we lease and manage. We have a variety of parking garages, most of them without the infrastructure to really collect data. And so again, we use this year to install RFID readers, use our parking permit program, which it's been pretty parking focus. We do offer, it pains me to say with my TDM hat on, that we do offer free parking to our team members here. But I understand the culture. It's a legacy amenity that Whole Foods has and many [inaudible 01:04:59] in Austin do provide free parking. Right now it seems like it's necessary to be competitive in this market, especially against a lot of the other tech companies that we have. And of course, we're a growing market. But I'm excited to launch Luum and start gathering the data, right? So, I'm not flying blind, so we can understand if what we've invested in is working and where we continue to make those investments and really be flexible and mold our programs as people start to return to work.
We opened a new office, we built out a new office during COVID, and opened it to the team just yesterday. And I was there most of the day and excited to see there was a handful of people and a handful of bikes. So, I'm hoping that the trend kind of stays along those lines. And I didn't really get a chance to kick off a lot of our other programs like carpooling and vanpool. But excited to do that and just kind of gauge the interest and you know, where we can make those investments moving forward and use that data to be strategic.
Pragathi: Thank you. Yeah, there seems to be a lot of opportunity right now to kind of do smaller pilots and use kind of smaller windows of data to really cue us in on what the changes are. So, as we start taking these steps, as Aneka's team starts collecting the data here. Lisa, I am curious, like, what are your suggested methods of data collection during this time? Do you have some tips, in addition to what we're doing today?
Lisa: Yeah. Right now, one of the best things that you can do if you can, is to send a survey. Like we said, we're all kind of flying blind with our normal sources of data. But you know, sending surveys and asking people how long — how much they're going to be in the office and what their plan commute is could be really beneficial. The other thing that I might suggest is maybe looking at some traditionally non-transportation forms of data. So, if you have badge swipes, maybe you can get those from security, like how many unique employees are badging into your location per day, and then how many people are parking. And then you can sort of figure mode split from that, and maybe start moving forward in that direction. Oh, and if you're — there are other sources of surveys, too. So, if your local transit agency has sent out a survey, King County did a survey — our transit agency, and they found that pre-COVID, 79% of people that they surveyed road transit four days a week, and post-COVID 55% of people are planning on riding transit, four-plus days a week, and they have a bunch of other metrics. So, transit agencies, if your regional MPO has done any surveys, you know, look around for anything you can find.
Pragathi: Gotcha. And, Erin, I believe, y'all ran a commuter survey as well, sometime in September 2020. How did that go?
Erin: Yeah. So, we were — we actually did our first commute survey in March of 2019. And we're intending to sort of do it every year, do it again every year in March. We actually were a week away from releasing the March 2021, when we all went to remote work. And, of course, at the time, now looking back, we should have just sent it out because people could have thought about last week and filled it out. But you know, we just didn't know how long we were all going to be working from home. So, we were like, okay, let's hold it, and then when we're back in a couple of weeks, we'll all send it out. So, we did end up sending out a survey in the fall of 2020. And it was relatively helpful, but it pretty much just sort of showed us that everyone was pretty much working from home and really only coming to campus a couple days a week. So, it didn't give us a whole lot more insights different from what we were seeing with our parking permit data, essentially. We do plan to do another one this fall once all of our classes are back on campus and our new daily parking and our hourly pay parking program are up and running. And that will likely become sort of our new annual survey. So, we're excited to get that out.
Pragathi: Gotcha. So, my next question that I have, and we talked about the unique opportunities that we have here with data collection. What are you seeing kind of as the trends in commute data collection [01:10:00] and return to office program design? I know Aneka, in your case, you're thinking of doing a sort of fair to kind of raise awareness of commute options. I'm curious to hear about that.
Aneka: Yeah. So, I'm on the global workplace experience team. We also rebranded our team from global facilities this last year. I also created a brand for our commute program, which is now called Full Commute. And so we did a lot in this last year that our team is really proud of, and we're using this return to work, you know, my team's been here almost every day for the past few months, and certainly, this past year, meeting the operations team. So, the bulk of our communications, I think, to our team members via our normal communications channel have certainly been right regarding their return to office, they're planning to return to office in July, making sure that people are — they didn't have one habit for the last 18 months and now they're — people have a lot of questions and concerns and just a variety of interesting questions that we're getting. So, I've been a little bit limited in communicating specifically about Luum and our new commute hub, and our policies and amenities that we're providing.
So, we're going a little old school and planning a return to office fair with snacks because snacks make everything better, and food and dessert and DJ. And like I said, we have nine buildings here in Austin and we just opened another one. So, we're really conscientious about going to where our team members are to making sure that we are planning engagement activities and opportunities for people to engage with us one-on-one, or in a group setting and allow them to ask questions that they may not want to present in a discussion board or to their leadership. But really to allow us to have face time with them and use word of mouth to not only talk about programs like Full Commute, but also to just really put them at ease about being back on campus and welcome them back because we're excited to rebuild our community.
Pragathi: I like that. It's a community-based approach to kind of building that confidence again, about commuting to work because it's scary. It's a time of change once again, and it's scary to think about after being at home for so long they'll have to get in a vehicle and go to work like we used to. That's different. Yeah. So, related to this, Erin, I know you've been working on something called Future of Work, you've mentioned MoveVU. I'm kind of curious about the Future of Work pilot and how that came to be and what your takeaways were from that.
Erin: Yeah. So, I think that Vanderbilt is going to be — it's going to be really interesting to see sort of how our sort of return to work, return to school, return to campus looks in the fall because there is going to be sort of this bifurcation between our academic side of the house and our staff and administrative side of the house. Like I said, at the beginning, all of our classes are going to be back on campus. And historically, all of our undergraduates actually live on campus. Because of social distancing requirements, we could only have one student to each room. So, we allowed a lot of our undergraduates to live off-campus. We had about 2,500, who were living off-campus. And so when those folks return to campus, then all of our dining halls, all of our facilities staff, all of our house cleaning staff, all of them will come back to campus. So, the Future of Work pilot really encompasses about five of our staff departments; the division of administration, which I'm part of, our IT department, our finance department, and our communications department. And we will do a sort of six-month pilot, and a little bit different from Whole Foods, where I think that that group of folks is really being encouraged to sort of try out different hybrid models.
And it's a lot about sort of your relationship with your manager and figuring out how many days a week you'll want to come in. I'm someone who can't wait to return to my office, so I will be back in my office as many days of the week as I can be. I have got two young kids at home so I'm really looking forward to a really quiet workspace. But I know a lot of my peers on the staff side will really be taking advantage of that. So, one of the things I think what Aneka said is what will the impact on our commuting be? And that's what I'm super interested to see. Once we have all of our academic side of the house back on campus, you know, really will be a return to that sort of vibrant academic campus. We all know and love makes Vanderbilt what it is. And I think staff — my hope is that staff will want to be a part of that just as much as the academic side of the house. So, it's a little bit of a wait-and-see on the staff side, but we at least know that a big part of our operations will be back on campus supporting the academic activities.
Pragathi: Gotcha. Thank you, Erin. Lisa, from your perspective, are you seeing a lot of opportunities for data collection that folks are considering?
Lisa: Yeah. I mean, it's basically the same options that we've always had with — Moving back to a hybrid model, if your employer is doing hoteling, or some health care or college facilities might have an app check-in for health. So, you might have to check-in and say, I haven't had a fever, I'm healthy, and then show that check-in to be able to get into your work building. There is an opportunity to sort of merge those — merge all of your sort of app-based systems with transportation. So, you need to reserve your desk for your hoteling space, you need to check in with your health, you need to reserve your parking space or pay for parking. And you could add on to that what mode of transportation did you take today. If people already have to look at their phones for something, there is an opportunity for tech-forward employer to sort of like slip that question in there, and then have a lot more accurate data. So, yeah, that's one thing that I'm seeing that could be a little bit different than before.
Pragathi: Gotcha. So, what I'm hearing from all of you is kind of the unique opportunities we're seeing in this space right now with return to work is kind of community-based, empathy-based in terms of working with folks to understand what their needs are, and kind of negotiating their own kind of work from home schedules, during the times of change. And also, if there are any known kind of data collection methods that are there in your organization today, kind of leveraging that as a way to collect data on commute, as well as whatever else it's collecting.
Lisa: Yeah. And there's definitely an opportunity if people are only working at the office two days a week to really push transit and say, well, you're only working two days a week. Why not try to transit or try biking? And there's benefits, maybe you could even go down to a one car household because you're only going in a couple days a week. So, I think that is really a major opportunity, like, and you guys saying that sort of bringing people back to work and engaging them and their transit options.
Pragathi: Yeah, that actually leads nicely into out last panel question we have here today before we turn it over to Q&A. One of the things that we really care a lot about as transportation teams and TDM folks is guiding employees, or folks who commute for work towards more sustainable commute options. And now with return to office, there's a little bit of uncertainty in like how we do that. So, I'm curious, and based on the locations you're all in, what are the considerations you have when it comes to all right, these are the sustainable commute options we should recommend? And yeah, let's start with Aneka this time in Austin.
Aneka: Well, it's certainly a challenge here. I moved to Austin and started working in TDM, after 12 years in Denver, where I managed TDM programs in downtown where I was used to a 60% plus transit mode split. So, the culture and the mode split here is certainly different. And it was a challenge already pre-COVID, right, to A, compete with free parking for our team members on campus. And then also not having a super transit-rich environment and building these programs in the community that was still building its infrastructure and policies. Again, in Austin in November, we did pass a significant transit initiative called Project Connect, including and [inaudible 01:19:38] which is 116 million dollar goal bond for bike and [inaudible 01:19:43] infrastructure. So, that is exciting knowing that there's a commitment and an investment but I think right now I'm still fighting against the original stigma against transit. And now in a post-COVID — still COVID environment pushing people to try these other [01:20:00] sustainable commutes.
I think we've all talked significantly in the last year about the significant increase in bicycle purchases and people biking for health and wellness and fun. And I'm hoping that that translates into the office commute as well. So, we're planning on supporting that, building a lot of programs in the fall surrounding when it's, hopefully, a little bit cooler in Texas, building these bike programs, and really supporting bike clinics for different populations on our campus. E-bikes, of course, are really great for us and for the heat and the hills. And I would love to build some initiatives around that and have already planned to do that. So, again, our pillars are really focused on wellness, productivity, and culture, and I continue to vocalize and preach that that is — the transportation and the door to desk, that's a really key part of building the culture and wellness and productivity. But of course, there are other — we're, again, making sure that people feel welcome and confident about being back at work in general. And then I can really push the commute narrative once they're back and working on campus and comfortable.
Pragathi: Absolutely. Yeah, I know, Erin, based on where you are in Nashville, I know, waiting for bike share, to return to something you're excited about.
Erin: Yeah, and I think that — and Lisa may have touched on this too, but within TDM and within transportation planning, we often are talking about these sort of major life events as opportunities to sort of change how you commute. And so obviously, this return to campus, this return to work is a major life event. And we're trying to do the best we can to take advantage of that. We really hope that our bike share is back online by September 1st, and it's looking like it will be. But there's sort of two other things that we're focusing on. One of them is when we did sort of our big analysis as part of our strategic plan, one of the things that we did was we mapped all of our faculty, staff, and graduate students, all of our commuters to figure out where they lived in the greater Nashville region. Because we were hearing a lot of feedback from folks that as home prices were going up, people were being pushed further outside of the county and further outside of Davidson County. And we were really surprised that over 40% of our commuters live within three miles of campus, and actually, almost 35% live within a mile. So, very accessible to walking and biking commutes.
The problem is, is that we don't have great bike and pedestrian infrastructure. Nashville is actually in the middle of what we would call a pedestrian fatality crisis. I know a lot of southern cities are in this scenario as well. But we've seen our pedestrian fatalities double in the last five years. We've gone from around 15 a year to over 30 a year. So, for Vanderbilt, where we're talking a lot about bike and pedestrian commutes. But we're also starting to play a much bigger role in advocating for safer streets throughout Nashville, but definitely around our campus. One of our graduate students was actually hit and killed on West End, which is the State Route that runs just adjacent to campus last summer. So, that was a big wake-up call for all of us that we've been putting a lot of energy and effort into the streets internal to campus, but we have to pay just as much attention to the streets around us. And of course, people aren't going to choose walking and biking commutes if they don't feel safe. So, that's going to be a big focus of ours in the future.
And of course, data plays a huge role in this because historically, we've been sort of limited to the data, the vehicle counts that [inaudible 01:23:56] our State Department of Transportation have and there's now newer sources of data for us to use to sort of see where our pedestrian and bike activity is, and where there's opportunities to improve infrastructure on those streets, where there's maybe not as much vehicle traffic. And then the second one super quickly is just thinking a little bit more intentionally about relocations. We were doing focus groups with a whole bunch of different parts of our community prior to COVID. And one of the ones that really stuck out to me is that our graduate students, when they're thinking of relocating to Nashville, across our schools, the amount of support they get in sort of figuring out where they want to live in the Nashville region is very, very different. And some get a lot of help and some get literally no help. And we've heard from graduate students that they end up taking over a lease of a former graduate student in Mount Juliet, which is like 45 minutes away, and then they feel totally disconnected from campus. So, I think that's a really big opportunity for us to play a role, and helping people make that decision that you may be choosing something because it's easy or because it's a low housing cost. But if your transportation costs are going to be super expensive and going to lead to a really long commute, then it's maybe not worth that savings.
Lisa: Yeah, those are really awesome points, Erin. I would say putting together any kind of infographic with a little map about transportation costs, and like, how cool the area is, what are you looking for? Are you looking for nightlife? Are you looking for whatever, that can be a huge help to students, and employers, and staff that want to work there. And for other large organizations, adding onto what Erin was saying about bicycle and pedestrian infrastructure in their area, don't underestimate your power as a college, as a large employer in the city. The city council and people that make those decisions, they will listen to you. So, if you can get your leadership on board and back it up with good data, there are some really good opportunities to get some infrastructure improvements around your office or your campus.
And then also, as Aneka was saying, I think e-bikes are going to be really huge. So, if you can get some sort of commute incentive going for that. And if your employer or company offers some assistant commute planning, so people email you and say, "How do I get to work?" You can offer e-bike directions. Because right now, I haven't found a good place that has e-bike directions. You can look on Google, and yeah, those are good directions. But then somebody says, "Oh, it's going to take me an hour to get to work." Because they're regular bike directions. With an e-bike, it's really, you can take different routes, it will only take you 40 minutes, especially in Seattle with our hills. And you know, one of our major bridges is actually like, complete right now. You can bike in that area, but you can't drive. It's awful. So, e-bikes definitely are going to be big, I think.
Pragathi: Yeah. I am taking a look at some of our Q&A questions that have come up. One of the questions that came up was about how do we provide incentives for sustainable commute modes? And it sounds like Erin and Lisa, what you're pointing out is like, hey, let's try to make them easier and more accessible to use. Let's try to meet our commuters where they are in terms of what their needs are. Are there any other incentives that are coming to mind for you both, and even Aneka in the Austin region?
[crosstalk]
Lisa: Yeah, I mean, the goal is money. Just offering $1 or two for commuting is — that's if you have it, that's definitely a big incentive.
Aneka: Yeah, I think we definitely — now that they shifted, they re-evaluated our benefits, our commute benefits this last year as we built out Luum and kind of fine-tuned what we wanted to offer. We thought well, should we have a buy-in for employees that want to use transit? And we kind of threw that out the window. And I just said, you know, I just want to give everybody a free pass, right, just put it in people's hands, whether it's a day pass, a week pass, a month pass, make it as easy as possible. I'm also coming off of, right, having some of our — the ways in which people received benefits was a little cumbersome. And so again, heavily relying on Luum and rolling that out, just to make the experience of not only understanding and knowing what our sustainable commuting options are, and receiving the benefits. But then also just kind of putting them into people's hands and making it easy for them to try something different or to choose these modes, whether it's one or two days a week. Or even frankly, just still at home and within their personal life and then [inaudible 01:28:53] to commuting to the office.
And Erin talked about mapping, like I said, our leadership team had hired Manuel is here on this call, a walker, to do kind of an in-depth study prior to my coming on board. But again, we're kind of starting from scratch, and this is a great opportunity. We're treating everybody as a first-time employee to Whole Foods here in Austin. So, these are kind of things that we have to start over, right? Redo employee mapping, we certainly had a freeze on hiring in those last year, but we had a lot of people join the company, leave the company. And so of course, we're seeing a lot of new faces are on campus. So, kind of start that mapping is really and we'll certainly do that in the fall once we've got people back.
Pragathi: Gotcha. Yeah. A question that we had from your audience with regards to having folks back, one of the questions from Manuel says will you distribute the days team members are working in the [01:30:00] office so that not everyone shows up on the same days? Is that a goal or is there a policy around that to reduce parking demand on days like that?
Erin: We aren't taking that approach at Vanderbilt yet. I think that like I said, the staff departments that are participating in the Future of Work are really going to be sort of piloting out a hybrid work scenario. But my impression is that it will really be up to sort of the manager, and then the employee on a more individual basis to decide how many days a week you want to come in, and then which days those will be. And so we'll have to see what that impact is on parking. I am just as interested in seeing sort of how, what the impact is on sort of the quality of our meetings. We all went from being all in-person to then all virtual, where we each have like this little box where we're on the screen, and we're having — we have an equal sort of presence in the meeting. But when you start doing the hybrid model, you will have a handful of people in the conference room, and then a handful of people on the screen, and sort of how will that work out. So, I think both the parking impacts and sort of the quality of the meetings will be things that — that's why we're doing it as a six-month pilot with a sort of smaller group of staff to sort of see what works and what doesn't work. And we'll make it — I imagine we'll make adjustments and have new guidelines in the spring.
Aneka: Yeah. We're doing something really similar. We're not dictating to any teams and departments of when they can come back. We're certainly leaving that up to their leadership to determine when they need certain folks to be in the office, or when people want to be in the office. Of course, just like pre-COVID and people working from home, we anticipate slower Mondays and Fridays here. We have invested in technology much like other companies that allow people to reserve their desks or place their schedule of when they'll be in the office on a shared system so people can see that. We do have one team at one building that is doing a hoteling pilot, so we're excited to roll that out and see how it works. And if we can potentially expand that to other offices or to other teams. So, we don't anticipate that there will be with people only coming to work two days a week, not anticipating a huge demand on parking spots. But I'm personally hoping that they fill up so that I can get some budget to push other programs for programs like the parking cash lot or rewarding other commute modes.
Lisa: I have heard of a company saying that one of your days in office has to be a Monday or Friday, so that everybody's not just there Tuesday, Wednesday, Thursday all the time.
Pragathi: That's really good information. It's good to know. Another one of the questions that has come up is — and this is directed at Erin — what were the biggest obstacles you faced in moving to daily parking? And how did you overcome these obstacles?
Erin: So, I would say we had two major obstacles. So, one of the ones — Actually, I think it was at a past Luuminary Conference where I had an opportunity to speak with a lot of my university peers that were thinking about daily parking programs. And one of their biggest recommendations was just take whatever you charge for annual parking, and divide it by the working days of the month, and that becomes your new daily parking rate. Well, that sounds really simple, except for the fact that we have four different parking rates for our annual and monthly parking programs based on income. So, we have four different income tiers. And each income tier pays a different parking rate. All four, even if you make over $150,000 a year, are all subsidized.
So, one of the things that we are hoping to do as we transition to the daily parking it's become a little bit more of a market-based parking rate, and focus our programs — our equity programs on really are our lowest-paid employees and the people that we think really need it rather than everybody. The challenge with that is sort of where do we start. And so we had to start with a relatively low parking rate, $3 a day. I know for folks that are in Seattle that sounds crazy. But we had to start at $3 a day so that we weren't immediately making it completely unaffordable for some of our lowest paid employees. This year, in two of our highest demand garages, will go up to $5 a day. And hopefully, that sort of trend will continue. So, that was one of our biggest challenges was making it palatable to our pretty diverse group of folks.
The second was actually internal. This one was one that I wasn't necessarily anticipating. But because we were relying on the commute hub, this very much became an IT project. And we had to have it be integrated with our payroll, it had to be integrated with our HR system, and then integrated with all of our card systems, because that's how people access the garages. And so there were a number of governance bodies that we had to present to and sort of get approval at the Vice Chancellor level for. And I came from city government before, so I was warned that there was a lot of bureaucracy in higher education. And I didn't think it was going to be as bad as the city, but it turns out that it's just as bad. And what ended up being the problem was that there was this fear around these really small payments. So, you're processing these daily payments for parking across potentially 12,000 commuters. And how do you ensure that those are accurate from a day to day basis, let alone from a monthly basis? And it took us all summer last summer to convince our CFO that we had a system in place that really had a great accounting review and audit protocol. But that was a big surprise, for me personally, that that ended up being sort of the sticking point that dragged it out. But we were able to address those concerns and launch on time, just barely, on September 1st.
Pragathi: Wow. Yeah. Sounds like there's a lot of due diligence that needs to happen in data collection. And even in Aneka's case, when she's talking through the parking programs and building a case for anything other than the free parking she has to start with data collection, first building their case, and then presenting it to the right stakeholders. So, I think we have about five minutes left on our panel. So, this brings me to one of my favorite parts of the panel, which is the lightning round questions. So, all the panels, you'll have about 30 seconds to answer each of these. They're super short, they're not intended to be like a very intense round. So, my first question is, what's your favorite mode of commute? And let's start with Lisa.
Lisa: Bike.
Pragathi: Bike, nice. What about you, Erin?
Erin: I got a new electric bike for my birthday last year, was definitely a pandemic purchase. I think I got the last one in stock at our local bike store. So, I had been practicing my commute to work on my bike, and I'm excited to start using that.
Pragathi: That's awesome. What about you Aneka?
Aneka: I am in the market for an e-bike. But I would definitely say transit bus. I'm a transit girl. And when I get downtown [inaudible 01:38:13] micro-mobility. We're lucky to have a lot of micro-mobility options in Austin.
Pragathi: Yeah, I feel you on that. I'm also on the transit vibe. The second question I have and maybe this would have been more relevant pre-quarantine, but I'm going to ask it anyway. If you could multitask during your commute, what would you do? I'm not sure what the multitasking options are on a bike, but I'm going to ask it anyway.
Lisa: I would exercise my dog. Right now she tries to hurt me on a bike and bite my tires. So, it's not working anytime soon. But yeah, getting her some exercise would be great.
Pragathi: That's awesome. What about you, Erin?
Erin: Mine is definitely listening to a podcast, particularly the New York Times Daily. And when I stopped commuting, I had to figure out a way to listen to my podcast. So, I started doing, you know, morning walks, essentially to replace that commute time so I could still listen to my podcasts.
Aneka: I'd probably like to sleep for another 25 minutes on the bus if I could. But I think I usually use that time to scroll through Twitter, get my morning news in for the day.
Pragathi: Nice, very productive, or you know, self-care with sleeping. The last lightning round question I have is, it's a fill-in-the-blank. I'll know my organization's commute program is meeting my employee's commute needs when… And then there's a blank. I know Lisa, in your case, you're working with other organizations [01:40:00] that do this. So, yeah, what is your take on that?
Lisa: I would say when everyone knows how to use transit. When everyone knows you know how to use their transit card or how to pay for it, they don't have to, but just that they know how.
Pragathi: Gotcha. What about over at Vanderbilt?
Erin: I would say that I will feel like our program is successful when everyone feels supported in whatever their chosen commute choice is, and that everyone feels like they have at least more than one option to get to and from campus. I think Paulo said this at the end of the talk that it's so important to talk about options, and that we're not just taking away the drive-alone option or we're taking away parking. But it really truly is about options. In Nashville right now, the only option you have is to drive alone often. And our goal is to make more options available.
Aneka: Yeah, I would 100% echo what Erin said. Personally, when we can start — when I can start just like selling off parking spots to other people, and just build a park over some of these parking lots that we have, and then really just making sure everybody has an option right now. It's just really challenging because I know that the majority of our employee population doesn't have a great alternative. And I'm waiting for Project Connect and all these initiatives to be done to start maybe then.
Pragathi: Yeah. Gosh, it was very heartwarming to hear all the reasons behind how you know that the commute program is meeting folks' needs, very supportive. So, we're at the end of our panel session today. I'll be handing it back to Kelly to take it from here.
Seattle Children's Hospital
Seattle Children's Hospital Director of Transportation, Jamie Cheney, takes us on a deep dive into the policies and results that have shaped SCH's trailblazing commute program. Using a strategic blend of incentives and disincentives—which they activate and administer through Luum—SCH has reduced its drive-alone rate to 33%.
Google & Bedrock | Joint Webinar with ACT
Gain insights from Sabrina Ruiz, Transportation Program Manager at Google, on how her program used a combo of incentives and disincentives resulting in a 43.5% parking reduction. You'll also hear from Kevin Bopp, VP of Parking and Mobility at Bedrock, on how daily incentives for non-drive alone trips increased alternative commutes by 3% (a remarkable feat for an organization with over 15,000 employees).
DIGITAL CONFERENCE | May 19 & 20, 2020
Featuring Allina Health, Alta Planning + Design, Bedrock, Bikes Make Life Better, Bill & Melinda Gates Foundation, Expedia Group, Oregon Health & Science University, Vanderbilt University, and others! Get insights into the programs and partnerships that drive commute innovation.